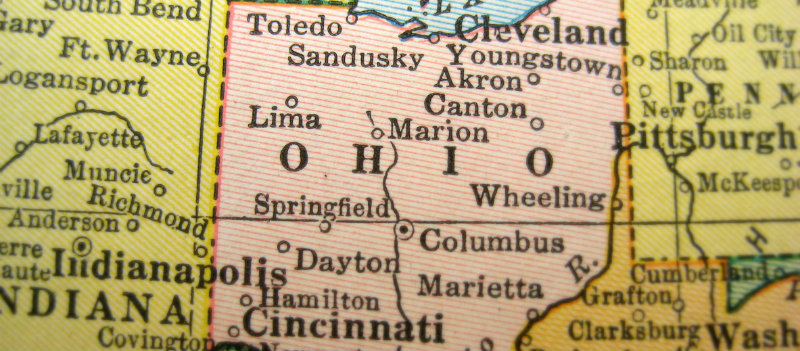 How to Apply for a State ID
Applicants must present current immigration or visa documents and proof of Ohio residency at each ID card issuance.
Applicants must provide the following documents:
Valid passport

Visa (Exceptions: Canadians & Bermudians)

Form I-94 (can be printed from the CBP website)

Current and unexpired Form I-20 or DS-2019

Proof of Social Security number (if you have one)

Example: a Social Security card or W-2 wage/tax form or 1099 income statement)
Proof of Ohio Residency (an official business or government document with Ohio home street address)

Example: a letter from the post office or a bank; a credit card statement; a checking, savings, or online bank statement issued within the last 60 days. The important thing is that it needs to have your current Ohio street address written correctly on the document.
For detailed information about obtaining an Ohio driver license or ID card, please visit the BMV website. To see which specific documents you can use to fulfill these requirements, please look at the Acceptable Documents List from the Ohio BMV.
If you are a new student or a continuing student who is starting a new program, please wait at least two weeks after the semester begins to apply for an Ohio ID Card. This delay will provide time for the government system to synchronize with the BMV's database and update with your program details. Applying prior to this time frame may result in denial of your state ID card.
The hours for each BMV location vary. Oxford, Ohio is located in Butler County. Take a look at the Ohio BMV website to see a map of the Hamilton West location as well as find other BMV locations.
The two closest Ohio BMVs to Oxford are:
Hamilton West
744 NW Washington Boulevard, Suite B
Hamilton, Ohio 45013
513-737-8262
***Offers full reinstatement service. Reinstatement is the process you would go through if your driver's license were suspended for a period of time.
Hours
Monday—Friday: 8am–5pm
Saturday: 8am–12pm
Hamilton East
1720-A S. Erie Blvd
Hamilton, Ohio 45011
513-868-2180
***Offers full reinstatement service.
***Offers one-stop shopping with driver exam station.
Hours
Monday—Friday: 8am–5pm
Saturday: 8am–2pm
Students who sign on the parent/guardian line on the first page of the I-20 will probably not be able to get their ID card with this I-20.
Solution: ISSS will assist students by issuing another I-20 so you can re-sign in the correct place.  Please submit a "Replace Lost Document" request in InterLink and explain in the notes why you require this document.
We have also heard of other individual concerns and issues.  We encourage you to provide feedback about your experience.  To assist us with advocating effectively, please be sure to take note of who you speak with at the BMV (Bureau of Motor Vehicles) if you experience a problem, the location, time, and date.  This information is very helpful to our office.
International Students and Scholars
Social Media
Sign-Up for Email Updates
Use the link below to sign up to receive emails from ISSS. Please note that if you are currently enrolled in Miami University courses as an international student or scholar, you will automatically be added to this list.