Visit From Luxembourg Prime Minister Inspires MUDEC Students
Miami welcomes the Prime Minister of Luxembourg, His Excellency Xavier Bettel.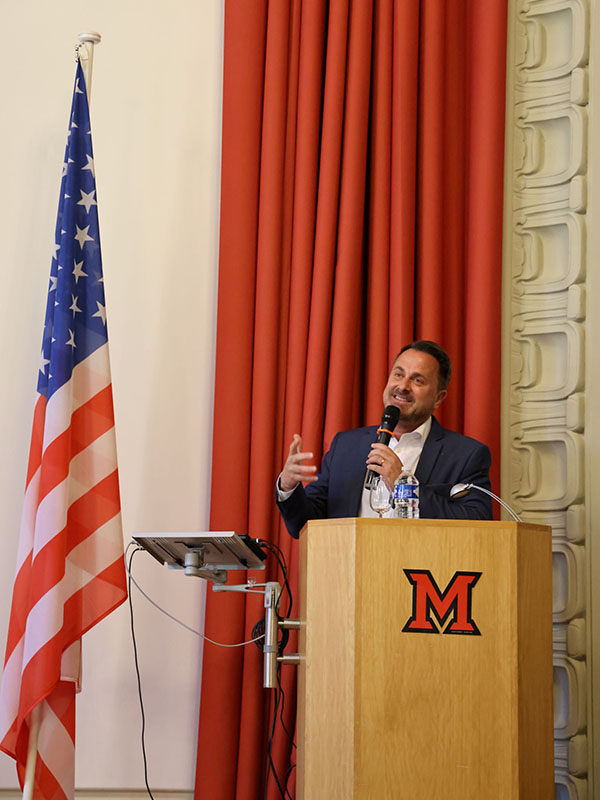 His Excellency Xavier Bettel addresses Miami students in the Château in Differdange, Luxembourg
In late April, the students, faculty, and staff of the Miami University John E. Dolibois European Center (MUDEC) were honored by a 90 minute visit from the Prime Minister of Luxembourg, His Excellency Xavier Bettel. He spoke candidly to them about his life, his political career, the importance of family and friends, and choosing to be happy.
During Bettel's moving account of his own challenges and experiences, he encouraged students to persevere through discouragement. He urged them to be passionate about their work, even if it means changing their job or career. He also expressed admiration of Americans for their willingness to try new things without fear of failure. "You learn a lot when you fail, and many American trailblazers credit failure to their success," he said.
A former mayor of Luxembourg City, Bettel shared his affection for many of the local regions, leaving many students with a last minute list of places to visit, including the Mullerthal, Esch Belval and, of course, Luxembourg City. He then entertained questions from the audience, ranging from the political to the personal.
The Prime Minister's visit ended with a few photo ops and selfies with students, who thanked him for his visit and asked even more questions as he was leaving.
Photo credits: MUDEC/Anastasia Dorenbusch