ELLWC Consultants Share their Research
Two ELLWC student consultants recently presented at the 2022 National Conference on Peer Tutoring in Writing.
English Language Learner Writing Center (ELLWC) student consultants Claire Lordan and Anjini Grover presented at the 2022 National Conference on Peer Tutoring in Writing at the University of Nebraska Omaha, October 27-29, 2022.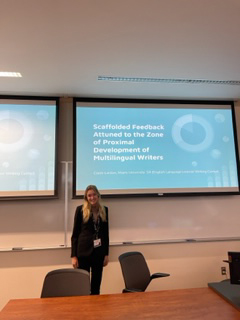 Lordan is a junior double majoring in journalism and political science. On campus, she is involved with The Miami Student and Gamma Phi Beta sorority. In her presentation Scaffolded Feedback Attuned to the Zone of Proximal Development of Multilingual Writers, Lordan discussed the use of scaffolded feedback on verb-tense errors attuned to writers' ZPD across five developmental levels of multilingual writers.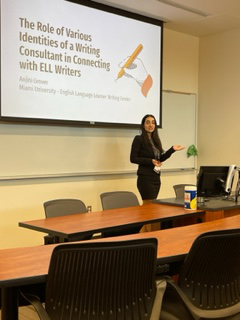 Grover is a junior majoring in mathematics and integrated mathematics education with a minor in community based leadership while working towards a TESOL endorsement. She is a leader in the Miami University Council of Teachers of Mathematics, the Diversity Affairs Council, and the University Academic Scholars Program. In her presentation The Role of Various Identities of a Writing Consultant in Connecting with ELL Writers, Grover shared how the four identities as a writing center consultant, member of Generation 1.5, a preservice teacher, and an embedded consultant can help to connect with ELL writers.
Congratulations to both students on their professional achievements. Visit MiamiOH.edu/ELLWC to learn more about the work done by student consultants and the services offered to English Language Learners.