Find Your Place in Ireland!
Experience the Emerald Isle in a Miami education abroad program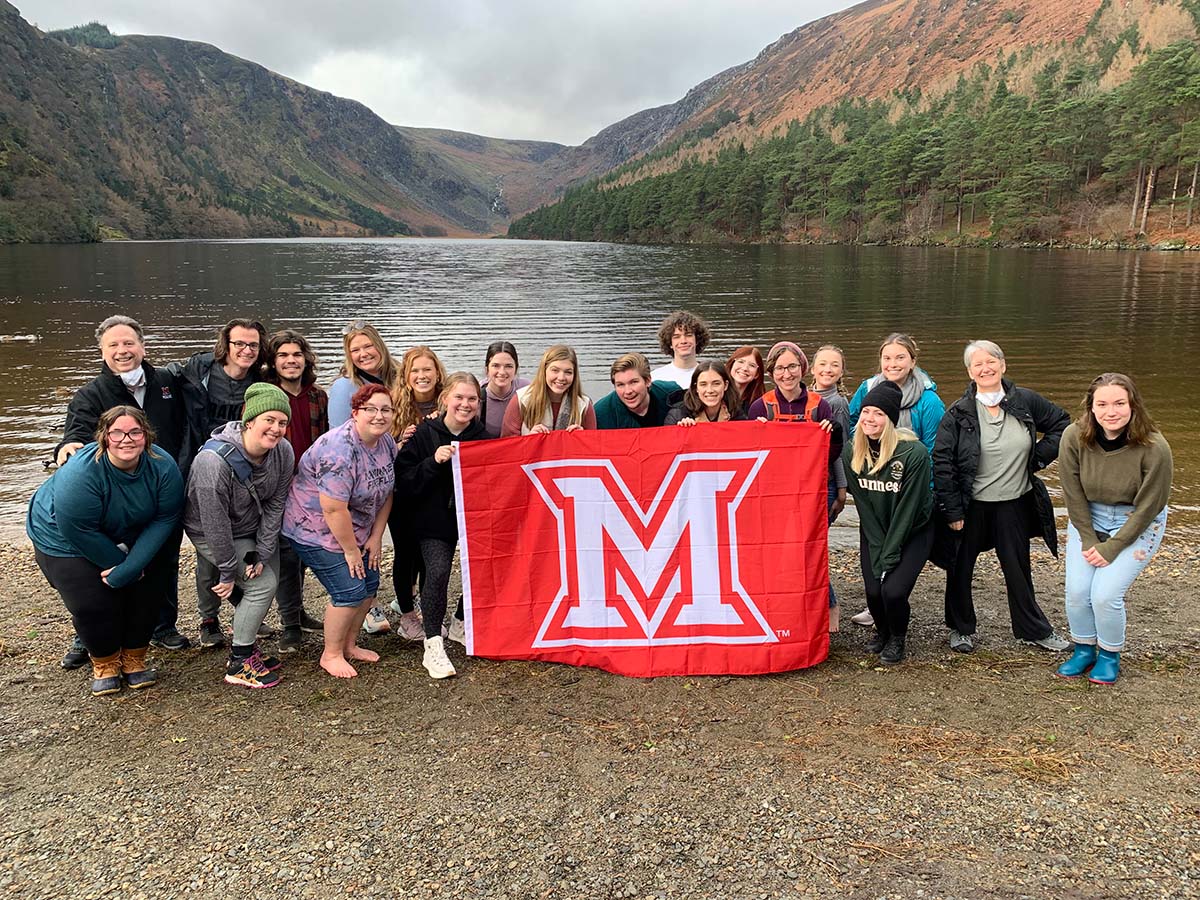 With its rich history, natural beauty, and friendly people, Ireland offers an incredible study abroad experience. And with St. Patrick's Day just around the corner, we decided to highlight two popular programs that Miami students can pursue in Ireland.
Study+Intern in Dublin
Spend a semester at AACSB-accredited Dublin City University (DCU) while paying Miami tuition and using your Miami scholarship package! Study+Intern in Dublin is a recent addition to Miami's selection of co-sponsored programs with the American Institute For Foreign Study (AIFS). In addition to a six-credit internship, students select two or three courses at DCU, combining a traditional academic learning experience with a unique opportunity to study working life in Ireland firsthand. Dublin area placements include accounting, business, communications, engineering, finance, graphic design, IT, law, marketing, non-profit organizations (NGOs), psychology and many more.
DCU offers modern libraries, award-winning gym and sports facilities, a healthy living center, on-campus restaurants and coffee shops, and over 150 clubs and societies. Students reside in furnished apartments, which offer single en-suite rooms with a study area, a shared kitchen area, and a shared living room area.
According to Education Abroad director Ryan Dye, in the years since Brexit, Dublin has become a key business hub in the EU, which makes it ideal for students in the Farmer School of Business. DCU's AACSB accreditation means that students can take advantage of pre-approved transfer credit courses in marketing, finance, and accounting. Other study abroad courses taken at DCU are eligible for business course equivalency pre-approval by petitioning FSB.
Dye also noted that DCU's internship experience includes career training, such as the CliftonStrengths assessment.
Students who are interested in this program are encouraged to speak with an Education Abroad Advisor before applying.
Learn More: Study+Intern in Dublin
---
Experiencing Arts and Culture Ireland
If a short-term faculty-led experience is more suited to your needs, start planning for Experiencing Arts and Culture Ireland. This Winter 2023-24 workshop, open to any major, provides exposure, immersion, and experiences in the performing arts in an international setting. Professors Julia Guichard (Theatre) and Harvey Thurmer (Music) have led the program for several years, most recently in Winter 2021-22.
Guichard said, "Our program uses theatre, music, dance, Irish language, architecture and art as a lens to understand Ireland's rich history and culture. The Gaelic Revival in the 19th century linked a resurgence of Irish language and traditional arts to nationalism, ultimately resulting in independence from British rule. Immersing students in the Irish arts ultimately allows them to explore national identity in a very different way than we think about American identity."
Guichard notes that modern Ireland provides a diversity of experiences, from urban Dublin—one of the most world's most international cities—to romantic western Ireland, a region in which people still speak Gaelic Irish. "It provides some of the most stunning natural beauty in the world," she said.
According to Thurmer, each visit to Ireland feels like coming home. He said, "Although my ancestors were Scottish, they came from Northern Ireland back in the 1790s. We even have a grandfather clock that belonged to my ancestor, John McNeil." He added, "The people are the most special in the world; they never meet a stranger!"
Although the program focuses on the rich history of Irish theatre, storytelling, and music, students will also experience other artistic traditions such as Irish Dance and Gaelic language. Students will attend performances, complete hands-on creative projects, and create multi-media presentations.
Program locations include Dublin and Galway, with excursions to places like Glendalough, the Cliffs of Moher and the Aran Islands.
Registration will open soon! Subscribe to the Education Abroad newsletter to be the first to know.