Think Like an Economist: How Economics Faculty Developed a New Plan for Teaching Writing

by Caitlin Martin
Published October 14, 2020
Since economics faculty Janice Kinghorn, Ling Shao, and Jacob Brindley participated in the HCWE Faculty Writing Fellows program in Spring 2017, the economics department has implemented a new departmental writing plan that systematically works to teach students to think—and write—like economists.
Their plan, which fulfills the Global Miami Plan Advanced Writing Requirements, features writing instruction in five economics courses. Students must take ECO 311, 315, and 317, and two courses at the 400+ level to fulfill the advanced writing requirement. Students receive feedback and instruction on economics writing, including problem sets, explanatory analyses, and longer papers written toward specialist and generalist audiences.
Kinghorn, an associate teaching professor, and Shao, an assistant teaching professor, explain the process of moving from thinking in the Fellows program to developing the department writing plan in their chapter in the forthcoming collection Changing Conceptions, Changing Practices: Threshold Concepts and Innovative Learning Across Disciplines, edited by current and former members of the Howe Writing Across the Curriculum team.
To develop this plan, Kinghorn, Shao, and Brindley (who has since left Miami) re-thought what counts as writing in economics through the Fellows program. In turn, they were able to reframe the work of creating a new department writing plan.
The Fellows program is framed around threshold concepts, which are ways of thinking and practicing that are crucial for learners to act as members of a field or discipline. It also emphasizes the HCWE's guiding principles about writing, including that writing is linked to disciplinary ways of thinking and practicing and thus looks different in different fields.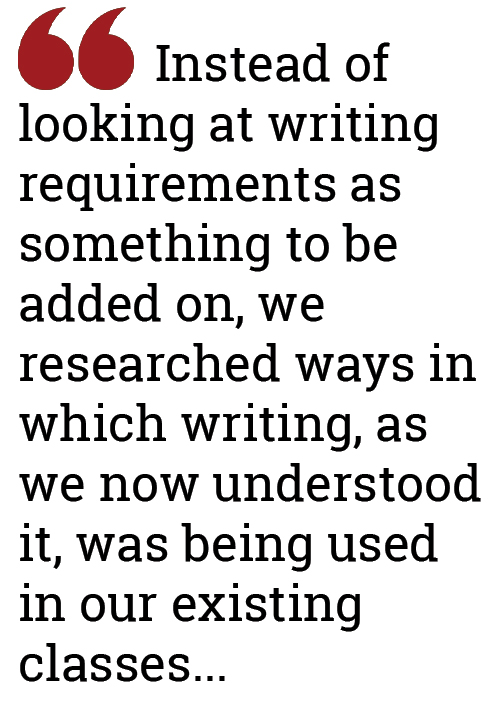 As Kinghorn and Shao explain, "Instead of looking at writing requirements as something to be added on, we researched ways in which writing, as we now understood it, was being used in our existing classes, the ways our faculty believed writing was important to practicing economists, and the challenges faculty were experiencing with writing in their classrooms."
This research led them to find "clusters" of courses that asked students to approach writing in similar ways.
As part of a project they completed during the Fellows program, they surveyed faculty in their department to understand how writing was currently being taught. The "results helped the department to realize that we had a shared interest in teaching students to effectively communicate technical and quantitative results," Kinghorn and Shao explain.
The survey also helped the economics fellows to make clear to themselves aspects of being an economist that they had internalized, and thus take for granted, or what the authors of How Learning Works call "expert blindspots."
Because they are experts, the Fellows and other economics faculty know how to "think like an economist." Their time in the Fellows program offered the opportunity to focus on how they teach this disciplinary way of thinking to students.
Think like an economist
The phrase "think like an economist" is common in introductory economics textbooks, Kinghorn and Shao explain. But despite the phrase's ubiquity, their experiences suggest it was a "lofty goal."
Participating in the Fellows program provided a space for Kinghorn, Shao, and Brindley, who has since moved to another institution, to examine teaching and learning in economics. This gave them the opportunity to think about what economists do and how they teach that to undergraduate economics students.
Thinking like an economist, Kinghorn and Shao explain, also means writing like an economist. Talking about writing with faculty from other disciplines also participating in the Fellows program "reminded [them] that writing could look quite different across disciplines."
As a result of these disciplinary differences, they say, "It is incumbent upon us to teach students the particular things valued in economics, as they will not have learned them in a course from other departments."
One important realization the team made about writing in economics was that "writing" is more than words. In order to "think like an economist," students need to be able to "perform and interpret empirical analysis and explain the findings using writing," Kinghorn and Shao explain.
Their department writing plan now has multiple opportunities for students to develop these analytical and communication skills.
Teaching disciplinary writing
To create their new department writing plan, the economics Fellows were guided by the understanding that only economists can teach students the values and conventions of economics writing. Further, they recognized that they had opportunities to improve how they did this work in their department.
By recognizing that writing is more than words, the Fellows team was able to identify and then explain to others disciplinary writing that their students would not learn outside of economics courses.
As Brindley explained to researchers in the HCWE, "If you'd asked me before we started, 'Do your Intro to Econ. students write?' I would have said, 'No. They don't write; they just solve this equation; they graph it. And they might explain the implications of that a little bit.' But having our discussions here showed me that when I asked them to do that on the exam, they're actually writing."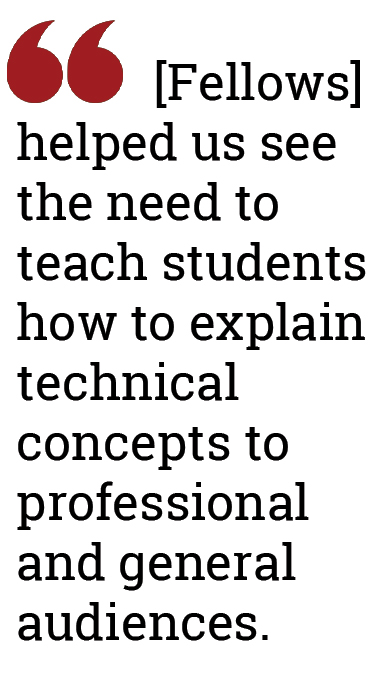 With their new writing plan, students are now given specific kinds of instruction to support them as they learn to "think like an economist."
In 400-level courses, for example, writing instruction involves how to read disciplinary language. This instruction helps students in their assignments, which include writing to both specialist and generalist audiences.
Understanding disciplinary language is important for adapting their writing to their audience, Kinghorn and Shao explain: "When writing for fellow professionals, economists can use technical terms and reference theories that would be inappropriate when writing for a general audience" and "The Fellows Program helped us see the need to teach students how to explain technical concepts to professional and general audiences."
Read more about the Global Miami Plan Advanced Writing Requirements and course approval process on the HCWE website. Applications are now open for the Spring 2021 Faculty Writing Fellows Program. Interested individuals should contact Dr. Elizabeth Wardle.