Slowing Down: Two Music Faculty Innovate Teaching Writing

"I never realized the diversity of what writing can be," Elizabeth Hoover said with excitement when I interviewed a team of faculty from the music department who participated in the Howe Faculty Writing Fellows Program in Spring 2019.
"I know it sounds simple," Hoover, associate teaching professor, continued, "but maybe I was still thinking even as a student in terms of writing as a paper, writing as an essay, writing as a response, writing as a summary. But there are really so many things that I do as a professional in the field or in the discipline that I wasn't making transparent to my students."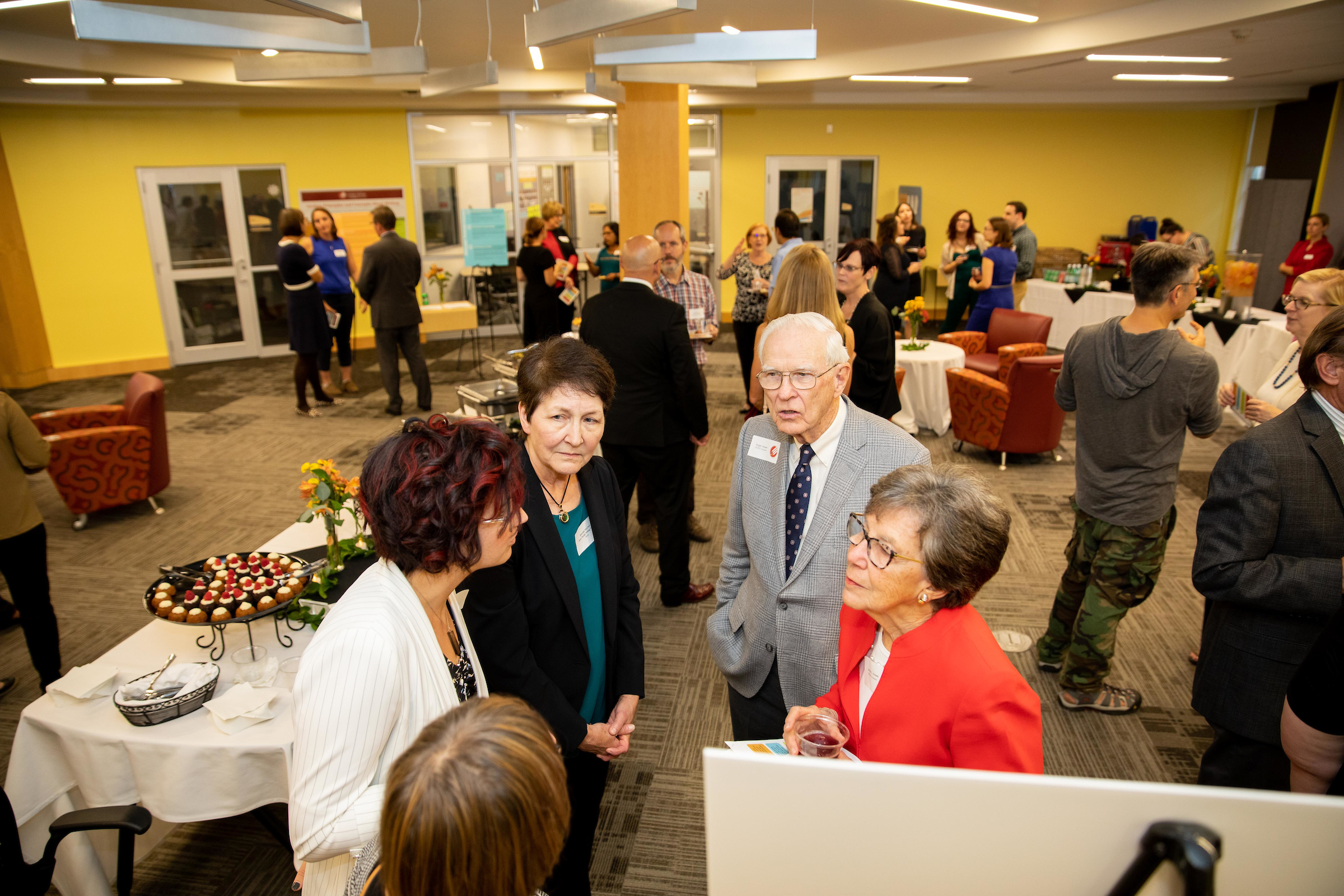 Music Fellows Elizabeth Hoover (far left) and Brenda Mitchell (center left) talk with HCWE Founders Roger and Joyce Howe about teaching writing in their graduate curriculum.
During the Fellows Program, the Music team—associate professor Claire Boge, professor Tammy Kernodle, and associate professor Brenda Mitchell—reflected on their own writing processes to help identify what's invisible to them as experts. Since completing the program in May 2019, Hoover and her Fellows colleagues have been working to make the writing "moves" of their discipline more transparent to both graduate and undergraduate students.
Recognizing What Students Don't Yet Know About Research
To make these "moves" more visible for graduate students, Hoover is making the role of informal writing for learning more explicit. This semester, she's teaching MUS 621, Graduate Research in Music, that introduces graduate students to a variety of academic research processes. In this class, Hoover explained, students "are introducing [themselves] to the tools for research, so a lot of online databases, going into the library, and experiencing the stacks hands on."
She asks students to complete an activity called "Browsing the Music Library," in which students work with a partner to locate a source from specific call numbers that might be useful for a topic of study they're interested in. Students then "browse" the books they've selected to help them identify other potential resources.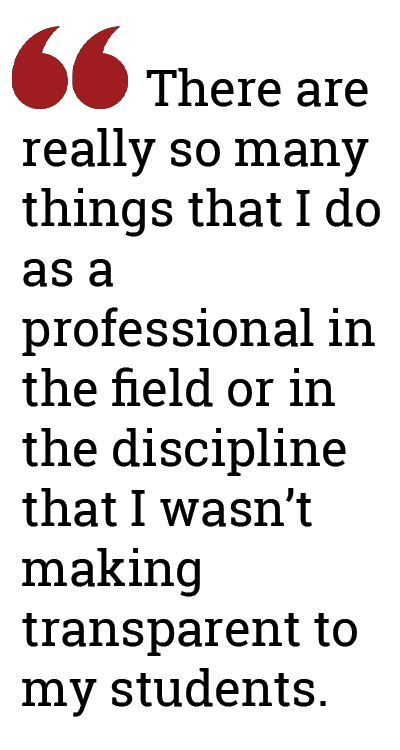 "It was for me an exercise to find more things in the library," she said, explaining that she asks students to look at footnotes, endnotes, and other features of a book they locate in order to find related resources.
This library activity helped her recognize that students, "would have to know how to read certain endnotes or citations," before completing the activity. This insight has prompted Hoover to introduce reading citations earlier in her course.
"You can't just start with browsing," she said. "You actually do start with citations because you have to know how to read a citation in a book" in order to use those citations to locate additional resources.
"Unpacking" Music Education Capstone Projects
Hoover isn't the only faculty fellow from the music department innovating their teaching by being more explicit with students. Her colleague Brenda Mitchell has been reevaluating her approach to the undergraduate capstone course.
"I really stepped back and looked at a senior capstone course that I teach for music education majors," Mitchell said, "and realized that I needed to slow down on some writing processes I had them do."
Mitchell said she needs to, "unpack and analyze and talk about different ways of reading, different types of sources, [and] reading in different ways," with her students.
"Sometimes we assume knowledge that our students have that they may not have at all," Mitchell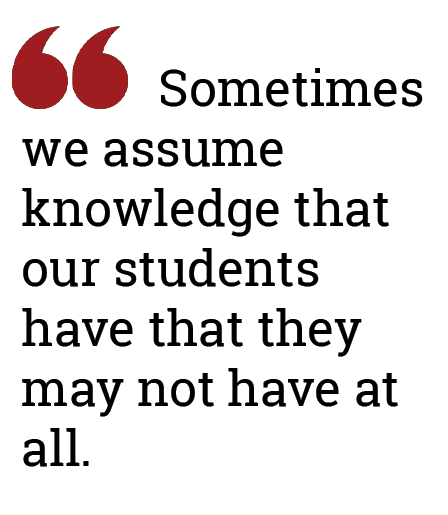 said. She went on to explain how an activity in which they discussed an example of good writing from their field helped her "step back."
During this activity, Faculty Fellows bring in an example of "good writing" in their disciplines, which they share with fellows from other departments. Mitchell brought in a score that she discussed with Art History Fellow and Associate Professor Pepper Stetler. Fellows look at each other's examples and analyze it for similarities and differences that help them see the other disciplines' conventions and how those relate to what they value.
Hoover agreed that seeing the writing of their art history colleagues was a "valuable day" for her during Fellows.
"We were put into positions of students again, reading articles for another discipline," Hoover said. "Having it in front of our face is powerful."
The work of the Music faculty illustrates important principles about teaching and learning: much of what is obvious to experts is unclear or sometimes invisible to those learning the discipline and its conventions and values. Larger projects often involve multiple steps that experts have internalized. Slowing down and "unpacking" the invisible steps is crucial for supporting learners.
The HCWE is taking applications for Fellows teams for Fall 2020. Anyone interested should contact Elizabeth Wardle for more information.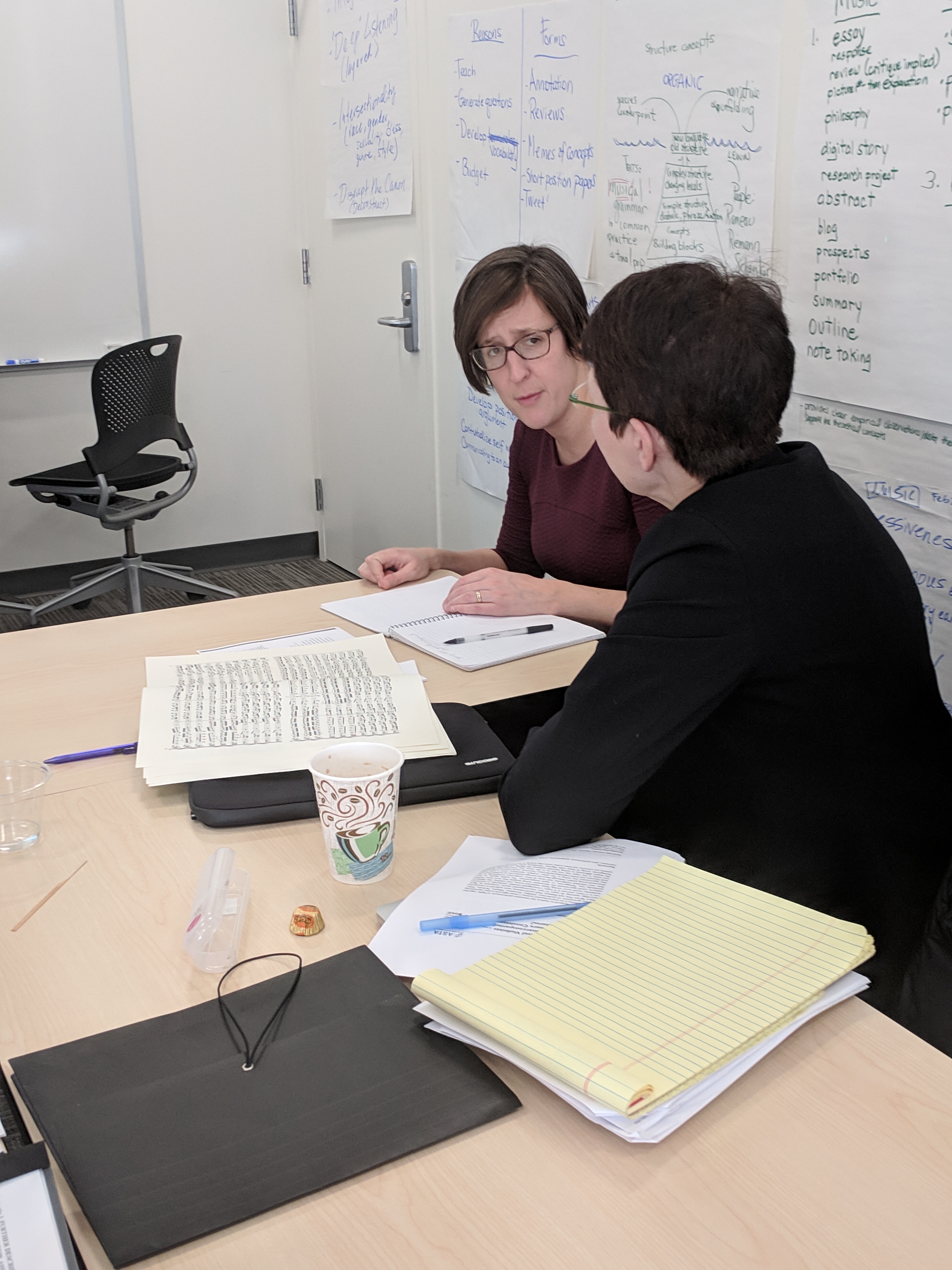 Brenda Mitchell (right) talks with Associate Professor of Art History Pepper Stetler (left) about a musical score during an HCWE Faculty Writing Fellows activity.