No One Wants Rote Memorizers: Faculty Share Strategies for Incorporating Writing in Large Courses

by Caitlin Martin
Published Oct. 2, 2019
Faculty who teach large courses often want to incorporate writing into these classes but aren't sure how. At Miami University, teachers of large courses are using writing both to make their students' learning visible and to help teach disciplinary concepts.
To help others learn from their successes, the Howe Center for Writing Excellence hosted a lunch where faculty from across the university heard from Elizabeth Keslacy (Architecture), Lewis Magruder (Theatre), Mark Peterson (Anthropology), and Scott Sander (Teacher Education) about the role of writing in their courses, which enroll from 60 to 360 students each semester.
Though the talk focused on ways to incorporate writing in large courses, the strategies offered in the workshop are useful for teachers of any class size. In addition to sharing ideas for why they incorporate writing into their classes, presenters also emphasized that making the purpose and value of writing assignments explicit to students is important for making writing a meaningful part of one's course.
Incorporate Writing That Makes Learning Visible
Scott Sander, an associate clinical professor in teacher education, shared his strategies for incorporating writing as a method of learning in a course he calls "Thinking Critically about Physical and Social Phenomenon." The course, EDT 181/182, is officially called Physical Science and enrolls sixty students who are typically early childhood education majors or business majors rather than "future chemists, geologists, physicists, [or] astronomers."
He approaches his courses by thinking about what science can offer everyone, not just future scientists
In particular, Sander uses writing to help students think about what science is and to learn a process of understanding used by scientists but applicable to other situations. He incorporates many written opportunities for students to think about what they know about science and then to reflect on what they know. Assignments like "exit slips" are one way Sander helps students think about their learning.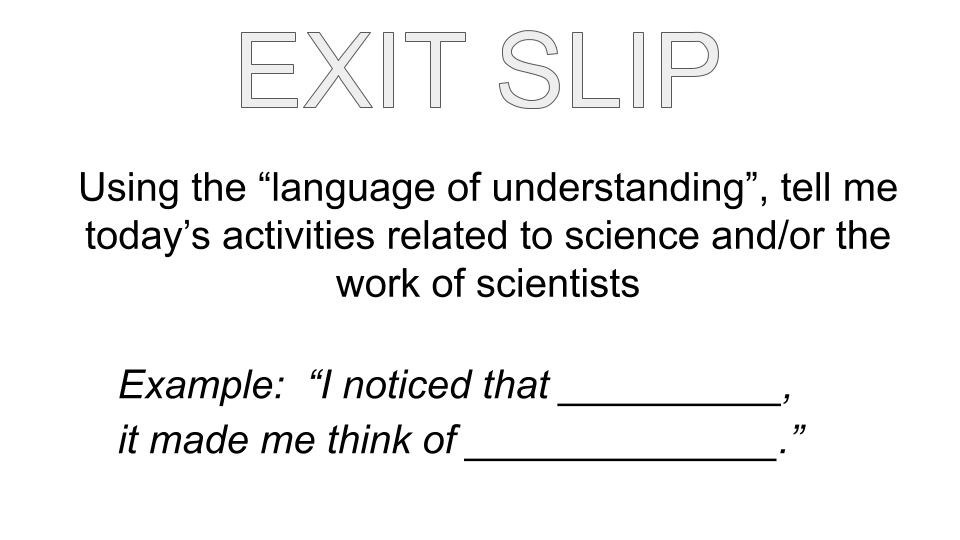 Exit slips "create space and opportunity for students to generate new knowledge around prompting like 'what can you say now that you couldn't before class?'" Sander explained in his presentation materials.
"No one wants rote memorizers," Sander said, and he uses these exit slips to help students understand the process rather than focusing on memorization of facts.
Use Writing to Teach Disciplinary Concepts
Elizabeth Keslacy, an assistant professor in architecture and interior design, spoke about two of the four assignments she gives students in ARC 221, which focuses on the history of architecture and enrolls between 110 and 115 students per semester. She sees writing as a crucial mechanism for "rehearsing" information students learn in class and to help show them how knowledge is applied, not just learned.
Her "typology assignment" presents students with a "fundamental way to do architecture." Keslacy explains in her assignment that "To understand architecture through type is to recognize that groups of buildings from the same period and place can share many features in common." This knowledge can help individuals to "make educated guesses about newly discovered or unknown buildings by observing their similarities with known structures."
In this assignment, she provides students with detailed information about how to write the assigned typology essay and how it relates to the course's learning goals. In addition, she provides detailed descriptions of the letter grades that will be assigned, which can both provide students with guidance for writing the typology assignment and help make grading over one hundred essays more manageable and consistent.
Make Your Reasons For Assigning Writing Explicit to Students
Lewis Magruder, an associate professor in the theatre department, emphasized an idea touched on by all four presenters: that it is important to make your reasons for assigning writing clear for students. Magruder teaches THE 191: Experiencing Theatre, a course for non-theatre majors capped at 360 students. Magruder discussed how California State University, Chico, associate professor Kim Jaxon's work on "jumbo course design" helped him to revise the writing assignments he incorporates into the course.
Magruder explained a group assignment he gives students after reading Sophocles' Antigone. In his assignment, he explains its value and why they write as a group rather than individually. Asking students to respond to as a group helps them to summarize, contextualize, and debate the arguments in the play.
Working as a group, Magruder explained, helps students understand multiple viewpoints and interpretations. In addition, by working as a group students will have the opportunity to think more deeply about about the arguments presented in the play itself.
To improve the experience of writing as a group, Magruder also assigns a "procedural memo" in which each group identifies how, when, and where they will work together, which includes defining roles and tasks for each group member and creating a detailed policy for how they will deal with conflict.
"I'm excited to see what happens," Magruder said of his recently revised course, in which students are currently beginning the assignment he discussed.
Mark Peterson, a professor of anthropology, also discussed the importance of being explicit with students as he explained a semester long writing assignment he includes in a 300-student course.
Because he thinks writing is the most important thing students learning in college, he created an iterative assignment in which students complete separate research tasks, draft their paper in chunks, and participate in guided peer review before submitting the final draft at the end of the semester. Throughout this process, students also receive support from Undergraduate Associates in the class.
Intentionally scaffolding an assignment across the semester makes both the grading and writing processes more manageable. In addition, Peterson has created a bank of comments he frequently leaves and uses a rubric to help make grading more efficient at the end of the semester.
Want to Incorporate Writing Into Your Own Large Course?
Faculty who teach large and jumbo courses can benefit from thinking about the affordances of large courses for teaching, an idea Jaxon emphasizes in her discussion of her jumbo writing courses, asking "What can you do with large groups of people that you can't do with smaller groups of people?" You can read more about jumbo course design by watching Jaxon's Ignite Talk or her follow-up blog, "Epic Learning: Large Class as Intentional Design." You can see an overview of her work on her professional website.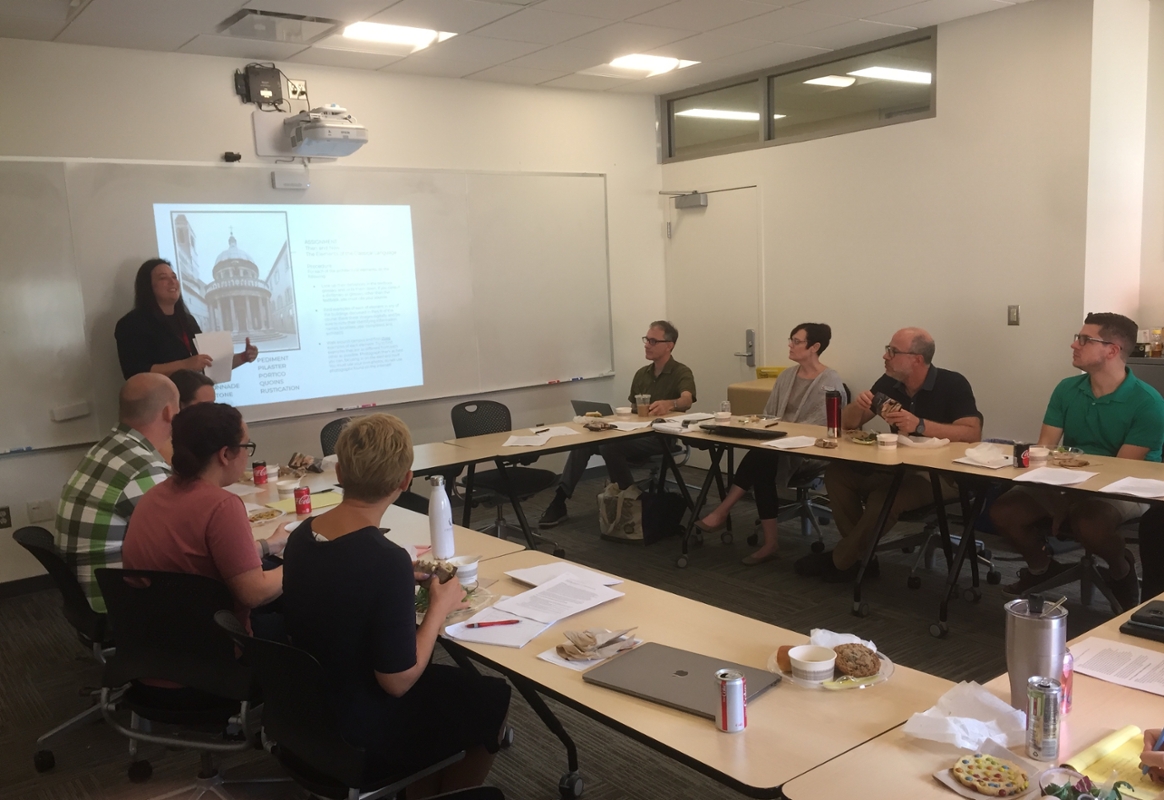 Dr. Elizabeth Keslacy shares her strategies for teaching writing in a large course in architecture.