Welcome!
We're so glad you're interested in learning more about the Howe Writing Center and the role of graduate student writing consultants.
The Howe Writing Center is part of the Howe Center for Writing Excellence, which provides both Miami faculty and students with writing-related programs and support. The specific mission of the Howe Writing Center is to support Miami student writers through one-to-one consultations, writing-related workshops and events, and programming focused on writing for specific genres, fields, and contexts.
As a graduate HWC consultant, you'll:
Get paid for both your training and your consulting work
Interact with graduate and undergraduate students from a range of disciplines
Join a community of like-minded students who value helping others
Develop your writing knowledge and gain valuable teaching experience
Watch HWC Director Dr. Lizzie Hutton and consultants Salma, David, Martin, and Adrienne tell you what working at the Howe is all about.
Graduate consultants are crucial to the Howe Writing Center, as Miami students pursuing their Masters and PhD frequently reach out to the HWC for writing support, both in-person and online, and often through recurring appointments. As a graduate consultant, your support for these advanced-level projects will be in high demand. Supporting writers from such a range of backgrounds is stimulating and gratifying work
In this webpage you will find short overviews of some of our initiatives and programs, the paid training that our consultants receive, and the consulting and research opportunities we offer. We've also highlighted (in red) some of our guiding principles about writing—which apply as much to ourselves as to the writers we support.
Once you've read through all that important information, you'll find a link to apply to join our team.
Please don't hesitate to ask us any questions you have.
Sincerely,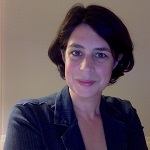 Dr. Lizzie Hutton
Director, Howe Writing Center
huttoneb@miamioh.edu 
Graduate Consultant Training & Ongoing Professional Development
Consulting at the Howe Writing Center is a fantastic way not only to support your Miami peers and to gain valuable teaching experience, but also to develop your own writing knowledge and skills.
All writers have more to learn
Graduate students accepted into our program will have two options for training. You are welcome to take our 3-credit training course, English 481/581—which in Spring 2021, will be offered Tuesdays and Thursdays, 2:50-4:10. Or you can join our paid (but non-credit-bearing) graduate training seminar, in which you will attend a series of weekly training seminars for the first half of term (we will determine the schedule once we know accepted students' availability).
Both training options introduce you to our guiding principles about writing and consulting, teach you effective strategies for all kinds of consulting situations, including online consulting, and provide you with the resources to help writers navigate the writing conventions of various academic and professional genres. You will then begin holding your own consultations about mid-way through the semester. 
Paid graduate training is a less writing-intensive version of our credit-bearing course. If you go this route, you will be paid for time spent doing assigned reading for class, observing experienced consultants at work, conducting mock consultations with each other, and completing short, reflective writing assignments.
Writing is social and rhetorical, and informed by prior experience
Upon successful completion of training, you'll begin working full time in the HWC. We work in three locations: King Library, Peabody Hall, and the Farmer School of Business. 
As a consultant, you will work with undergraduate and graduate writers from a range of disciplines, including your own. You will also continue to teach and learn from your peers: all consultants participate in twice-monthly professional development seminars, in which consultants explore consulting questions and lead discussions; and in the fall semester, new graduate consultants participate in mentorship groups, in which small groups of new and experienced consultants collaboratively reflect about their evolving writing center practices and projects. By the spring, graduate consultants are finished with the mentorship groups so they can devote more of their hours to consulting. 
Every term you will have the opportunity to receive formative feedback on your consulting, through self-assessments, peer-to-peer assessments, and assessments from staff.
Reflection is an important part of improving as a writer
Research, Programming, & Outreach
As a consultant, you'll have opportunities to engage in research, programming, and outreach. These projects focus on better understanding writing practices and Miami writers, and supporting Miami writers beyond one-to-one writing center consultations. Through these programs, we strive to:
Learn more about how writing acts in and on the world
Develop ethical and professional practices for writing and collaborating across differences
Contribute to campus-wide initiatives that foster a critically-aware writing culture
In addition, HWC consultants are frequently asked to visit classrooms, speak on panels, and otherwise help to educate Miami students about the varied support we can offer.
Writing is not just something we do, but something we study
At the HWC, consultants have the opportunity to participate in Special Interest Groups, or SIGs. SIGs allow HWC consultants to engage in writing-center related and approved research, programming, outreach, and/or resource design, and SIGs ensure that consultants are paid for the time they spend doing so. Our current SIGs include a Creative Writing SIG, a Social Media SIG, and an Accessibility SIG. Our SIGs run creative writing contests and weekly writing group meetups, plan our spring banquet and help with recruitment efforts, and organize social media initiatives and takeovers. Consultants are always welcome to propose new SIGs, as well.
Finally, the HWC is strongly committed to supporting varied writing-center related research projects, led by both graduate and undergraduate consultants. HWC staff will serve as mentors for this research, and the HWC can fund travel to regional and national writing center conferences. Over the years, HWC consultants have consistently presented their original research at the National Conference of Peer Tutoring in Writing and the International Writing Center Association's annual conference.
Through these initiatives, our graduate consultants can forge crucial relationships with varied Miami faculty, programs, student groups, and national organizations. This programming also provides consultants with a wealth of professional development opportunities, helping you sharpen your presentation and organizational skills and to build your resume or C.V.
Helping learners improve as writers is a shared responsibility
Applying to be a Consultant
Does this sound like a good job for you? Aside from the above, here are a few other specifics to consider before you submit your application:
All graduate student consultants must complete their training—either through the credit-bearing course or through the non-credit-bearing but paid training—before consulting full time.

Consultants with graduate assistantships can work a maximum of 4 hours/week; this includes one hour for the professional development seminar and partnership meetings. Graduate students without assistantships can work up to 20 hours/ week.

Graduate consultants must be able to consult a minimum of 3 hours per week. All consultants commit to a set consulting schedule each semester, and they are responsible for finding coverage from fellow consultants if they can't make a shift.
If you've decided that being a consultant is a good fit for you, you'll need to submit an application and Statement of Interest by November 6th, 2021.
And remember that we are especially interested in recruiting graduate consultants from a range of disciplinary backgrounds, and who can bring to the HWC a breadth of writerly identities, sets of expertise, and experiences. If you have any questions about how suited you may be for this position, don't hesitate to reach out to our interim director, Anita Long, over email: houseam2@miamioh.edu. 
HWC staff will review all application materials the week after they are received. Soon after, we'll contact selected applicants to invite them to attend our training in the spring.
Writing enacts values, conventions, and identities
Contact Information
Please feel free to contact one of us if you have follow up questions.