Creative Writing Contests
Part of the Howe Writing Center's mission is to help cultivate a culture of writing that honors a range of voices and perspectives at Miami. That's why each semester we host a writing contest open to submissions from any Miami undergraduate or graduate student writers. A group of our student consultants lead the contest process, coming up with the prompt, planning ideas for promoting it, and ultimately judging the entries.
We choose a new prompt each semester, typically one that feels resonant with the campus climate at the time. During the Fall semester, the contest opens in late October and the genre of writing varies. During the Spring, the contest happens around April and, in celebration of National Poetry Month, calls for poems. Entries are judged according to adherence to the prompt, a reflective writer's note, and the piece itself. First and second prizes are awarded, along with a staff choice prize, or, occasionally, an honorable mention. Winners receive prizes plus temporary publication on our website. Find the latest contest information, and browse past contest themes and winners. 
Follow us on Instagram (@HWCMiami), where we first announce our contests. Calls for submission will also be posted to this webpage. We hope to read your work as part of the next contest!
Finally, know that HWC consultants can support your creative writing in consultations. Simply find a consultant with a creative writing background on our staff page and schedule an appointment with them.
Fall 2022 Writing Contest: Fall without Fall: the Taboo Writing Method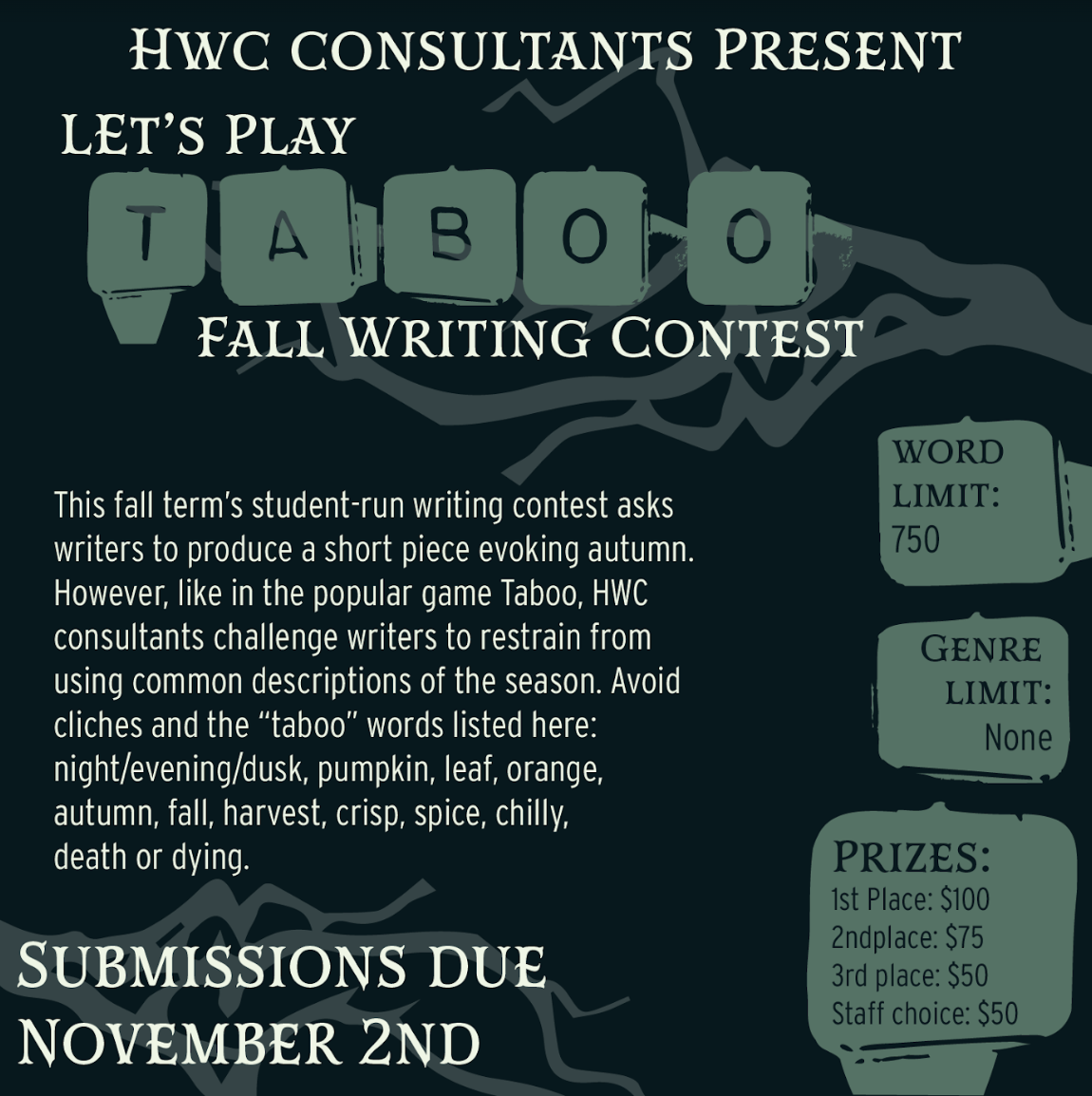 This fall term's student-run writing contest asks writers to produce a short piece evoking autumn. However, like in the popular game Taboo, HWC consultants challenge writers to restrain from using common descriptions of the season. Avoid cliches and the "taboo" words listed here: night/evening/dusk, pumpkin, leaf, orange, autumn, fall, harvest, crisp, spice, chilly, death or dying.
Submissions may take the form of any print-based genre: poetry, essays, or short story, maximum length 750 words.
In addition to your creative piece, submit a 200-300 word writer's statement discussing your submission, writing process, the challenges you faced and how you resolved them. Your writer's statement is just as important to the judges as your submission. 
All Miami writers are invited to participate!
HWC writing contests are envisioned, facilitated, and judged by HWC consultants under the guidance of HWC staff.
Submissions Open October 1st- November 2nd
First-place winner:  $100

Second-place winner:  $75

Third-place winner: $50

Staff choice winner:  $50
Remember, you can always bring your creative work into the HWC for brainstorming, final touches, help with writer's block, and everything in between! Happy writing!