21 Miami news highlights from 2021: A year of perseverance, collaboration and recognition
As the Miami community prepares for winter break and winter term, here's a look back at 21 headlines that captured some of the year's highlights.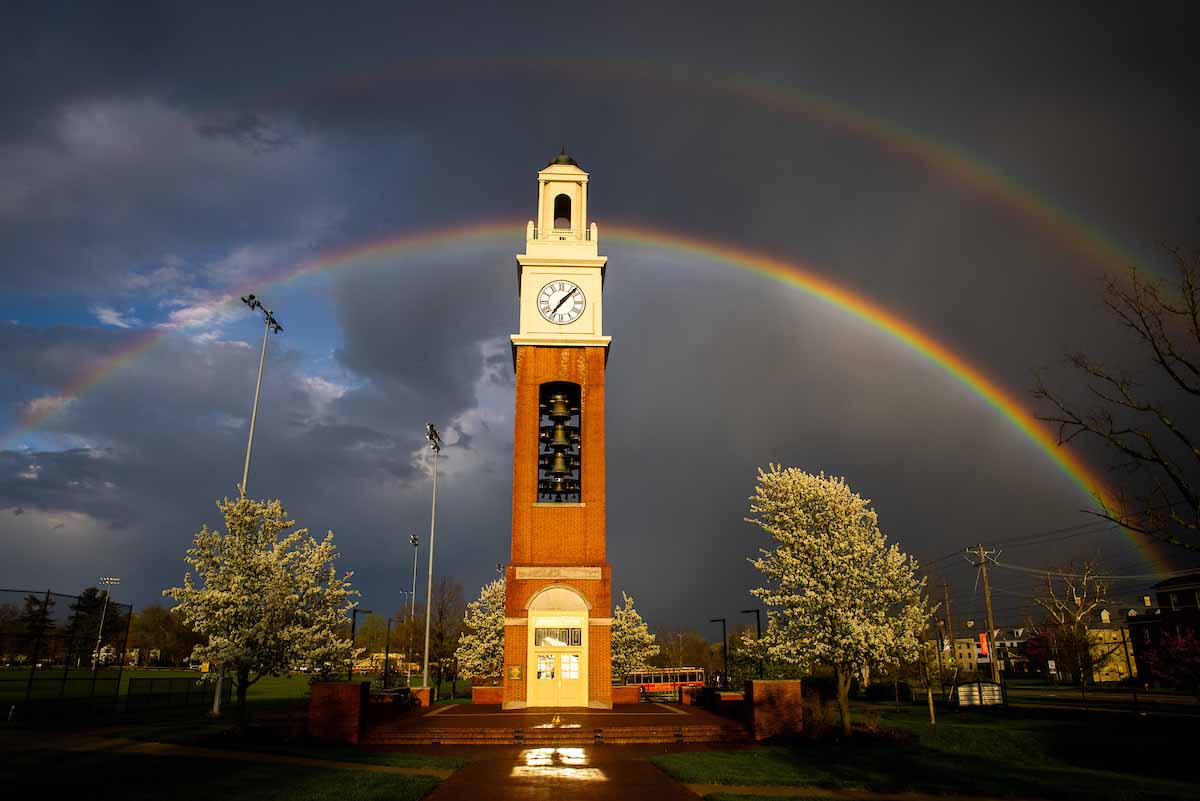 A double rainbow over the Pulley Tower. Images like this and more by Miami University photographers can be found in our new photo essay section at stories.miamioh.edu.
21 Miami news highlights from 2021: A year of perseverance, collaboration and recognition
A double rainbow over the Pulley Tower. Images like this and more by Miami University photographers can be found in our new photo essay section at stories.miamioh.edu.
A sovereign tribal nation in Oklahoma. A public university in Ohio. And a relationship that has led to the first generation in nearly 100 years learning to speak the Myaamia language.
Miami University's Oxford campus is growing with the construction of two new academic buildings — the first since the Farmer School of Business was built in 2009 — and an indoor equestrian center. The renovation of the College@Elm building in partnership with the city of Oxford will revitalize an area along College Avenue and Elm Street uptown. 
Through the Lens: Pushing through the pandemic 
The COVID-19 pandemic forced a new way of life for the Miami University community. Students, faculty, staff and administrators quickly adapted and pushed through, as remote teaching and learning, Zoom sessions, mask wearing and social distancing became the norm.
Miami honors Wayne and Theresa Embry with Freedom Summer of '64 Award: University unveils statue of NBA executive and basketball icon (video)
On May 18, Miami University unveiled a statue of NBA executive and basketball icon Wayne Embry (Miami '58). The university also presented Embry and his late wife, Theresa "Terri" Embry (Miami '60), with the Freedom Summer of '64 Award, which is bestowed each year upon a distinguished leader who has inspired the nation to advance civil rights and social justice.
Miami University-based initiative receives $6 million to aid mental wellness for Ohio's K-12 students and staff
The Ohio School Wellness Initiative, a Miami University-led project to aid mental health and substance use supports for Ohio's K-12 students and staff, was selected to receive $6 million from the Governor's Emergency Education Relief (GEER) fund.
Historical marker fosters healing from past racially motivated injustices
Several years of work led by Miami University's Truth and Reconciliation Project culminated with

a narrative historic marker that is now a permanent fixture in the City of Oxford. An unveiling ceremony was held June 21 in the Dr. Martin Luther King, Jr. Park uptown. 
Miami Regionals E-Campus recipient of a 2021 WOW Award (WCET Outstanding Work Award) 
Since 2004, WCET (the WICHE Cooperative for Educational Technologies) has presented the award to colleges, universities, and organizations that implement exceptionally creative, technology-based solutions to contemporary challenges in higher education.
PsyBio Therapeutics Corp. awards Miami professors $1.5M to expedite neuropsychiatric drug development 
Researchers at Miami University have been awarded a $1.5 million grant from PsyBio Therapeutics Corp. to expedite progress toward clinical trials of a portfolio of neuropsychiatric drugs. Last year, PsyBio and Miami joined forces to develop and test a new class of molecules to treat mental health challenges such as depression, anxiety, PTSD, and substance dependency.
Day of Reflection: Commemorating 175th anniversary of the Miami Tribe's removal from their homelands
"This ground beneath our feet is home, a place where countless generations of our ancestors left footprints as they lived their lives until a fateful period in the history of this country," Miami Tribe of Oklahoma Chief Douglas Lankford said.
Miami U. pitcher Sam Bachman selected 9th overall by Los Angeles Angels
Miami University junior right-hand pitcher Sam Bachman was selected ninth overall by the Los Angeles Angels in July in the 2021 Major League Baseball Draft. Bachman becomes the first RedHawk to be selected in the first round of the MLB Draft in school history and is the highest Miami student-athlete drafted since basketball player Wally Szczerbiak was picked sixth in 1999. 
As the Taliban asserted authority in Afghanistan and U.S. troops pulled out, people around the world wondered what it means for their countries and global security. Miami University professors who have studied Afghanistan, the Taliban, and world history share insight into the unfolding situation. 
Inclusive, innovative and relevant: Miami University Symphony Orchestra weekly concert videos dedicated to diversity
"We gather together in music" was inspired by events after the death of George Floyd.
Experts: Supply chain issues could play Grinch this holiday season
Miami University Farmer School of Business faculty experts who study and teach about supply chain and operations management say that this year, the holiday season has already started if consumers are looking for gifts to put under the tree on Dec. 25.
Department of Education awards $2.5M to Miami University to provide critical support for Ohio's K-12 English language learners
"The PELEA grant extends Miami's role in leading Ohio's efforts to strengthen and diversify the teacher education pipeline, and fill a critical shortage of teachers able to work with the growing number of students for whom English is not their first language," said Jason Lane, dean of the College of Education, Health, and Society.
Housemates help student Wil Olson after stroke
Miami University junior Will Olson suffered a stroke Sept. 7 while relaxing with friends at their South Campus Avenue house. Thanks to his housemates' quick actions, Olson was back at school a week later with no sign of mental or physical deficits.
Miami dedicates Nellie Craig Walker Hall
The former Campus Avenue Building was dedicated as Nellie Craig Walker Hall after the university's first Black graduate. The Oxford native graduated from Miami in 1905, having earned a two-year teaching certificate. She became the first Black educator to student-teach in the community's public schools to a mixed-race class.
Jumping genes: a Q-and-A with geneticist Meixia Zhao  
Geneticist and computational biologist, Meixia Zhao studies transposable elements — also known as "jumping genes" — using maize as a model system. 
Miami professor develops app to help people in wheelchairs reach their destinations
They use wheelchair-induced vibration patterns collected by sensors embedded in smartphones. With this data, they will develop an efficient routing and navigation system for people using wheelchairs. 
Farmer School of Business ranked in top 10 for early career ROI by P&Q for Undergrads
FSB made the list for students' early-career return on investment by Poets & Quants for Undergrads. It was ranked 10th overall and ninth among public schools with a five-year ROI of $207,734.
Miami Football goes 'bowling' again 
A group of tenured Miami football student-athletes share their perspective on three bowl trips, a title ring, and the best record in the conference dating back to 2016.
Miami recognized as a top-10 in-state employer by Forbes 
Miami University has been named 10th among employers in the state of Ohio on the 2021 America's Best-In-State Employers list by Forbes and marketing research company Statista. Miami is also the top educational institution on the list for Ohio.