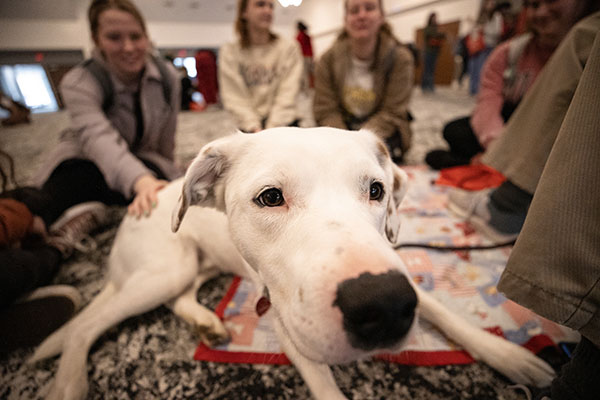 Therapy dogs were part of Stress Less Week activities in April (image by Jeff Sabo)
The Wrap-Up: April
Therapy dogs were part of Stress Less Week activities in April (image by Jeff Sabo)
Dominik Konkolewicz, professor of Chemistry and Biochemistry, received the 2023 American Chemistry Society's Macro Letters/Biomacromolecules/Macromolecules Young Investigator Award. He was honored for his research that emphasizes the importance of fundamental science for new polymer-based materials.
Leland Spencer, chair and professor of Interdisciplinary and Communication Studies, is author of a new book, "Rape, Agency, and Carceral Solutions: From Criminal Justice to Social Justice," published by the University of Massachusetts Press. 
Amity Noltemeyer, professor of Educational Psychology and associate dean of the Graduate School, was recognized as one of only seven women who have held "level 1" (editor or editor-in-chief) positions over a 55-year period across six different School Psychology or Educational Psychology journals. She was also mentioned as the first woman editor of School Psychology International journal.
Beth Miller, associate professor of Nutrition, received the 2023 Excellence in Outcomes Research Award from the Academy of Nutrition and Dietetics Weight Management Practice Group. This award acknowledges accomplishments that advance the understanding of weight management and influence the future direction of weight management practice.
Shawnieka Pope, assistant clinical professor of Family Science and Social Work, was selected to receive the Peter Magolda Excellence in Teaching Award, which honors College of Education, Health, and Society faculty who consistently engage in creative, innovative, and effective teaching methods at the undergraduate and/or graduate level.
For the third year in a row, 100% of Miami nutrition students who applied for a graduate program combined with a dietetic internship were successfully matched with a program.
A $250,000 gift from the KeyBank Foundation supports FSB students, staff, and faculty. The gift includes scholarships for underrepresented students, making the dream of a Farmer School of Business education more easily obtainable. Current students will benefit from additional funding for academic advising, wellness, and tutoring. Finally, the gift includes support for curriculum development in the key growth areas of cybersecurity, analytics, and financial modeling.
Miami's Gamma Gamma chapter of the Pi Sigma Epsilon business fraternity attended the 67th annual Pi Sigma Epsilon national competition and was honored with the Lewis F. Gordon Top Gold chapter award.
Sara Arter, assistant professor of Nursing, has been named one of 11 Macy Faculty Scholars for 2023. She will create and test a novel educational intervention to support nursing students' ability to examine the influence of personal values and the development of ethical decision-making while providing care to mothers with substance use disorder and their children. The Josiah Macy Jr. Foundation is the only national foundation dedicated solely to improving the education of health professionals, and the Macy Faculty Scholars Program is designed to identify and nurture the careers of promising educators in medicine and nursing.
Katherine Abbott, executive director of Scripps Gerontology Center, received $271,457 from Brown University, with pass-through funds from the National Institute on Aging, for the project entitled "Testing the Feasibility of the Individualized Positive Psychosocial Intervention." 
Joanna Hohn, assistant director of outreach for the College of Engineering and Computing, received $99,055 from the American Institute of Chemical Engineers RAPID Manufacturing Institute for the project entitled "NumberUp Innovation."
Stephen Van Winkle, Miami University chief of police, received $641,230 from the Ohio Emergency Management Agency, with pass-through funds from the Ohio Department of Public Safety, U.S. Department of Treasury, and the American Recovery Plan Act for the project, "First Responders Grant - Wellness, Retention and Resiliency." 
Patrick Haney, professor of Political Science, and John Forren, chair and associate professor of  Justice and Community Studies, received $109,080 from the Jack Miller Center for "Postdoctoral Fellow in American Government."
Michael Brudzinski, professor of Geology and Environmental Earth Science, received $55,589 from the U.S. Geological Survey for the project, "Investigating Access and Barriers to use of the San Diego Emergency App for ShakeAlert Through a Multi-Methods Approach: Collaborative Research with Miami University and the Incorporated Research Institutions for Seismology."
Juan Carlos Albarrán, associate lecturer of Global and Intercultural Studies, received $199,949 from the Institute for Training and Development, pass-through funds from the U.S. Department of State, for a project entitled "USDOS-ITD Albarran."
Beth Miller, associate professor of Nutrition, with Kyle Timmerman, associate professor of Kinesiology, and several Miami students and alumni, published a new article, Perceptions of weight loss in older adults following a 6-month weight loss intervention: A qualitative research study, in the Journal of the Academy of Nutrition and Dietetics. She also published BMI Data Collection and Communication Practices in a Multi-State Sample of Head Start Programs in Childhood Obesity.
Urban Cohort director Tammy Schwartz's presentation, Collaborative Community Engagement: The Work of the Miami University Center for Community Engagement, was selected by the Society for Applied Anthropology (SfAA) to be recorded by the SfAA Podcast Project.
Jay Kimiecik, associate professor of Kinesiology, published a new article, The Elephant in the room: Feel and its role in the nothing state of high quality performance, in Social Sciences and Humanities Open.
William Berg, professor of Kinesiology, published a new article, The role of anticipatory and reflexive compensatory muscle activation in catching errors under load uncertainty, in the journal Experimental Brain Research.
Elise Radina, associate dean for the Graduate School, published a new article, Development and preliminary validation of a family health-related quality of life instrument: Expert review and item generation, in Healthcare for Women International.   
Qian Huang, assistant professor of Interdisciplinary and Communication Studies, has a new article in the Journal of Adolescent Health, "Getting Human Papillomavirus Vaccination Back on Track: A National Survey."
Want to see your news in The Wrap-Up? Email us at newsinfo@MiamiOH.edu