10-year milestone: Energy reduction keeps pace with growth. The 2010 SCAG and HB 251 called for a 20 percent reduction in energy use per square foot relative to 2004. Miami exceeded the goal.
Sep 09, 2015
Your input welcome on the 2015 Sustainability Commitments and Goals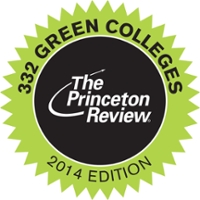 The Miami University Sustainability Committee welcomes input from the Miami community on the 2015 Sustainability Commitments and Goals (SCAG), now in development. 
Five years have passed since the committee wrote the 2010 SCAG, a document that guided Miami's green development and contributed to its inclusion in the Princeton Review's Guide to Green Colleges in 2014 and 2015.
Significant changes have influenced the greening of Miami since President David Hodge signed the SCAG in spring 2011. These include, among others:
Establishment of Miami as a Lean institution, with "going green" as one of its breakthrough objectives.
Creation, initial implementation and reassessment of a Utility Master Plan (UMP).
Population of transparent databases, such as the Sustainability Tracking, Assessment and Rating System (STARS) and the American College and University Presidents' Climate Commitment (ACUPCC), that provide the ability to benchmark our progress to our peers.
Growth of sustainability in Miami's curriculum, including expansion of interdisciplinary programs of the Institute for the Environment and Sustainability and the recent approval of the Food Studies Institute.  
Recognition by University Senate of Miami's sustainability commitment.
It is against this backdrop of commitment, knowledge and experience that the Sustainability Committee has drafted the 2015 SCAG.   
Your input will be reviewed by Tom Crist, chair of the sustainability committee, and Yvette Kline, committee member and Miami's director of sustainability and energy conservation.
Comments (which are hidden from public view) can be made through September. The committee will submit the final draft to University Senate in October.
Learn more about sustainability at Miami on the Sustainability at Miami website.