2016-2017 Goldwater Scholars (left to right): Hannah Devens, Blake Rasor and Cameron Williams; Honorable Mention Avnika Bali.
Apr 18, 2016
Three Miami students named Goldwater Scholars; one Honorable Mention
Miami students are three of seven from Ohio public universities to receive a 2016 Goldwater Scholarship
By Susan Meikle, news and communications
Three Miami University students have received a Goldwater Scholarship for 2016-2017.  They are among 252 students nationwide to receive the scholarship, the premier undergraduate award of its type in the fields of mathematics, natural science and engineering.
Miami's Goldwater Scholars are:
Hannah Devens, a junior double major in botany and zoology with an environmental science co-major and a double minor in rhetoric/writing and global perspectives on sustainability, from Plymouth, Minnesota.
Blake Rasor, a junior biology and microbiology double major and

molecular biology and bioinformatics double minor,

 from Dayton.
Cameron Williams, a junior biochemistry major and mathematics minor from Hamilton.
Avnika Bali, a sophomore biochemistry and biological physics double major and mathematics and neuroscience double minor from Oxford, received a Goldwater Scholar Honorable Mention.
The Goldwater Scholarship
The Goldwater Foundation Scholarship Program encourages outstanding students to pursue careers in the fields of mathematics, natural sciences and engineering. 

Nationwide, faculty nominated 1,150 students for the one- and two-year scholarships, worth up to $7,500 per year. 
Devens, Rasor and Williams are three of seven students at an Ohio public university to receive a Goldwater Scholarship.
Bali is one of nine students at an Ohio public university to receive an Honorable Mention.
Paul Urayma, professor of physics and Miami's Goldwater faculty representative, said, "This is an amazing outcome for the students and for Miami University.  A four-year institution such as Miami is allowed to submit up to four nominations for national consideration.  This year, all four nominees were acknowledged."
Hannah Devens - research in ecology with mentor Melany Fisk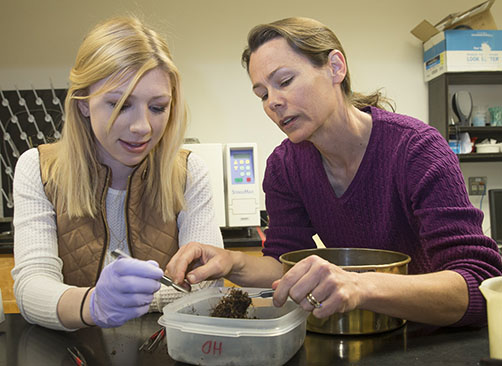 Hannah Devens (left) and Melany Fisk, professor of biology, separate tiny tree roots from a root core sample (all photos by Jeff Sabo).
Devens has been conducting research with faculty mentor Melany Fisk, professor of biology, since her sophomore year.  
Fisk's research focuses on nutrient dynamics in forest ecosystems, with an emphasis on plant/soil interactions. 
Her experimental research site is at the Hubbard Brook Experimental Forest in central New Hampshire — one of 26 National Science Foundation Long-Term Ecological Research (LTER) sites around the world in ecosystems from deserts to coral reefs to coastal estuaries. The site has been studied for more than 50 years.
Devens' current project involves analyzing forest tree root core samples from soil treated with different nutrients to test the effects on root growth. She conducted field work with Fisk in Hubbard Brook last summer, and is currently analyzing root core samples in the lab.
"Hannah is an absolute pleasure to work with in research," Fisk said. "Her writing and comprehension of the literature are the best of any student that I have worked with at Miami. The dialogue between us is a real intellectual give-and-take from which we both learn a great deal."
Devens joined Fisk's lab during her sophomore year, after she decided to be a zoology major with an environmental science co-major.  Originally from the greater Minneapolis area, she chose Miami in part due to its wide offering of majors. It has been a good fit: She now has two majors, a co-major and two minors.  
Devens has been a research assistant for Fisk since fall 2014, and is doing an independent study research project this semester. 
Devens will be a co-author on a paper that combines her work with other related root studies at the Hubbard Brook site.  
She is member of the university honors program and is an Honors Ambassador.

Devens has also put her rhetoric/writing minor to good use: She won first place in the 2015 Howe Writing Center Science Writing Contest ($500 award and $500 research stipend to her research adviser).
She plans to pursue a doctorate in ecology and evolutionary biology after graduation.
Blake Rasor – research in developmental biology with mentor Michael Robinson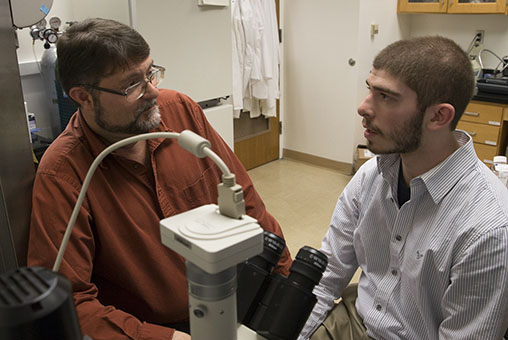 Blake Rasor (right) with Michael Robinson, professor of biology.
Rasor, who was a 2015 Goldwater Honorable Mention, jumped right into undergraduate research as soon as he started at Miami. He works with Michael Robinson, professor of biology, on research involving retina regeneration using mouse embryonic stem cells.  
"Since joining my lab as a freshman, Blake has become an integral part of my laboratory," Robinson said.  
Rasor is the first undergraduate at Miami to use CRISPR/Cas9 genome editing technology to manipulate mouse embryonic stem cells, Robinson said.
CRISPR — a breakthrough genome-editing technology — is a kind of biological scissors that can snip strands of DNA at a particular point, allowing for new genes to be inserted before pasting the strands back together. "It is the next 'big thing' in molecular biology," Robinson said.
"Blake's fascination with pushing the limits of life fuels his passion both in the laboratory and in his coursework," Robinson said.
"Ultimately Blake wishes to use his biological training to synthesize new life forms to tackle problems including bioremediation of toxic waste, the creation of new and efficient biofuels, the creation of organisms to reduce greenhouse gases in the atmosphere, and maybe even to terraform distant habitable planets.  Blake certainly doesn't lack ideas or ambition."
He is co-author on two papers being finished for submission. In May he will present a poster of his research at the national meeting of the Association for Research in Vision and Ophthalmology (ARVO).
Last summer Rasor conducted bioengineering research at the University of California, Berkeley, where he was selected for the UC Berkeley Amgen Scholars Program.
This summer he will continue research with Robinson as a Beckman Scholar.
At Miami, he is a resident assistant and vice president of Miami's Red Dragons martial arts club.
He plans to pursue a doctorate in bioengineering after graduation.
Cameron Williams – research in structural biology with faculty mentor Rick Page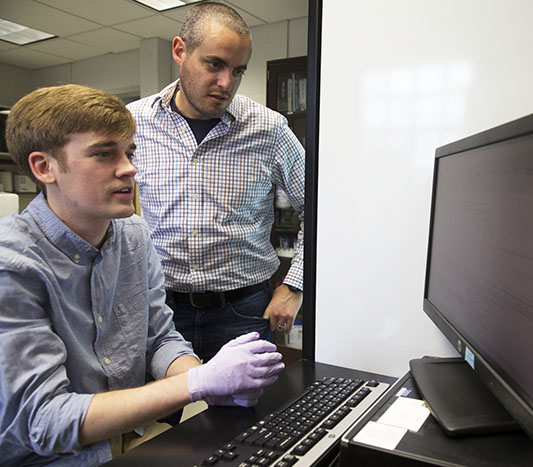 Cameron Williams (seated) with Rick Page, assistant professor of chemistry and biochemistry.
Williams joined the laboratory of Rick Page, assistant professor of chemistry and biochemistry, during his second semester at Miami — just after Page joined Miami in 2013.
Page's core research focuses on the molecular interactions and mechanisms that govern protein quality control carried out by a complex of two proteins: CHIP and Hsp70. Drug development holds promise for treating cancers and heart disease by either promoting or obstructing interactions between CHIP and Hsp70, according to Page.
Williams has worked on several research projects with Page over the past three years, including computer modeling of anti-cancer drug and developing biohybrids by attaching polymers to proteins, for investigation of renewable energy/biofuels. He is currently working on an antibiotic resistance project, in collaboration with the lab of Michael Crowder, chair and professor of chemistry and biochemistry.

"Cameron is a tremendous asset to my lab," Page said. "He has more raw intellectual talent and better research skills than any student I have ever mentored."
 Williams has presented his research in poster presentations at two national meetings: the 2016 Experimental Biology meeting earlier this month and the 2015 American Chemical Society Meeting.
He is also a co-author on three journal publications from the Page lab.
He is secretary of the Miami Chemical Society and works as a tutor at the Rinella Learning Center.
Last summer Williams worked with Page as an Undergraduate Summer Scholar. 
He was awarded a Science Undergraduate Laboratory Internship from the US Department of Energy to conduct research this summer at the Advanced Light Source at Lawrence Berkeley National Laboratory.
He plans to pursue a doctorate in the field of structural biology after graduation.  
Avnika Bali – research in biophysical chemistry with mentor Gary Lorigan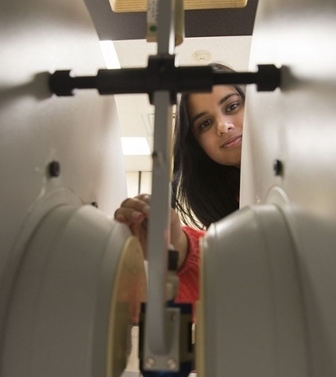 Avnika Bali places a sample in the EPR spectrometer.
Bali has been conducting research with Gary Lorigan, professor of chemistry and biochemistry, since the summer after she graduated from high school.
"It was immediately obvious to me that she was a very talented researcher and student," Lorigan said.
Lorigan and his research group have pioneered strategies to characterize membrane proteins by using magnetic resonance techniques, such as electron paramagnetic resonance (EPR) and nuclear magnetic resonance  (NMR) spectroscopies.  Membrane proteins are essential for many important functions of biological systems, and they comprise more than half of human drug targets. However, the proteins are not water-soluble and are more difficult to study than soluble proteins. 
Bali's project involves using EPR spectroscopy to characterize the structure of a new membrane-mimetic to verify its usefulness as a model for studying membrane proteins. 
"She works very hard in the lab and is independent," Lorigan said. "She is going to be a great scientist.  I am thrilled to have her as a member of my research group."
She is already a co-author on one journal publication, and she has presented her research in poster presentations at two national meetings: the Biophysical Society meeting and the American Chemical Society meeting.
This summer she will work with Lorigan as a Miami Hughes intern in the biological sciences. 
She has performed with Miami's Global Rhythms World Music Ensemble and was part of the production team for the Global Rhythms 2015 concerts. She was one of four Global Rhythm members selected by Srinivas Krishnan, Global Rhythms director, to perform with Grammy-Award-winning composer A.R. Rahman at Intel's 2016 Consumer Electronics Show "Next Gen Creativity." 
She plans to pursue a doctorate in biochemistry or biophysics.