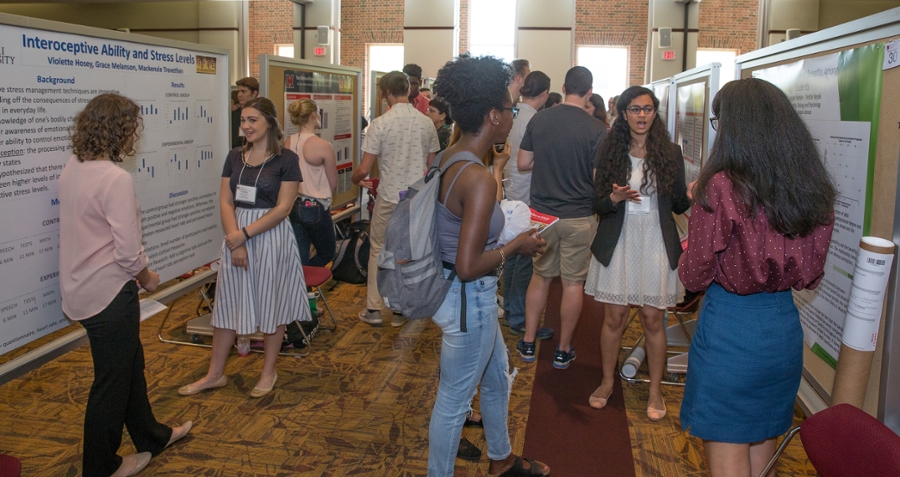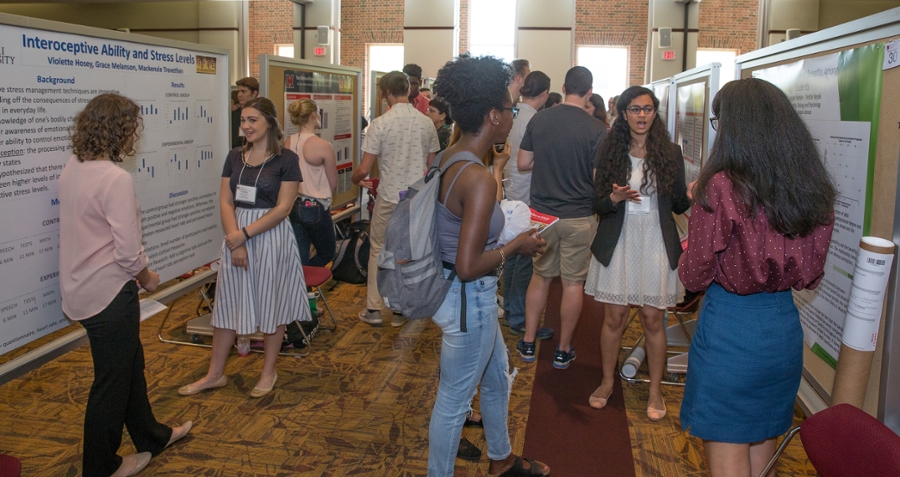 Above and below: Student researchers presenting their posters at the 2017 Undergraduate Research Forum.
Photo: Scott Kissell
Apr 17, 2019
25 years of showcasing student research: Undergraduate Research Forum April 23-24
By Susan Meikle, university news and communications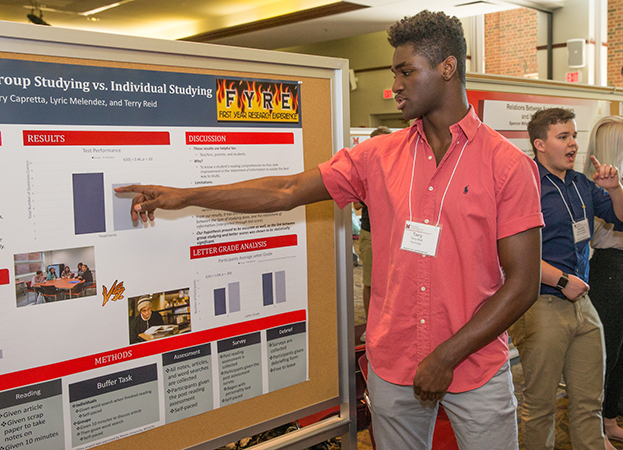 Celebrate the 25th anniversary of the Miami University Undergraduate Research Forum April 23 and 24. New programs — and a second day —  have been added to the traditional open house poster sessions to highlight the wide variety of resources that help make undergraduate student research at Miami so successful.
All Miami students are invited to present at the annual forum, which is coordinated and sponsored by the office of research for undergraduates (ORU). 
This year more than 300 research projects will be presented by more than 500 students. Presentations range from faculty-mentored independent study research to group community projects, creative work and course-related projects.
More than 2,000 undergraduates work with professors on funded research each year, many starting in their first year. 
Check out the schedule below — all are welcome to stop by any of the presentations. 
Tuesday, April 23:
Themed Panel Discussions
9:15 a.m. -5:30 p.m. in Shriver Center and Kreger Hall.
Twelve panels ranging from "Graduate Students as Research Mentors" to "Undergraduate Research and Industry Jobs" and "Undergraduate Research in the Humanities."
Refer to the April 23 Schedule of Events for the panelists, themes and times.   
Centers and Research Support Showcase
Wednesday, April 24
e-Posters: 10-minute talks
Four sessions: 9 a.m., 10:30 a.m., 1:30 p.m. and 3 p.m., in Shriver Center. Refer to the schedule for individual student presentation times and topics. 
Large Format Poster Sessions
A sampler of student research presentations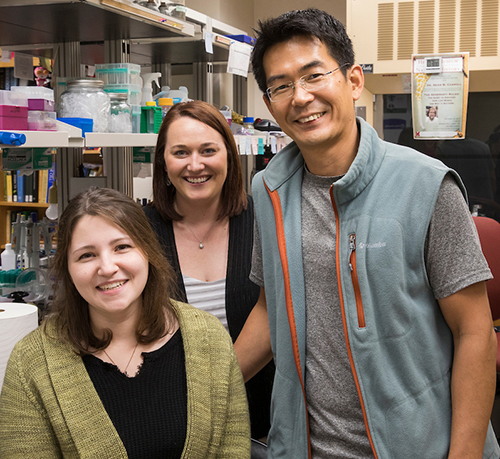 Maddy Moe (left) will present a poster on her research with Yoshi Tomoyasu (right) and former doctoral student Courtney Clark Hatchel (photo by Jeff Sabo).
"First Year Research Experience: Factors Impacting Academic Success of Bridges Scholars," by Raeshann Berry, sophomore psychology major, and Precious Famule, first-year university studies major, mentored by Joyce Fernandes, professor of biology and director of the ORU, and Monica Adkins, senior assistant director for student success. (e-Talk, session IV)  
"Analyzing Varying Cyanide Concentrations in Yeast Cells Using Spectral Phasor Analysis" by Audrey Short, senior biochemistry and biological physics double major, mentored by Paul Urayama, associate professor of physics. (Poster A10)  
Short was a 2018 Goldwater Scholar and 2017-2018 Beckman Scholar with Michael Kennedy, Ohio Eminent Scholar of Structural Biology. After graduation she will pursue her doctorate in biophysics at the University of California, Berkeley.  
The origin of flour beetle wings: by Maddy Moe, senior bioengineering major, mentored by Yoshi Tomoyasu, associate professor of biology. Moe, who received a Miami Hughes internship last summer, said that undergraduate research has been a critical turning point for her. She plans to pursue her master's degree with Tomoyasu.  Poster C69
From undergraduate researcher and mentee to graduate student mentor:
Jared Tangeman (Miami '17), is a current doctoral student in biology with adviser Katia Del Rio-Tsonis, professor of biology. As an undergraduate at Miami he presented at the 2016 and 2017 forums. He was mentored by Del Rio-Tsonis along with former postdoctoral fellow Agustín Luz-Madrigal and doctoral students Zeyu Han and Tianlin Lu.
Now, as a graduate student researcher, he helps mentor several of the 14 undergraduates in Del Rio-Tsonis' lab group. 
Four of Tangeman's mentees will present at the forum:
Emilio Bloch, senior public health and biology double major, poster A12.
Andrew Fausey, senior biology major, e-Talk session II.
Lucas (Luke) Kayafas, senior biology major, e-Talk session II.  
Emily Van Zeeland, senior bioengineering major and premedical studies co-major, poster B9.