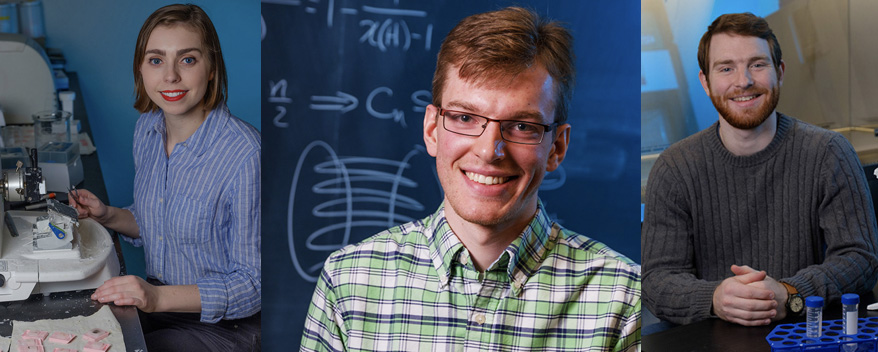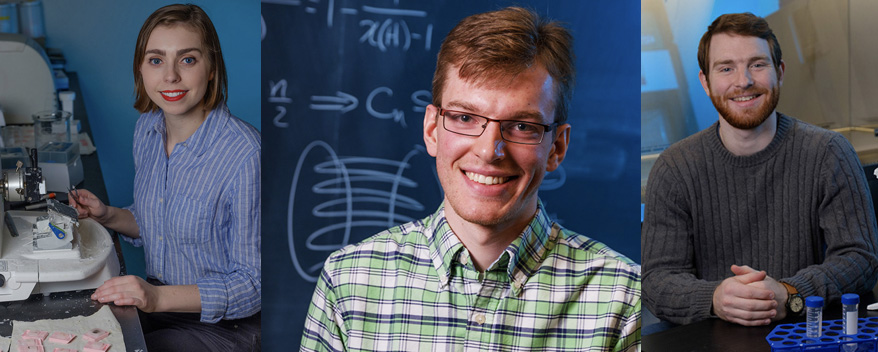 Goldwater Scholars Audrey Short, left, and Bob Krueger; Goldwater Honorable Mention Michael Rariden, right (photos by Scott Kissell).
Apr 30, 2018
Two Miami students named Goldwater Scholars; one honorable mention
By Susan Meikle, university news and communications
Two Miami University students have each received a Goldwater Scholarship for 2018-2019.  They are among 211 students nationwide to receive the scholarship, the premier undergraduate award of its type in the fields of mathematics, natural science and engineering.
Miami's Goldwater Scholars are:
Robert (Bob) Krueger, a junior mathematics and physics double major and computer science and statistics double minor from Wadsworth.
Audrey Short, a junior biochemistry and biological physics double major from Atlanta, Georgia.
 Honorable Mention
Michael Rariden, a bioengineering major from Normal, Illinois.
The Goldwater Scholarship
The Goldwater Foundation Scholarship Program encourages outstanding students to pursue careers in the fields of mathematics, natural sciences and engineering. Nationwide, faculty nominated 1,280 students for the one- and two-year scholarships, worth up to $7,500 per year. 
Krueger and Short are two of six students at an Ohio public university to receive a Goldwater Scholarship.
Rariden is one of five students at an Ohio public university to receive an Honorable Mention.
Paul Urayama, associate professor of physics and Miami's Goldwater faculty representative, said, "This is an amazing outcome for the students and for Miami University with three of our four allowed nominations being recognized. I am so proud of what our nominees have accomplished."
Urayama is a 1993 Goldwater Scholar from the University of California-Irvine.
Bob Krueger — research in mathematics with mentor Louis DeBiasio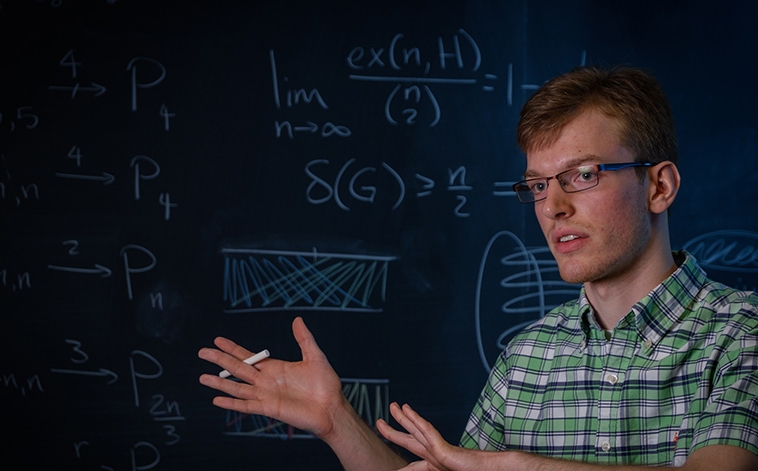 Bob Krueger explains graph theory.
Krueger has been conducting research with faculty mentor Louis DeBiasio, associate professor of mathematics, since his second semester at Miami.
His research is in the area of mathematics called graph theory, studying the properties of abstract networks.
"Because of the necessary background material, a typical student of mathematics won't have the opportunity to do serious research until graduate school," DeBiasio said. "Bob, not being a typical student, started working with me on research during his freshman year."
"Three years later, Bob has two submitted papers, has two papers nearing completion and has given seven research talks at conferences — all while double majoring in math and physics and double minoring in computer science and statistics," DeBiasio said.
"Bob has contributed to every aspect of our joint projects and in the process has transformed from being my student to being my research collaborator."
Krueger is a member of the university honors program and of the Society for Physics Students and the math honor society Pi Mu Epsilon at Miami.
He has participated in Miami's intercollegiate Data Fest competition since it was first held in 2016. His team won Best in Show in 2016; third place in 2017; and first place in 2018. 
This summer, he will participate in the Research Experience for Undergraduates program at CUNY's Baruch College.  The highly selective program is focused on combinatorics research — related to graph theory — with the aim to produce a research paper.
This fall, he will participate in the prestigious Budapest Semesters in Mathematics program in Budapest, Hungary.
He plans to pursue a doctorate in mathematics after graduating.
Audrey Short  — research in biochemistry with mentor Michael Kennedy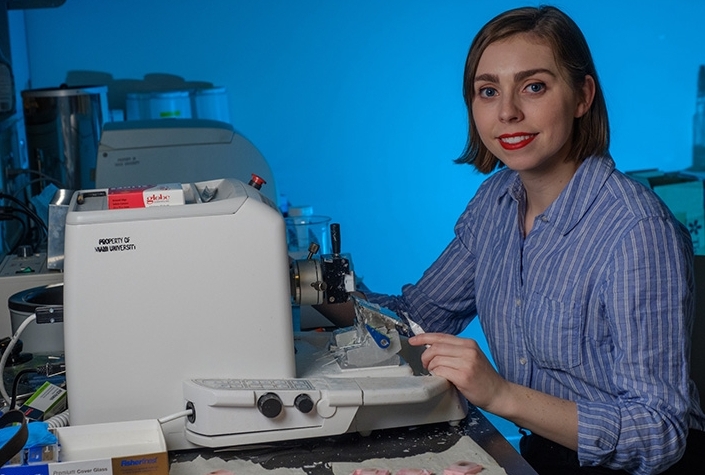 Audrey Short is also a Beckman Scholar.
Short has been conducting research with faculty mentor Michael Kennedy, Ohio Eminent Scholar of Structural Biology, since her first semester at Miami.
She is involved in Kennedy's project to determine the role that gut microbes play in triggering Type 1 diabetes (T1D) in genetically susceptible individuals. 
The group uses a Non Obese Diabetic (NOD) mouse model system. Metabolic profiling studies are conducted on urine and fecal samples to indirectly detect changing gut microbial populations over time.  
 "I witnessed Audrey take on increasing responsibility as she made outstanding progress on this very complex project," Kennedy said. "The quality of her work has been exceptional, and her work will definitely lead to high quality publications, which is very impressive for work conducted as an undergraduate student."
Short is specifically working on immunohistology studies  — the microscopic study of tissues using antibodies that bind to tissue components — with the use of fluorescence microscopy to assess beta cells in the pancreas. Beta cells produce and secrete insulin, the hormone responsible for regulating levels of glucose in the blood.  In Type 1 diabetes, an autoimmune attack seeks and destroys these beta cells.
She has presented her research at the 2016 and 2017 national meetings of the American Chemical Society. She is a member of the university honors program and a tutor at the Rinella Learning Center. She was recently elected vice president of the Miami Chemical Society and hopes to start a research shadowing program for first-year students.
Last year she was selected as a 2017-2018 Beckman Scholar.
Mike Crowder, chair and professor of chemistry and biochemistry, said "I am very impressed with Audrey's initiative, intelligence, willingness to work long hours, independence and her excitement for science/learning. In my opinion, Audrey will be an outstanding research scientist, who will take on the big science challenges."
She plans to pursue a doctorate in biophysics after graduating.  
Michael Rariden — research in bioengineering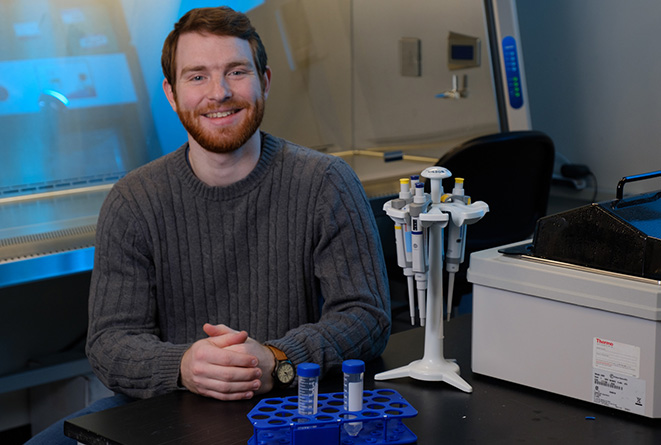 Michael Rariden is interested in mechanobiology — an emerging field at the interface of biology and engineering.
Rariden conducted research with Justin Saul, associate professor of chemical, paper and bioengineering, his first two years at Miami.
Rariden knew before he even started at Miami that he wanted to do undergraduate research, and he chose Saul's lab for the opportunity to work on a tissue bioengineering project.
Saul's research on retinal regeneration — for modeling macular degeneration — involves hands-on engineering. Among other projects, Rariden helped set up and modify an electrospinning apparatus to coat biomaterial scaffolds to promote the attachment of retinal pigmented epithelial cells, Saul said. 
"Electrospinning is a nice experimental system because it is hands-on and also has numerous parameters that can be adjusted. Michael exhibited his inquisitive nature while working on this project as he was always looking at ways to improve or modify the system."
This summer, he will be a summer undergraduate research fellow at the University of Texas Health Science Center in a mechanobiology lab investigating how mechanical forces affect blood cell development.
Last summer, he was an American Heart Association Undergraduate Student Fellow in a cardiovascular research laboratory at the Pennsylvania State College of Medicine and Hershey Medical Center.
That experience "opened my eyes to the reality of full-time research," Rariden said.
He was a member of Miami's Scholar Leader program and is involved in intramural hockey.  He is also an avid rock climber and pianist and practices Brazilian jiu-jitsu. 
He plans to pursue a doctorate in bioengineering or mechanobiology after graduating.