Certified Electronic Credential Overview
Miami University offers Certified Electronic Diplomas (CeDiploma)!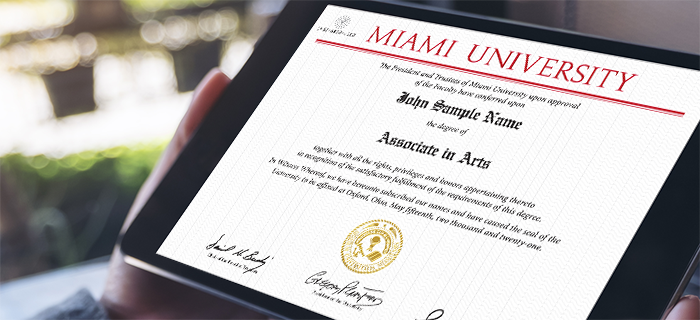 Related Pages
Learn more about the security features of a CeDiploma
Validate the authenticity of a CeDiploma
View commonly asked questions about the CeDiploma
Credential Retrieval
You will receive an email with a link to download your credential when it is available from our trusted partner, CeCredentialTrust.
If you need to request a new download link, please use the CeCredential Trust site to resend the link.
Key Benefits
*CeDiD (Certified Electronic Document Identifier)
More than a paper credential

An official, secure and verifiable PDF version of your accomplishment!

Different from a transcript

Unlimited sharing with family, friends, employers and social media.
Proof of education with only the important details.
Simple for employers to read and understand.

Better than an eDiploma
Enhances your resume

Expedite the verification process by providing your CeDiD and validation URL on your resume.
Validate the authenticity of a Certified Electronic Diploma.
Certified Electronic Diplomas Validation Demo
The following steps to validate your Certified Electronic Diplomas are demoed below:
Enter your CeDiD.

Click the validate button.

The credential information will display below, informing you whether or not it is valid.
Pricing
Certified Electronic Diplomas are available to students graduating in May 2021 and beyond as a complimentary service from Miami's Alumni Association.
Certified Electronic Diplomas are available to students graduating prior to Spring Semester 2021 (May 1978 through January 2021) at a price of $48.00.
CeCredentials are not available for students that graduated prior to May 1978.
Highly Secure
Each Certified Electronic Diploma can be independently validated here by future employers, State Government Licensing Agencies, and any other entity that wishes to validate your achievement.
The document is digitally signed and encrypted, providing greater trust and acceptance.
For security reasons, the electronic credential cannot be printed.
More Information
For additional information about the Certified Electronic Credential features, trademarks, and patents, please visit CeCredential Trust.
---
Note: A credential may not be available for all conferral dates.
Contact the One Stop
The One Stop assists Miami students and authorized family members with billing and payment, financial aid, registration, and student records.
Oxford Campus
Nellie Craig Walker Hall
301 S. Campus Ave.
Oxford, OH 45056
OneStop@MiamiOH.edu
Phone: 513-529-0001
Fax: 513-529-0003
Hamilton Campus
102 Mosler Hall
1601 University Blvd.
Hamilton, OH 45011
RegOneStop@MiamiOH.edu
Phone: 513-217-4111
Fax: 513-785-1807
Middletown Campus
114 Johnston Hall
4200 N. University Blvd.
Middletown, OH 45042
RegOneStop@MiamiOH.edu
Phone: 513-217-4111
Fax: 513-727-3427