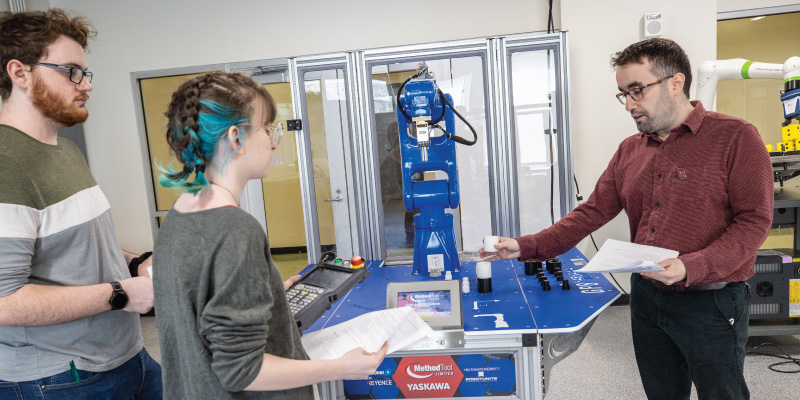 Distance Learning
Miami University offers Bachelor Completion program in four concentrations, Electrical and Computer Engineering (ECET), as well as Electro-Mechanical Engineering Technology concentration (EMET), Mechanical Engineering Technology (MET) and Robotics Engineering Technology (RET) to students all across the state of Ohio.
Advantages of Distance Learning to Online Classes
We believe that online courses, in general, are not suitable for engineering. That is why we Go Distance. Distance Learning is different from Online Classes in several ways. In distance learning:
You can have face-to-face interaction with the instructors virtually all the time during the lecture.
Our instructors directly deliver the lectures to you and other students. We do NOT just post the lecture materials for you to read on your own.
You will receive the lab equipment at your local college and will perform the experiments with the direct and live supervision of your instructor at Miami University.
Quick Facts About our Distance Learning
Miami University delivers 13 engineering technology courses (34 distance credits) to students enrolled at the colleges listed above.
Students take remaining courses (which include bridge courses and the Ohio Transfer Module) at their home campus. See individual college articulation agreements for details.
ENT distance learning courses are generally offered Monday-Thursday in the evening via interactive video conferencing and web-supported technology.
Partnered Colleges
At the following selected college partner locations, our Bachelor Completion program is offered via the Distance Learning method.
Cincinnati State and Community College, Middletown, OH
Columbus State Community College, Columbus, OH
Edison State Community College, Piqua, OH
Northwest State Community College, Archbold, OH
Rhodes State College, Lima, OH
Shawnee State University, Portsmouth, OH
Sinclair Community College, Dayton, OH
Southern State Community College, Hillsboro, OH
Terra Community College, Fremont, OH
Washington State Community College, Marietta, OH
Zane State College, Zanesville, OH
Miami University
Sarah Wooten, Distance Coordinator
Dr. Mert Bal, Chair and Associate Professor, Department of Engineering Technology
Dr. Roger Seifried, Coordinator of Electrical and Computer Engineering Technology
Frequently Asked Questions
What is distance learning?
Unlike other programs, which offer online courses, distance learning is different. Students attend classes at their home institution at a specific time, just like students on Miami campuses. Instead of the professor being in the room with distance students, the professor is on a Miami campus, visible and accessible to all distance and local students concurrently using interactive video.
Which programs are offered via distance learning?
Miami University Engineering Technology offers Electromechanical Engineering Technology Bachelor's completion degree programs to 12 distance sites. Electrical and Computing Engineering Technology is offered via two distance sites and more to come in the future. 
What is the Miami University Bachelor's Degree Completion Program?
This is a BS Completion program designed to articulate with graduates of Associate of Applied Science programs who have majored in Electrical, Electronic, Electro-Mechanical, Mechanical, or similarly titled Engineering Technology programs (note: students from other Engineering Technology associate degree programs will also receive favorable credit transfer). The program leads to a Bachelor of Science in Applied Science with a major in Electro-Mechanical Engineering Technology or Electrical & Computing Engineering Technology. This program is available through Miami's regional campuses in Hamilton or Middletown (www.regionals.miamioh.edu). Miami is also offering this program by "distance learning" (e.g., web, interactive video, video streaming, etc.) through partnerships with Cincinnati State Technical and Community College, Sinclair Community College, Columbus State Community College, Shawnee State University, Northwest State CC, Edison CC, North Central State College, Terra State Community College, Rhodes State College, Southern State Community College, Washington State Community College, and Zane State College. It is designed for students interested in continuing their education beyond the associate degree.
Who is eligible to apply for this program?
Students who have completed their Associate in Applied Science in Electrical, Electronic, Electro-Mechanical, Mechanical, or similarly titled Engineering Technology programs are eligible to apply to the Miami University BS Completion Program. Graduates from other Engineering Technology programs will also receive favorable credit transfer.
How do I apply?
Applying is easy and there are several ways to apply. You can apply on-line at 
MiamiOH.edu/Regionals/Apply
. You may also call Miami University Regionals at 513-785-3111 to have an application mailed to you. As a Miami student applicant, all University admission requirements apply to you. For 
transfer students
, one admission requirement worth noting is that Miami requires applicants to have two units of a foreign language both in the same language. If not completed in high school, then this requirement can be met by taking one year of a foreign language in college.
When do I apply?
You should wait to apply to Miami the semester prior to when you expect to begin taking Miami courses. The reason for waiting is this: if you apply today but don't start taking Miami courses for another couple of semesters, Miami's record system "thinks" you changed your mind and deactivates your admission status. As such, once you are ready to take Miami courses you will need to reapply. This is not a real problem just an inconvenience. No fee is charged for a reapplication.
How much will it cost?
Since you are enrolled through Miami University, you pay Miami University fees.
What classes are required to complete the degree?
Your program requirements will be provided in your Degree Audit Report (DAR) once you matriculate into the program. The DAR is available through http://myMiami.miamioh.edu. Miami delivers by distance to our partner colleges the required 300 and 400 level ENT courses and two math courses (MTH 231 and STA 301). Articulation agreements can be found on the ENT Department web page www.regionals.miamioh.edu/ent. General program requirements can be found in the Miami Bulletin (through myMiami) or on the ENT Department web page under Student Handbook. Two Miami graduation requirements worth noting are that 32 credit hours must be from Miami (these are delivered by distance) and 12 or your last 20 credit hours must be from Miami. 128 credits are required for graduation.
When are classes offered? Is it possible to work and complete this program?
You may view them through your BannerWeb account which is established for you automatically upon admission. 
How long will it take to complete the program?
It generally takes two years to complete the program full time and three years (note: some students take longer) to complete the program part time. In addition, students completing this engineering technology program may also sit for the FE and/or PE exams. Students taking the program at the distance sites will require three or more years to complete the program.
What kinds of jobs are available?
A variety of jobs in Engineering Technology are available. Most graduates work as application engineers in the process control and instrumentation field. The current job market for Engineering Technology graduates is quite good. For details about job market information, refer to the US Bureau of Labor Statistics at 
http://www.bls.gov/
As a distance student, do I need to drive to the Miami University Campus to complete the degree?
No, technical classes of this program are delivered by interactive video, video streaming, web or other means in the evening from Miami Hamilton or Miami Middletown to our partner (distance) campuses. Office hours are also held through videoconferencing.
What are "bridge" courses?
Bridge courses are classes offered at your community college and help "bridge the gap" between the associate's degree and the bachelor's degree completion program. These courses are required for your bachelor's degree and may serve as prerequisites for upper-level courses.
Do I need to complete all of my community college courses for my associate's degree and my bridge courses prior to beginning my work with Miami?
No, you may complete course work at both schools simultaneously. However, you will need to complete any necessary prerequisite courses prior to taking any advanced-level classes at Miami. You must also meet Miami's graduation requirements. These requirements state that, among other things, you complete 32 Miami credit hours and you take 12 of your last 20 credit hours from Miami. Therefore, you should consider completing most of your bridge courses prior to the required Miami courses.
How will Miami know what I have taken at my college?
You will need to request that your college send official copies of your transcripts directly to Miami University Hamilton or Miami University Middletown. This should be done upon application to Miami (Hamilton or Middletown) so that an official evaluation of your credits can be completed. If you take additional bridge courses after enrolling at Miami, make sure you send an updated transcript prior to completing your last 12 Miami credit hours so Miami can transfer the additional courses.
Will all my credits transfer?
All college-level courses completed at an accredited college or university will transfer to Miami University. Miami University is based on semesters while some other colleges are based on quarters. As such, 3-quarter credits transfer to Miami as 2 semester credits. Likewise, there are three quarters or two semesters to an academic year. Transfer credit assessment is based on information obtained from 
www.transferology.com
.
How do I register for classes?
You can register for your Miami courses on BannerWeb at http://myMiami.miamioh.edu using your Miami University UniqueID and MUnet password. Your UniqueID and password are automatically issued to you upon admission. If you have questions about your registration, please contact the registrar in Hamilton at 513.785.3209 or Middletown at 513.727.3217.
Where do I pay my bill?
You may send a check to Miami University. The address will be with your schedule and fee statement, which will be mailed to your home. You may also pay online using http://myMiami.miamioh.edu. Follow the My Bill and Aid tab at the top of the page.
Is financial aid available?
Yes, financial aid is available. To get started, you need to complete the FAFSA (available online 
MiamiOH.edu/Regionals/Affordablity
). You may also contact the financial aid offices at either Miami University Hamilton (513-785-3123) or Miami University Middletown (513-727-3299). Apply early because there are deadlines.
What books do I need and where do I get my books?
How will I get my grades?
You may view them through your BannerWeb account on http://myMiami.muohio.edu which is established for you automatically upon admission. Your grades will not be mailed out to you.
Will faculty be available to assist me?
Yes, Miami University, Engineering Technology faculty members are available to assist you if you have questions. See "What do I do if I have questions?" Faculty assigned to each class will also assist you and provide you with contact information.
How do I graduate?
The semester prior to completing all degree requirements you will apply for graduation. An application for graduation is available through the registrar by calling 513.785.3209. Graduation requirements are tracked through your Degree Audit Report (DAR) available through http://myMiami.miamioh.edu.
Who should enroll in distance learning programs? Is it for me?
Miami University recommends that students interested in distance learning be willing to dedicate 8-10 hours a week, per class, to participate in this learning process. You should be self-directed, a self-starter, and have an opinion that distance education is of equal or better value than traditional classroom learning.
What do I do if I have questions?
At Miami: Contact one of these advisors.
Learn about Articulation and Transfer Agreements that Miami University has with other colleges and universities.