Mike & Anne Armstrong '61
Miami University President David Hodge has announced that a $15 million commitment from Mike and Anne Armstrong, both 1961 Miami graduates, has provided the primary leadership gift for the university's new student center, commemorating Miami's bicentennial. The center will be known as the Armstrong Student Center.
"Anne and I believe this student complex to be an investment — an investment in Miami's student body, the university and the next 200 years," said Mike Armstrong. "The Armstrong Student Center will provide state-of-the-art space and functions for student social activities, organizational meetings, faculty interaction and AIMS technology. It will strengthen the university as a significant Ohio academic resource enabling a more valued institution and competitive graduates. And it will be a bicentennial milestone, delivering returns for generations to come."
In spring 2008, the Armstrongs committed $14.7 million to the Armstrong Institute for Interactive Media Studies (AIMS), an interdisciplinary program that develops new approaches

in the creation and use of digital technologies that empower individuals and organizations to invent, innovate, and collaborate in novel ways. Some of the AIMS concepts will be integrated into the new Armstrong Student Center.
"It is fitting that the Armstrong name, one which has become synonymous with visionary leadership on this campus, will forever be linked with a facility that will shape tomorrow's 'Miami Experience,'" Hodge said.  "This fusing of student life, both inside and outside the classroom, is built on the understanding that every aspect of the students' experiences contributes to their ultimate success, and by doing so advances Miami University's goal of providing the best undergraduate experience in the country."
Mike Armstrong earned a bachelor's degree in business and economics. He spent more than 30 years at IBM, rising to become chairman and CEO of the Board of IBM World Trade. In 1992, he left IBM to join Hughes Electronics as its CEO and chairman. His successes led to his selection, in 1997, as chairman and CEO of AT&T. In December 2001, Comcast acquired AT&T Broadband and Mike became chairman of Comcast's board. He retired in May 2004. Armstrong resides in Naples, Fla., with his wife Anne Gossett Armstrong, who earned her bachelor's in education from Miami. The couple has three grown daughters: Linda, a 1984 Miami graduate; Kristy; and Julie.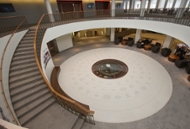 Surrounding the 3-D replica seal, the stones in Bicentennial Rotunda represent a commitment to student excellence through the spirit of giving.