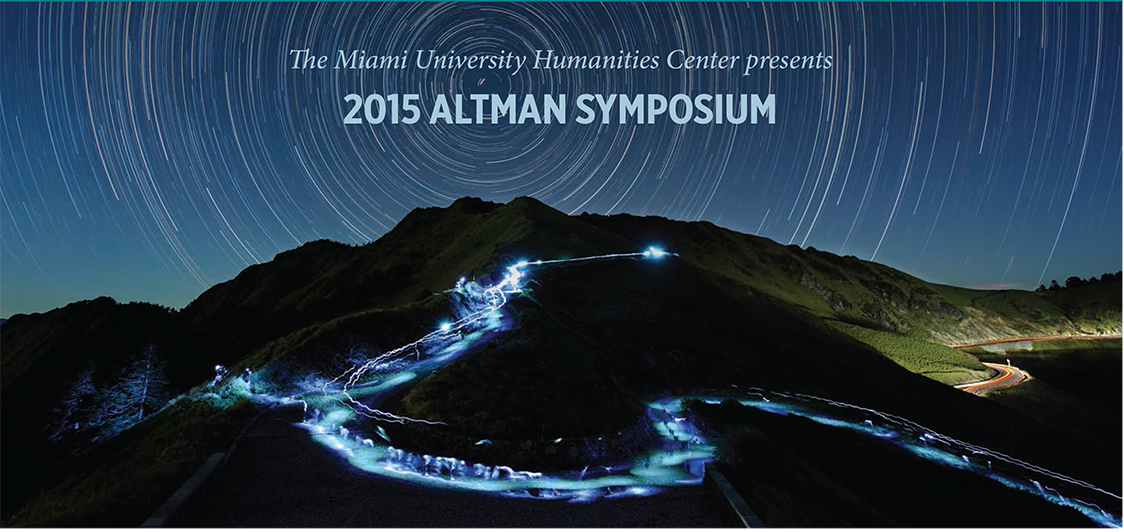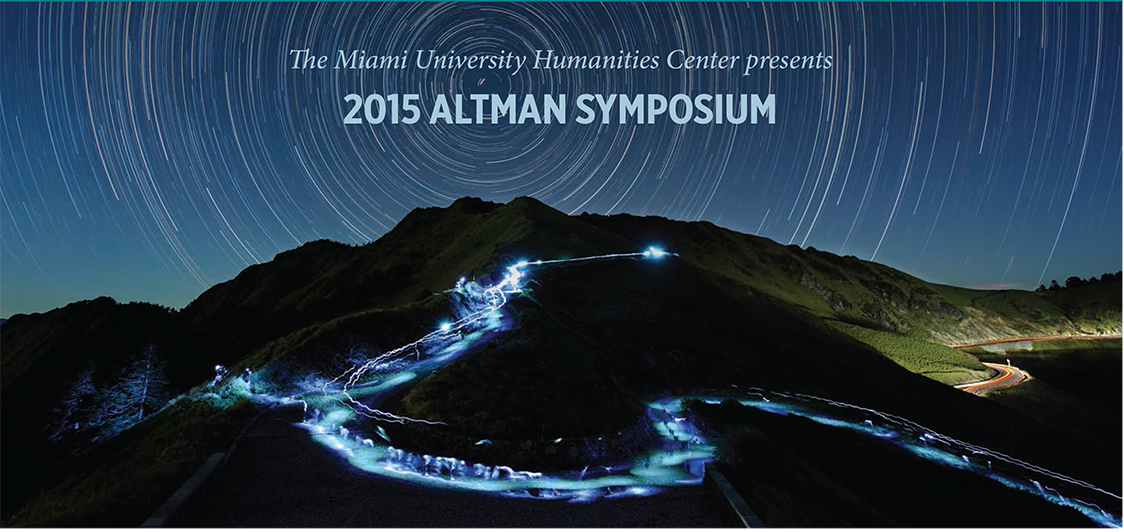 Apr 03, 2015
Humanities Center Altman Symposium April 9
Recognition for the Humanities Center
The Miami University Humanities Center was awarded a $500,000 Challenge Grant by the National Endowment for the Humanities (NEH) last fall.
Miami was one of only five institutions of higher education, and 16 organizations nationwide, to receive a challenge grant in 2014.
The award will ensure the center's long-term viability and support innovative cross-disciplinary collaborations among humanities scholars and students at Miami.
It commits the university to raising $1.5 million over the next five years as part of a new $2 million endowment for the Humanities Center.
"This is the most prestigious award offered by the nation's premiere humanities institution," said Timothy Melley, director of the Humanities Center and professor of English.  "We could not have a better endorsement of our existing programs and our vision for the future."
Miami ranks No. 2 nationally (both public and private) for return on investment of graduates with humanities majors.
By Susan Meikle, university news and communications, meiklesb@MiamiOH.edu
The Miami University Humanities Center's Altman Program spring symposium will be held April 9-10. All events in "Interrogating the Anthropocene" are free and open to the public April 9; no registration is required. 
This year's Altman Program topic, "The Anthropocene: A New Era in Human-Environment Relations," explores the pressing challenges of an age in which human activity has overtaken natural geological processes.

The Altman Fellows Program is the signature program of the Humanities Center. Each year the program brings faculty and students together to address a pressing problem or issue. Its goals include fostering collaboration and new research across the humanities at Miami. 
The symposium brings together invited scholars working with the Altman Fellows, Altman Faculty Scholars and Student Fellows in a series of keynote talks, research presentations and roundtable discussions. 
See the symposium program for a full list of presentations.
All events are held in 212 MacMillan Hall.
Invited scholars and keynote speakers:
9 a.m.:  "Humility or Hubris? Genealogies of the Anthropocene" by Gregg Mitman, professor of history of science, medical history and environmental studies, University of Wisconsin-Madison

1 p.m.:  "Sediment: Thinking about Oil in the Anthropocene" by Stephanie LeMenager, professor of English, University of Oregon.

4:15 p.m.: "Rethinking the Anthropocene" by Karl Zimmerer, professor of geography, Pennsylvania State University.
Altman Student Fellows Research Panel
10:30 a.m.: Individual research presentations by the Altman Student Fellows.
Anthropocene Project Presentation and Roundtable
2:30 p.m.: "Interrogating the Anthropocene:  Assessing Public Attitudes and Exploring Educational Responsibilities" with Altman Scholars and Student Fellows.
The Altman Program also hosts a distingushed lecture series. The final speaker in the 2014-2015 Altman Program series is Bill McKibben, bestselling author and environmental activist.
He will present "The Education of an Unlikely Activist" at 7 p.m. Wednesday, April 8, in Hall Auditorium.  
The Altman Program Fellows, Scholars and Student Fellows
The Humanities Center steering committee selects a team of two Altman Fellows each year who work with six or more Altman Faculty Scholars, Altman Undergraduate and Graduate Fellows and visiting scholars in a yearlong interdisciplinary exploration of key issues in the humanities. 
The program includes a faculty seminar; an upper-level course on the annual theme, team-taught by faculty fellows; an undergraduate fellows initiative, designed to promote excellence in undergraduate research; and a substantial program of public events. Public events are entirely supported with Humanities Center funding. 
The 2014-2015 Altman Program Fellows are Tom Crist, professor of biology and director of the Institute for the Environment and Sustainability, and Peggy Shaffer, associate professor of history and American studies.
The 2014-2015 Altman Scholars are:
Kevin Armitage, associate professor, Western program;
P. Renee Baernstein, professor of history;
Michelle Boone, associate professor of biology;
Andrew Hebard, associate professor of English;
Jonathan Levy, associate professor of geology and environmental earth science;
Roxanne Ornelas, assistant professor of geography and women's, gender and sexuality studies;
Luis Pradanos, assistant professor of Spanish.  
The 2014-2015 Altman Student Fellows are:
Susan Findley, senior zoology and classics double major and anthropology minor;
Tyler Groff, second year doctoral student in English;
Carly Kimiecik, senior health promotion and American studies double major;
Matthew Meeks, senior zoology major and global health minor;
Catherine Mazanek, sophomore American studies major; 
Abbie Schultheis, senior English literature major and global perceptions on sustainability and management double minor
Thomas Yarcusko, junior English literature and German double major.
The Humanities Center recently announced its 2015-2016 Altman Program: "The Senses," with Altman Fellows Charles Ganelin, professor of Spanish and Portuguese, and Elisabeth Hodges, associate professor of French and Italian.
The center is currently accepting applications for Faculty Scholars and Student Fellowships.