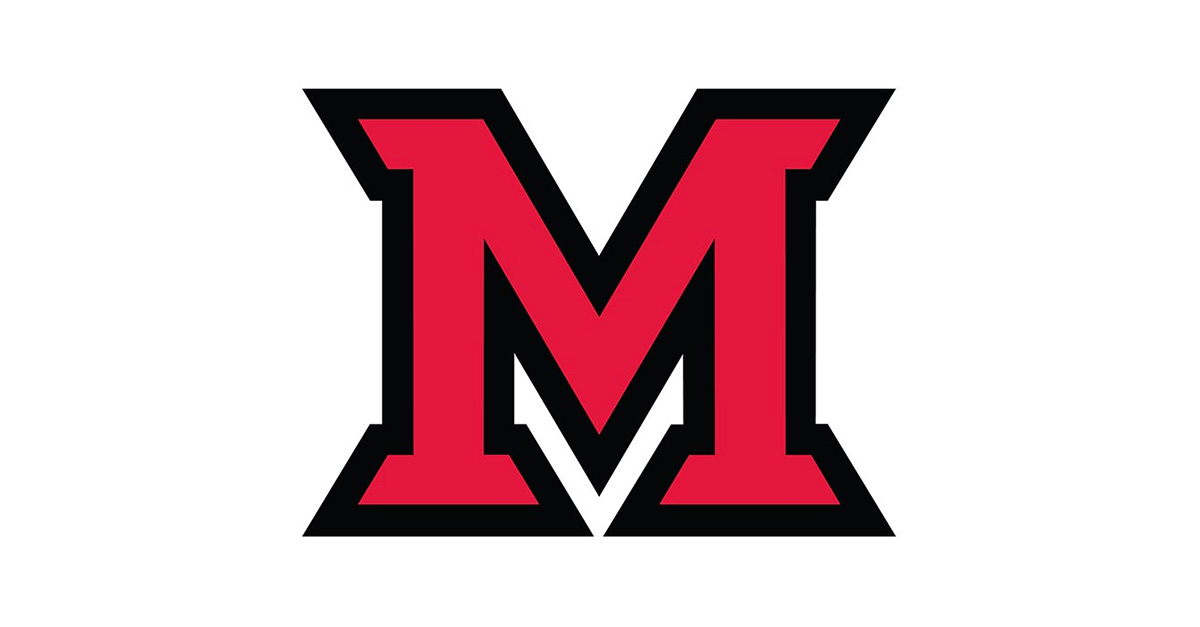 Feb 25, 2016
"Very tiny" Miami University Press makes big ripples in literary world
By Margo Kissell, university news and communications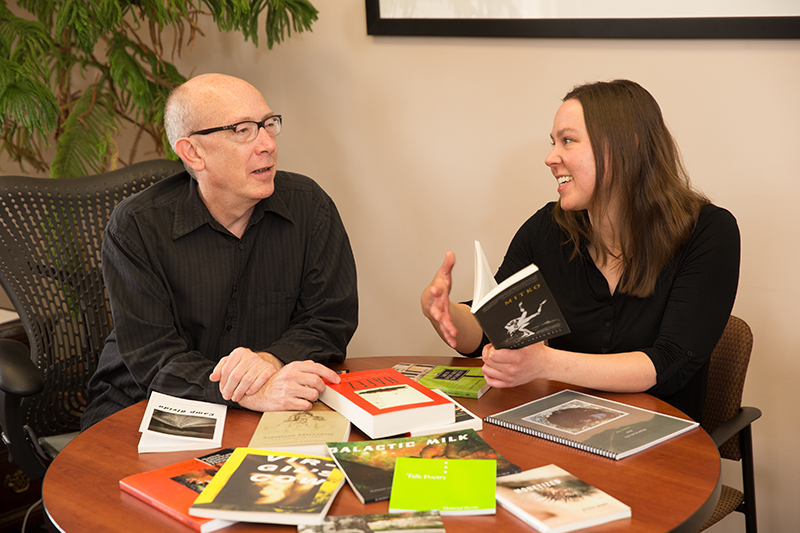 Keith Tuma (left), editor of the Miami University Press, and Amy Toland, managing editor (photo by Scott Kissell).
The Miami University Press' annual novella contest has had a record-breaking year, with more than 150 manuscripts submitted.
The latest winner of the Novella Prize, announced Friday, is Tara Deal's That Night Alive: I've Come Close. It will be published this fall.
Press editor Keith Tuma thinks they could see twice as many entries next year because of the recent success of author Garth Greenwell, who won the contest in 2010. 
A revised and condensed version of Greenwell's winning novella, Mitko, makes up the first section of his debut novel, What Belongs to You. The book has been well received since it was published by Farrar, Straus and Giroux on Jan. 19.
Both The New York Times and The New Yorker have written about it, and a Publisher's Weekly reviews editor called it "the first great novel of 2016." Greenwell thanked Miami University Press and its staff in the book's acknowledgements.
"We found him," said Tuma, acting chair and professor of English at Miami who has been editor of the Press since 2004. He works directly with the authors, line editing their manuscripts, among other duties.
"I'm hugely proud of the books we've done. They've had a lot of success," he said.  "They've won awards. They've been reviewed all over the world by The Guardian, The New Yorker, all sorts of poetry journals, fiction journals."
Not bad for the small press tucked away on the third floor of Bachelor Hall inside managing editor Amy Toland's office. It usually publishes two or three books a year: poetry and poetry in translation, novellas and occasionally short fiction, as well as books about Miami University history and conferences.
"It's really important for small presses — and we are very tiny — to find their own special place, to have a character, a distinct identity for the kinds of things that they do," Tuma said.
Toland (Miami MA '13), a Web content manager for the department of English, became managing editor two years ago. Like Tuma, her background is in poetry.
"We work well as a team," said Toland, who markets the books, manages the process of putting them together and communicates with a lot of authors.
A press that touches faculty, students and readers
James Reiss, poet and professor emeritus of English, started Miami University Press in 1992, publishing two books of poems a year.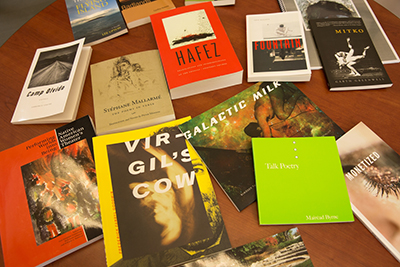 A sample of the Miami University Press publications
After Reiss retired, Tuma made some changes when he became editor in 2004. They started publishing one book of poetry annually, often featuring the works of Irish and British poets and poetry in translation, and also introduced the fiction series that same year. The first novella winner was named in 2005, the same year the Press began publishing the books on Miami conferences, such as the 2013 Finding Freedom: Memorializing the Voices of Freedom Summer.
By broadening the Press' offerings, Tuma also sought to bring it more fully into the department so more faculty and students were involved.
"The fiction brought the fiction staff in. It brought all of the graduate students in creative writing who are preliminary readers for this novella contest," he said. "Pretty much the entire creative writing faculty is involved as preliminary readers of novellas submitted for our contest."
Three undergraduate interns — Eric Rubeo (editorial) and Annabel Brooks and Meryl Juergens (public relations and marketing) — also are part of the team, and Tuma noted the Press is integrated into the curriculum in two ways:
Students in a digital editing course are making e-versions of the novella series.
Students taking a literary marketplace class learn about university and small presses, what they contribute to the culture and how they differ from publishing giants like Simon & Schuster.
Publishing on a shoestring budget
The Press receives a small subsidy from the College of Arts and Science and the department of English. With that small budget, Tuma has never been paid for his work as editor, but something else motivates him.
"I do it for the love of quality literature and also to promote Miami University as an institution interested in quality literature and to help introduce students to quality literature," he said.
The Press pays authors royalties for the books it publishes. For the novellas, authors receive a small advance against future royalties. By the way, Tuma said, "not all of these people are academics."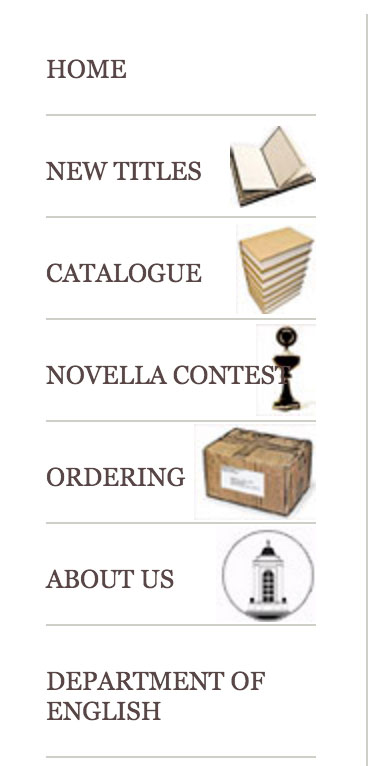 There have been journalists and a composer, musician and poet (Janice A. Lowe, whose Leaving Cle poems of nomadic dispersal is among the new titles coming out this spring.)
And then there's Tote Hughes, the young American who was working at the CERN (the European Organization for Nuclear Research) in Geneva, Switzerland, and pursuing his doctorate in high energy physics when he submitted his metaphysical detective story, Fountain. It won the Press' Novella Prize in 2014.
"Talk about the joy of discovering someone and giving someone a boost," Tuma said. "He was one of our youngest. We were able to bring him here for a visit (last spring), and he read before a huge crowd at the bookstore and visited classes."
Tuma said a small university press can offer writers things the major commercial publishing houses sometimes can't: an opportunity to be published and an intense relationship with its readers.
"The readers that are going to buy our books are going to be knowledgeable. They are going to be invested in the form," he said.
"They know this is where they are going to find quality — and also sometimes discover somebody like Garth Greenwell."