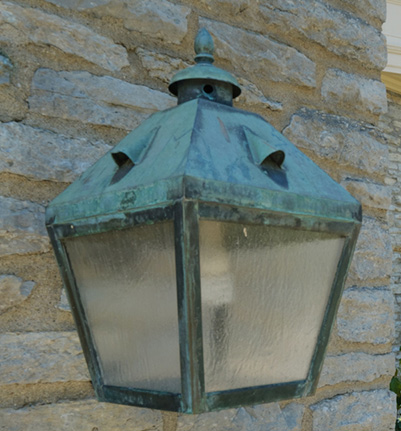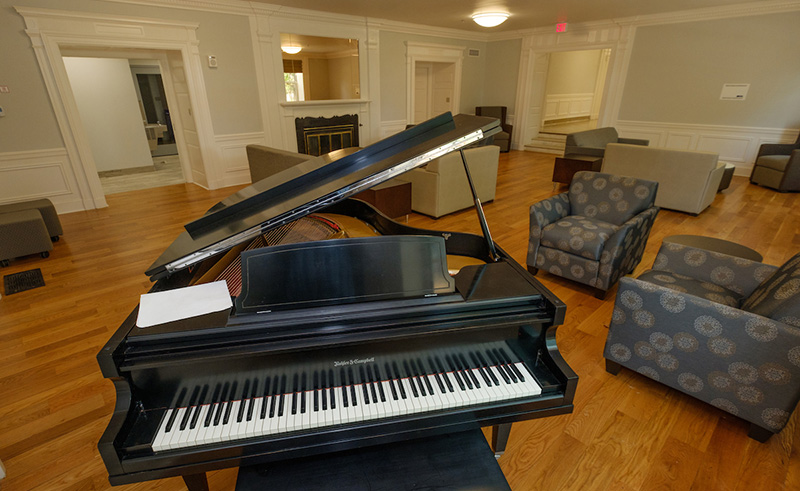 Hamilton Hall's living room features refinished hardwood floors and original woodwork.
Photo: Scott Kissell
Aug 03, 2017
Preserving history and expanding usability, part of residence hall renovations
Tour Clawson, Hamilton, Maplestreet Station, Miami's Mail and Package Center
By Carole Johnson, university news and communications
Preserving history while expanding usability and accessibility is the goal of Miami University's renovation projects. Opening for fall 2017 move-in are Clawson and Hamilton residence halls.
Open houses for the residence halls will be held 2-4 p.m. Thursday, Aug. 10, for Miami employees. An open house for the Mail & Package Center, now located on the lower east side of Shriver Center, will also be held 2-4 p.m. Aug. 10. (See related story on Miami's news webpage.) Also Aug 10, tour the redesigned Maplestreet Staion.

Clawson as seen from the outside, with its distinct gray brick of Western Campus. (Photos by Scott Kissell)
Clawson Hall
Clawson Hall, whose history includes Freedom Summer 1964, keeps its original charm but with some key upgrades.
During the summer of 1964, more than 800 volunteers gathered at the Western College for Women (now part of Miami's campus) to train and prepare for registering African American voters in Mississippi.
Clawson's original cafeteria served as a training room. Today, the room includes a double kitchenette and comfortable seating for students to gather. The lobby will include a remembrance of Freedom Summer, said Matt Frederick, senior director of auxiliary facilities and planning.
Edith Clawson, a 1900 graduate of the Western College for Women and the first member of its board of trustees, made construction of the hall possible in 1948 through a donation.
Historical architecture and materials like original floor tile can be seen throughout the building. It's the preservation of details that matter at Clawson. For instance, outdoor lighting fixtures saved from McBride Hall (renovated in 2015) now adorn the front entryway.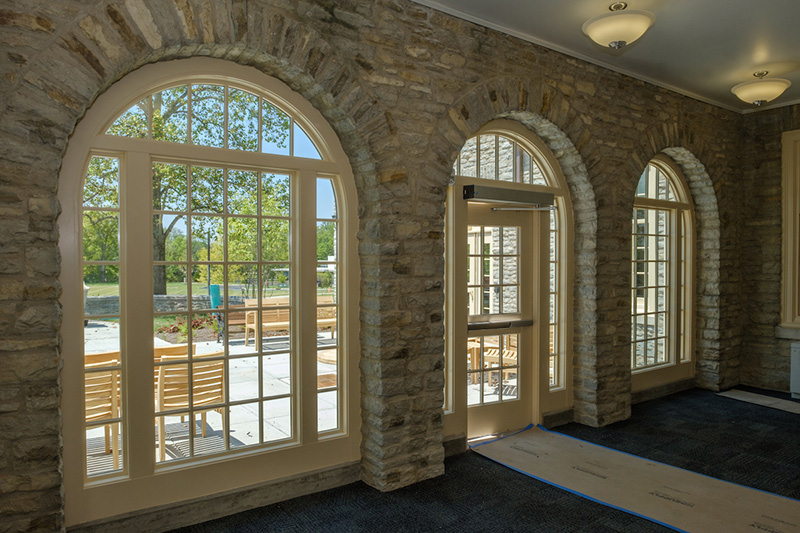 A newly enclosed sunroom leads to an outside patio at Clawson.
Other upgrades include:
All new electric, plumbing, mechanical/HVAC, fire alarm and fire suppression systems.
ADA accessibility.
Energy efficient windows with security stops in all first floor rooms.
Community spaces.
Full-size kitchen on first floor and two sets of appliances.
Living room, rec room with pool and Ping-Pong tables on first floor.
Study rooms on all other floors.
Laundry and vending room.
Indoor bike storage.
3 multiuser bathrooms and 5 single-user, all-gender, ADA bathrooms.
Each resident room features:
Energy efficient lighting, control HVAC thermostats with vacancy sensors.
Lofted beds for maximum use of space.
Swivel desk/gaming chair.
Original, restored closets.
Blackout shades for privacy and sleeping.
Hamilton Hall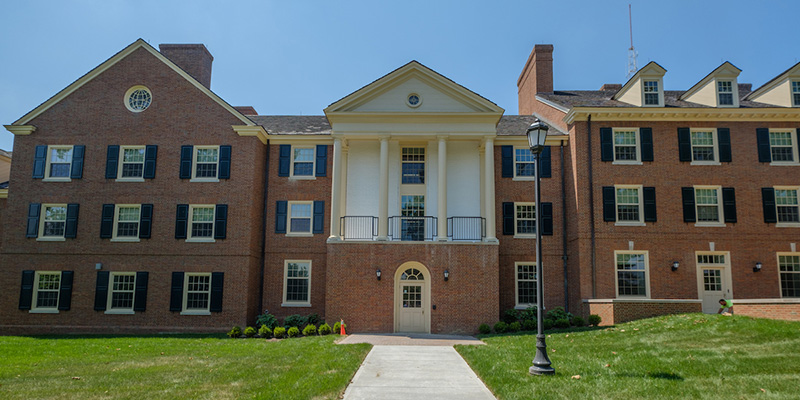 Hamilton Hall includes six sorority meeting suites.
Originally built in 1940, Hamilton Hall was the first women's residence hall in which sorority suites were included.
In 1948 it was renamed for Elizabeth W. Hamilton, who was a graduate of Oxford College with two degrees in 1895. She also taught Greek and English and was dean of Oxford College. She joined Miami University in 1905 as dean of women and served in that capacity until her retirement in 1945.
Like Clawson, Hamilton includes all the safety, electrical, and plumbing upgrades and bathroom and room renovations, as well as the addition of six new sorority meeting suites.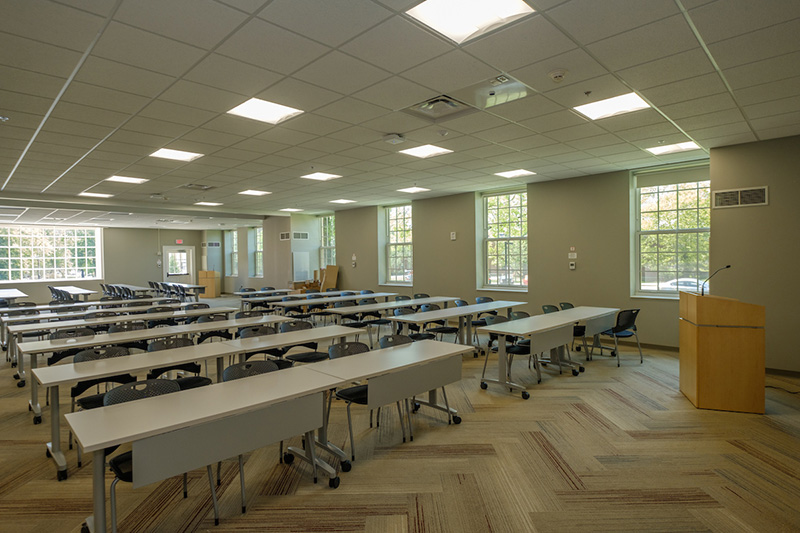 What used to be part of the Hamilton dining hall is now a meeting room for the sororities.
The suites include:
Private, secure entry separate from the residence hall.
Full-size kitchen on each floor.
Large multipurpose space for exclusive use by Greek affairs.
Sororities in Hamilton are:
Delta Gamma.
Delta Zeta.
Alpha Omicron Pi.
Gamma Phi Beta.
Kappa Kappa Gamma.
Zeta Tau Alpha.
What's striking about Hamilton is the intricate woodwork and wood floors, all restored to showcase the history of the building.
Maplestreet Station
This updated buffet and a la carte dining location will better serve the residents and guests of South quad.
Maplestreet Commons  - Renovations this summer converted First Stop, Pacific Rim, and Americas into Maplestreet Commons. This location provides continuous service from 7:30 a.m. - 8 p.m. Menu features pizza, a deli, paninis, custom stir-fry, pasta, burgers and allergen-friendly options.
Maple Grill will replace Encounter as your a la carte option for an expanded menu including burgers and chicken as well as quesadillas and quinoa bowls formerly from Americas.
The Q will introduce made-to-order salads, and dessert items that can be served traditional or smoked. (Try our new smoked brownie.)
Starbucks continues to be a campus favorite located within Maplestreet Station.
Follow @MiamiOHNews on Twitter.