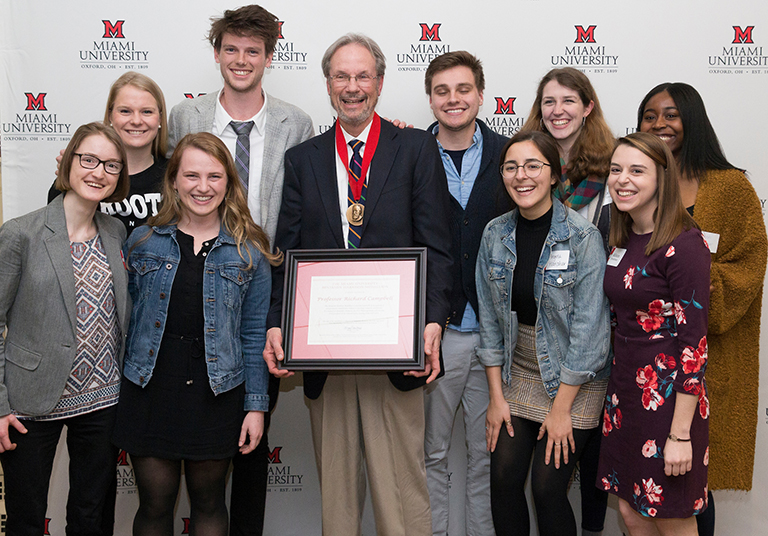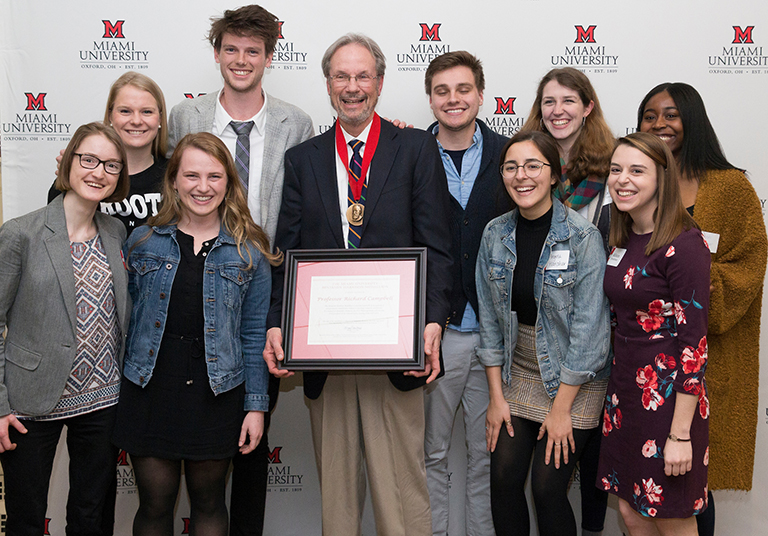 Richard Campbell, shown here with his students, received Miami's highest honor, the Benjamin Harrison Medallion, at a ceremony March 19.
Photo: Jeff Sabo
Mar 22, 2019
Richard Campbell awarded Benjamin Harrison Medallion; University Distinguished Professors named
The 2019 Benjamin Harrison Medallion Award — one of Miami's most significant recognitions — was awarded to Richard Campbell, professor and former chair of media, journalism and film.
Campbell was honored at the University Awards Celebration March 19.
The Harrison Medallion is awarded annually to a faculty member for contributions attesting to qualities of teaching, research and/or service.
Read more about Campbell in the Miami news story. 
Other faculty members honored with major university awards for 2019:
The title of University Distinguished Professor, honoring faculty who have national and international stature with demonstrated recognition and projected high level of scholarly productivity in the future, was awarded to:
Lisa Ellram, the James Evans Rees Distinguished Professor of Supply Chain Management.
Gary Lorigan, the John W. Steube Professor of Chemistry and Biochemistry.   
The Knox Distinguished Teaching Award, in recognition of a faculty member who uses creative and innovative teaching methods at the undergraduate level, was awarded to: 
Kristen Budd, assistant professor of sociology and gerontology. 
Miami University Distinguished Scholar Awards, honoring faculty whose sustained excellence in research or other creative activity has brought them prominence in their fields, were awarded to: 
Mike Brudzinski, professor of geology and environmental earth sciences.
Kevin Bush, associate dean of the College of Education, Health and Society and professor of family science and social work and of educational psychology.
Stephen Norris, professor of history.
Miami University Junior Faculty Scholar Awards, honoring faculty who have demonstrated great potential in research or artistry and have achieved significant standing in their fields, were awarded to: 
Daisy Hernández, assistant professor of English.
Joshua Magee, assistant professor of psychology.
Zhijiang (Justin) Ye, assistant professor of mechanical and manufacturing engineering.