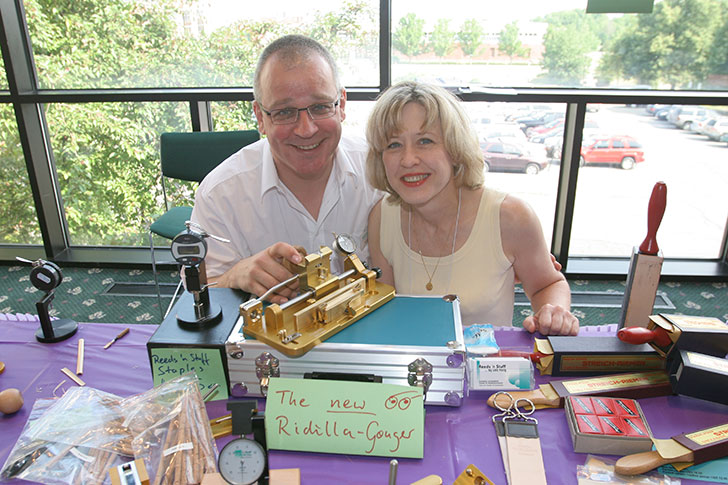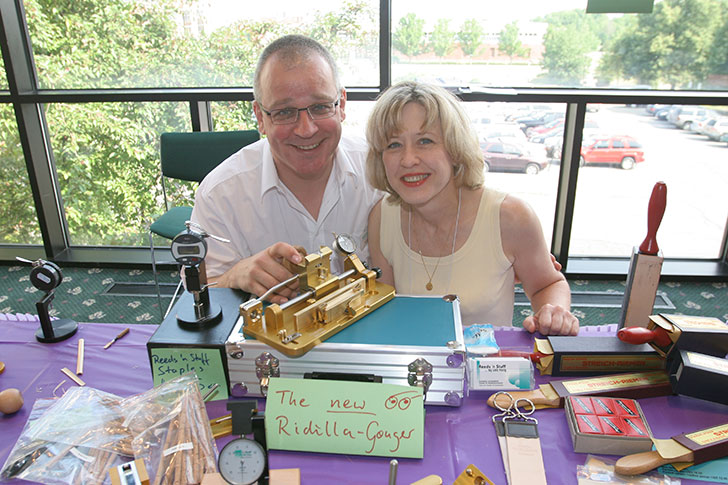 Miami University professor of oboe Andrea Ridilla and co-inventor Udo Heng of Reeds 'n Stuff in Cranzahl, Germany, with the reed gouging machine they patented in 2009.
Photo: Andrea Ridilla
Nov 15, 2013
Miami researchers turn ideas into inventions
Miami Patents
Miami University has 18 active patents in its portfolio.
Below is a listing of the 27 patents, both active and expired, awarded to Miami.
Active
Cell Transdifferentiation into Brown Adipocytes
Active
Advanced transitional cup

Active
Mesh-adjustable molecular sieve
Active
Mesh-adjustable molecular sieve

Active
Mesh-adjustable molecular sieve
Active
Devices, kits, and methods for providing protection to plants
Active
Methods of removing contaminants from used oil
Active
Oboe reed gouge apparatus

Expired
Fatty acid elongases

Active
Method of removing contaminants from petroleum distillates
Expired
Fatty acid elongase 3-ketoacyl CoA synthase polypeptides
Expired
Reagents and kits for detecting fungal pathogens in a biological sample

Active
Method of removing contaminants from used oil

Active
Method of removing contaminants from petroleum distillates
Active
Method of removing contaminants from petroleum distillates
Expired
Fatty acid elongases

Active
Method of removing contaminants from petroleum distillates
Active
Method of removing contaminants from used oil

Active
Method of removing contaminants from used oil

Active
Methods and reagents for detecting fungal pathogens in a biological sample

Active
Methods and reagents for detecting fungal pathogens in a biological sample

Active
Method and composition for increasing the supercooling point in invertebrates

Expired
Papermaking process

Expired
Method of detecting potassium ions using trifluoromethyl-substituted chromogenic crown ethers
Expired
Chromogenic aza-12-crown-4 ethers and method of using same for the detection of lithium
Expired
Trifluoromethyl-substituted chromogenic crown ethers and methods of using same
Expired
Collision laser
Source: U.S. Patent and Trademark Office
Miami holds 27 U.S. patents to date
This is the first of a three-part series on Miami patents. Read the second story and the third story online at Miami News.

Miami University this year added two more patents to its portfolio, bringing to 18 the number of active patents and 27 altogether.
The latest patent was issued on June 4 when Paul Harding, associate professor of biology, and his former graduate student Zhenqing Zhou (Miami PhD '09) patented a process converting any type of cell into brown fat in vitro. Research continues into whether the process will work in animals. If so, it could have potential implications in the battles against obesity, diabetes and cancer.

The U.S. Patent and Trademark Office (USPTO) issued another patent to Miami on April 30 for a controlled-flow "sippy" cup that would help special needs children who have difficulty swallowing.

The cup is the result of a long-time collaboration between two faculty members — Donna Scarborough, associate professor of speech pathology and audiology, and Michael Bailey-Van Kuren, associate professor of mechanical and manufacturing engineering.

The same two professors also have a patent pending on a glove-like hand pressure device designed for dental patients to help suppress the gag reflex.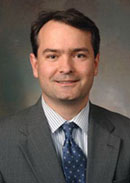 Reid Smith
The cup earned patent approval on first issue, which is unusual, according to Reid Smith, director of Technology Transfer and Business Partnerships at Miami.

"It's not a common occurrence in the patent area," Smith said. "Usually it's an indicator of something the examiner found was so novel, they just couldn't find a good reason to reject it."

The cup's microcontroller helps adjust the flow rate of the liquid.

Smith said they hope to find a company to license the patent rights to develop the product and get it on store shelves.

Scarborough credits Miami with pushing interdisciplinary collaboration with other faculty members.

"I'm not sure, honestly, if these patents would be here if I worked at a different university," she said.

Jim Oris, associate provost for research and dean of the Graduate School who oversees the office for the advancement of research and scholarship (OARS), is a big promoter of interdisciplinary collaboration.

"The bottom line is diverse teams solve problems better than homogenous teams," Oris said. "It also makes it more attractive for funding agencies. You have to shine somehow in order to get funding and the best way is to approach a problem in a brand new, novel way."
Federal law changes led to uptick in higher education patents
Smith, who oversees Miami's patent portfolio, said at least 27 patents have been issued historically to the university.

"There may well have been situations where faculty, prior to that, have invented things but those ended up being assigned to either the federal government or to an outside company under the terms of a contract arrangement," he said.

Patents can run for up to 20 years as long as maintenance fees are paid to keep them alive.

"Once it's issued, the clock is ticking," Smith said.

The USPTO website lists the patents assigned to Miami, beginning with the collision laser, approved in 1983. It relates to methods and apparatus to provide stimulated emission of electromagnetic radiation and was developed by William Wells Jr., Douglas Marcum, Lawrence Downes and Richard Tilton.

Smith said changes in federal law in the early 1980s altered universities' dealings with the federal government for patents developed using federal funding.

Those changes — which allowed universities to take title to inventions that were made in whole or in part with federal funding — resulted in "quite a big pick-up in patenting activity in academic institutions," he said.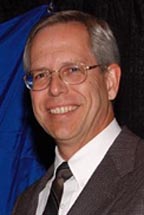 Jim Oris
Oris said another shift at Miami during the 1980s had an even greater, lasting impact: The university "started emphasizing the need for research and scholarship from our science and engineering faculty much more than we had in the past," he said.

Later, in 2003, when the OARS office took its current form and Miami's external funding was holding steady at about $10 million per year, Miami's new Associate Provost John Hughes and Associate Dean Gil Pacey "went on a campaign to increase our research profile and our patent profile," Oris said.

The university's research portfolio for external funding reached its goal of $25 million in 2008, he said.  Oris said that has dropped to about $20 million in the last couple of years due to the financial crisis and budget cuts.

University officials see patents as a potential revenue generator in this environment of scaled-back government funding, but Oris noted it's a long-term view because the patent process can be lengthy. Both patents issued to Miami this year took about three years to work their way through the process.

"You can never look at a patent as something that is going to generate a lot of revenue in the short-term," Oris said. "Those are much longer-term prospects."
In the patent pipeline
Smith said some patents that have been issued do not have licensees yet.

"We have a handful of other cases that have just moved into the patent process that we won't know anything about on the patent front for quite awhile, but they're cases that we're actively marketing and seeking licenses for," he said.  

Smith, who became Miami's full-time director of tech transfer last year, originally joined the OARS staff in 2011 under a shared services agreement for intellectual property management with Wright State University.

Smith now focuses on trying to develop commercial partners at the beginning of projects. Ultimately, the goal is to try to have a license when the patent issues, Oris said.

"If we want to speed up the process to commercialization," he said, "we have to find partners closer to the beginning of the project."

License income from patents fluctuates from year to year at Miami, but Smith said the money aspect is just one element.

"It's really about trying to get technology and information out into the marketplace where it can be used," he said. "That's a much broader mission than just generating income."

One patent currently generating a small amount of licensing income is the oboe reed gouging machine patented in 2009.

Miami professor of oboe Andrea Ridilla is co-author on the patent with Udo Heng, whose Reeds 'n Stuff company in Cranzahl, Germany, is at the top internationally in reed-making equipment. The patent is held in Miami's name.

Ridilla said the machine, which also may be referred to as a gouger or gouge, is a very important early step in the process. It helps create the sound produced by the reed and eventually the tone of the oboe.

"I was looking for a gouge that offered more focus in the reed, with less work on the part of the player, so that the player could be more free and still have a focused tone," she said.

Heng works with the top players in the field, including the principal oboe of the Berlin Philharmonic, Ridilla said.

Ridilla had been using some of his equipment and met him at the 2002 Conference of the International Double Reed Society in Banff, Canada.

"I approached him about collaborating with me in my design," she said. "I designed the blade curve, and he followed by designing the machine."

The gouging machine is now sold through the Reeds 'n Stuff website and, in the United States, in California, New York City and Boston.

For Oris, the key is getting patented products out in the marketplace so consumers – and the economy – can benefit.

"My emphasis right now is it doesn't matter whether you have 10 patents or 500," he said. "If you don't do anything with them, you're not helping the economy. Our focus now is to build our patent portfolio but do it in a way that they get commercialized, and we have an economic development impact."
written by Margo Kissell, university news and communications, kisselm@MiamiOh.edu