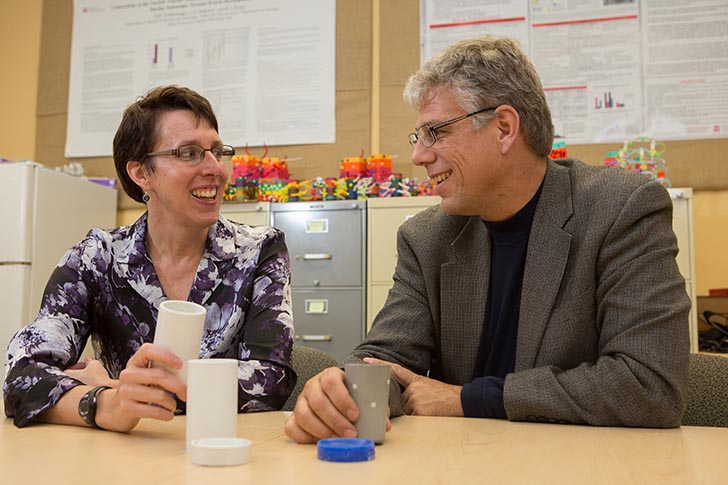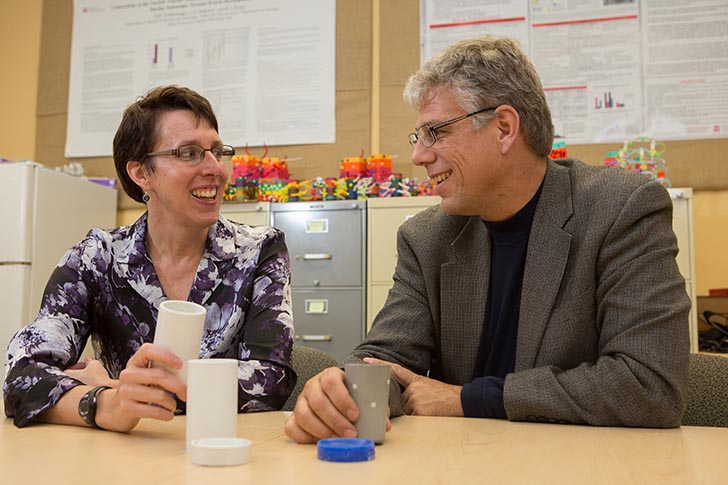 Donna Scarborough and Michael Bailey-Van Kuren collaborated on two inventions that could improve the daily lives of special needs children and others.
Photo: Scott Kissell
Nov 18, 2013
Interdisciplinary collaboration fuels creativity
Professors' inventions may help children, adults faced with challenges
When Donna Scarborough joined the faculty at Miami University 10 years ago, she never expected to patent an invention.

Now she's seeking approval for a second.

Scarborough is an associate professor of speech pathology and audiology. The speech pathologist has been treating children with swallowing disorders for nearly 20 years.

Her co-inventor is Michael Bailey-Van Kuren, associate professor of mechanical and manufacturing engineering.

They've collaborated on two inventions: a controlled-flow "sippy" cup to help children who have difficulty swallowing, and a glove-like hand pressure device designed for dental patients that suppresses the gag reflex.

The U.S. Patent and Trademark Office approved a patent for the cup on April 30; the medical device is still working its way through the patent process.

Scarborough credits Miami with encouraging interdisciplinary collaboration among faculty members. The relationship fuels creativity between a professor with her clinical expertise and someone like Bailey-Van Kuren, who has an "engineering brain," she said.

"I think to allow two professionals with a common goal to approach something from two completely different perspectives is where this came from," she said. "When you put us together in a room, and we could talk about these problems, the ideas just flowed."

These are prototypes of the controlled-flow "sippy" cup, which could help children with special needs. (Photo by Scott Kissell)
Cup gets patent approval on first issue
The advanced transitional cup as it is called in patent paperwork could benefit all children, Scarborough said, but it was designed specifically for children with special needs.

It earned patent approval on first issue because of its unique design. A microcontroller in the cup helps open and close the air valves in the lid, which in turn adjust the flow rate of the liquid.

"We're working with a system where we're adjusting the vent holes so it's the speed of the air that can come in or go out of the cup," she said. "That's the unique property. There's nothing else out there like that."

They designed the cup without a spout, and created the prototype in a manner so that it could have handles or not.

Bailey-Van Kuren said he is always looking for applied uses of engineering solutions or technology.

"The involvement with Donna Scarborough has allowed me to go into an application area where I have little knowledge and bring my own expertise and help create new developments in that field," he said.

Scarborough has seen the need for a controlled-flow cup. Some youngsters get too much liquid too quickly when they're drinking, causing them to choke. "That's a big problem," she said.

There are no-spill cups on the market, she said, but "some of my kids are too weak to even initiate the suck to get the liquid from the cup."

Scarborough has to tape vent holes to modify existing cups to match a child's needs.

Four Miami students from Scarborough's department were involved in research in 2010 to determine how much suction pressure was required with no-spill cups. They also looked at flow rates after the initial suction seal was broken on the cup.

While Scarborough said it is rewarding to find a potential solution to a common problem, she and Bailey-Van Kuren said it also can be frustrating working through a lengthy patenting process.

"There are times you want to get it into the hands of people who can use it in certain cases and you're held up from doing that," he said.

Scarborough said she is unable to use a prototype cup she helped develop because it isn't made of a kind of plastic that can be sterilized for multiple uses. She doesn't want to risk compromising a child's delicate immune system.

"I have a child on my caseload right now, for example. She's right at the time she wants to be transitioned from the bottle to a cup," she said. "There's nothing that would work for her right now without me adapting it."

Their next step: finding a licensee to market the cup.

"I think I'll have that sense of accomplishment when I actually can go to a store and buy it, or order it online," she said. "For me, I feel like we're only part way there."
Another invention going through process
The two filed for a patent on the hand-pressure device to diminish the gag reflex response in spring 2009 and are still awaiting a decision.

 They can't move forward with their commercialization plan unless they have a patent.

"For two years or more we have had somebody waiting to commercialize and we can't move forward until the patent has been issued," Scarborough said. "That's been a very difficult challenge in this whole process."

An agreement between Miami and startup company PharynMed was signed in 2011.

PharynMed, which has a CEO and a board of advisers, evolved from a student project in an entrepreneurship capstone class in Miami's Farmer School of Business after university officials proposed using the device as the student group's test case.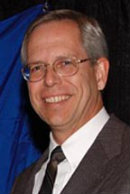 Jim Oris
"We have a student-developed business from a faculty-developed invention," said Jim Oris, associate provost for research and dean of the Graduate School.

"The students' initial work in developing that business plan was a great help because that's outside of our expertise," Bailey-Van Kuren said. "If we wouldn't have had them involved, there's no way the business side of it would have ever gotten developed to the point where it is now. That's something we just don't have the time and resources to do."

PharynMed's board of advisers includes Scarborough, Bailey-Van Kuren and business, financial and legal professionals from the Cincinnati area.

They plan to launch PharynMed into the professional dental marketplace as soon as possible. They had hoped to do that by now.

"The timeline has shifted out because we haven't gotten the patent issued yet," Oris said. "They won't be able to raise venture capital until they have a patent to work with."

Oris has said he believes there could be a "significant royalty stream generated to the university if the business succeeds" because approximately 20 percent of the adult population is gag-sensitive.

For those individuals, taking pills or going to the dentist can be a real challenge, he added.

"In a room of 20 people, you are going to get four people who will raise their hand and say, 'I'll buy it now.' "
Written by Margo Kissell, university news and communications, kisselm@miamioh.edu