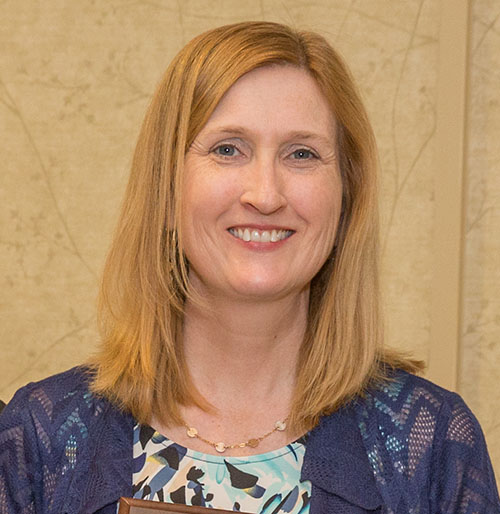 Apr 11, 2017
Lynette Hudiburgh receives Knox Distinguished Teaching Award
By Susan Meikle, university news and communications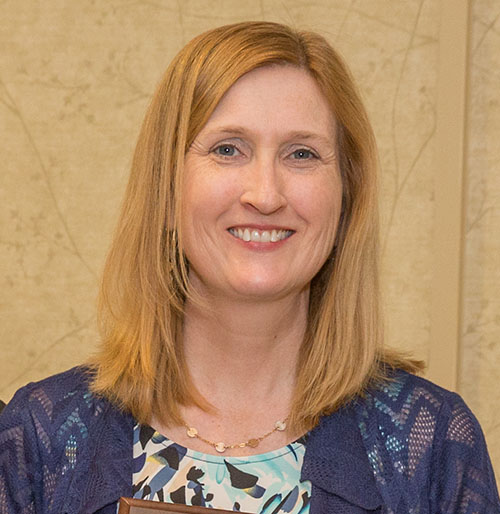 Lynette Hudiburgh
Lynette Hudiburgh, lecturer of statistics, is the recipient of the 2017 E. Phillip Knox Distinguished Teaching Award.
The award recognizes one faculty member who uses creative, innovative and engaging teaching methods at the undergraduate level.
Established by Miami alumnus E. Phillips Knox, a 1968 graduate, the award is presented to faculty members whose achievements unequivocally merit recognition for excellence in teaching. Award winners receive a professional expense allocation of $3,000.
Hudiburgh was honored at the University Awards Reception held April 10. 
Hudiburgh has led efforts in the department of statistics to develop a hybrid model of STA 261, an introductory level statistics course for non­majors that meets the Miami Plan formal reasoning requirement and serves approximately 600 students each semester.
The student evaluations of her courses are consistently among the highest observed in the department of statistics, according to her nominators. "It is no surprise that her courses are the first to fill during registration," a nominator said.
The current model of STA 261 is a culmination of many years of research, Hudiburgh said.
Hybrid model offers a common experience for all STA 261 students
She has steered the course from a "hodgepodge" of classes taught by many different individuals without a common syllabus or text.
Now, all students who take STA 261 have a common experience and engage with the same content.
"This more consistent approach has led to greater collaboration among faculty and graduate students to create the best learning experience possible for the students and has led to a decrease in the percentage of D's, F's and WF's each semester," Hudiburgh said.  
STA 261 students have diverse backgrounds, many different majors and are quite varied in their preparation for, and attitudes about, statistics, Hudiburgh said.
Students describe her classroom environment as welcoming, with discussion encouraged and questions always answered. She "expands the context of statistics to focus on inclusion from all backgrounds with group projects, partners in class and overall responsibility for one's work," one nominator said.
A key feature of the STA 261 hybrid model is laboratory days in which students conduct small studies to explore and deepen understanding of statistical concepts. Hudiburgh has built scaffolded projects into these classes including a data visualization and a regression modeling project.
This hybrid model includes an inversion of the classroom: students use online resources (developed by Hudiburgh) outside of class and class time "becomes all about critical thinking, discussion and understanding." The online video lectures "allow the students to work at their own pace, stop, pause, or rewind as many times as they like," a nominator said.
Online and Blended Learning
In addition to her contributions to the hybrid model for STA 261, Hudiburgh developed and taught two of the first Oxford campus-based online offerings of STA 261.
In order to guarantee that the hybrid and online efforts conformed to the highest standards of practice, she obtained a Sloan-C Online Teaching Certificate in Blended Learning and participated as a member of the College of Arts and Science E-Learning Faculty Learning Community tasked with developing guidelines for Standards of Excellence and Best Practices in Online and Blended Learning.
Coordinates Careers Involving Quantitative Skills (CIQS) Day
Hudiburgh coordinates the Careers Involving Quantitative Skills (CIQS) day at Miami, a program that encourages female high school students to develop quantitative skills and to pursue majors that require such skills.
At this event, high school students are invited to the Oxford campus of Miami University to participate in activities with faculty and current college students, listen to student presentations, and converse with women who are working in STEM fields and other fields where good quantitative skills are needed.
The third CIQS day was held in January and more than 150 young women from seven area school districts participated.
Embracing new opportunities
The deepest learning occurs in active, learner­-centered classrooms where students are engaging with the content, their classmates and their instructor, and where students are held accountable for their own learning, Hudiburgh said. "That is the classroom that I strive to create for my students."
"It is a joy to work with colleagues who embrace new opportunities to improve the educational experience of our students, who implement best practices in teaching concepts and who are enthusiastic about recruiting students to their disciplines," one nominator said. "Lynette Hudiburgh is a fine example of such colleagues and well-deserving of the recognition that the Knox Teaching Award bestows."
Hudiburgh received her master's degree in applied statistics in 2010 after a career teaching high school mathematics and statistics. She joined Miami in 2011 as an instructor and became lecturer of statistics in 2013.
The committee for the Center for Teaching Excellence, a subcommittee of University Senate, selects the Knox awardee from nominations by examining the nominees' teaching portfolios and through interviews with the finalists.