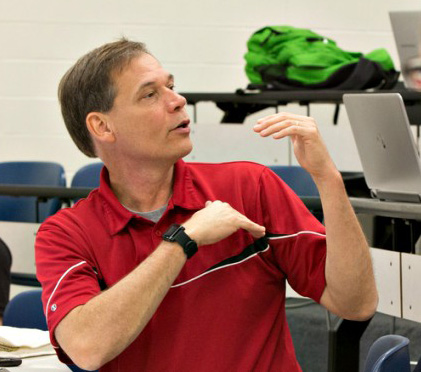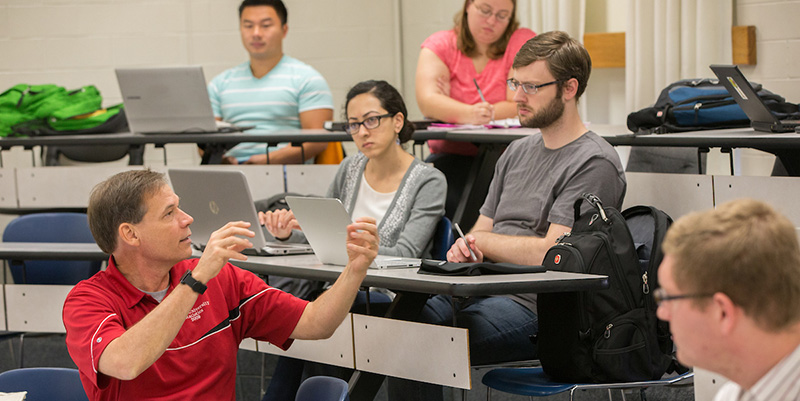 John Bailer tells the story behind the statistics to life for students and podcast listeners.
Photo: Scott Kissell
Apr 18, 2018
John Bailer receives Knox Distinguished Teaching Award
By Susan Meikle, university news and communications
John Bailer, University Distinguished Professor and chair of statistics, is the recipient of the 2018 E. Phillip Knox Distinguished Teaching Award.
The award recognizes one faculty member who uses creative, innovative and engaging teaching methods at the undergraduate level.
Established by Miami alumnus E. Phillips Knox, a 1968 graduate, the award is presented to faculty members whose achievements unequivocally merit recognition for excellence in teaching. Award winners receive a professional expense allocation of $3,000.
Bailer will be honored at the University Awards Reception 5-6:30 p.m. April 18 in Marcum Conference Center.
Hallmark of transformational teaching
Bailer's former students have noted the lasting impact of his teaching.  His "teaching and mentorship have not only shaped my research trajectory, but have also influenced how I approach teaching," a former student said. "This lasting impact, which I hope to amplify throughout my career, is the hallmark of transformational teaching."
Another student said Bailer "has taught me the importance of collaboration, how to properly conduct research and what it means to be passionate about a field."
About his own teaching methods, Bailer states, "I believe that learning cannot occur without engagement. Engagement translates into an emotional investment wherein students develop a stake in mastering the material. The opening of the heart precedes the opening of the mind."
His courses in statistics, advanced data visualization and "News and Numbers" have attracted students from diverse majors. He is recognized by students for "always creating a welcoming environment."
Unique and engaging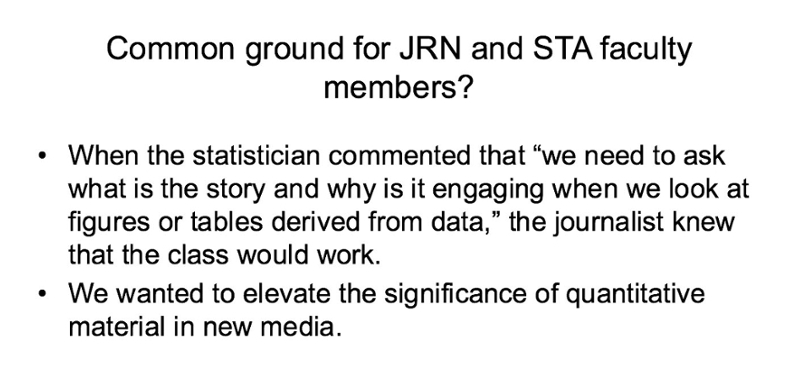 Evolution of News and Numbers course: Ideas from a Powerpoint presentation.
His course "News and Numbers," co-taught with journalism professor Richard Campbell, was "one of the most unique and engaging classes I took while at Miami," a former student said.   "By engaging multiple disciplines, this class attracted students pursuing diverse majors, which sparked stimulating debates and allowed me to interact with students I would not likely have met otherwise."
That course led to a new partnership between Bailer and Campbell and the creation of  Stats+Stories, a podcast with featured guests and a moderator chatting about the "statistics behind the stories and the stories behind the statistics." With the goal of creating a more statistically literate populace, Stats+Stories has gained national attention and recently received financial support from the the American Statistical Association.
In his courses, he invites people from the community, industry and government to share problems and data with his classes on data visualization and data analysis practicum. The experiential focus of the courses authentically immerses students in the problems, methods and communication requirements of statisticians.
Statistics = telling good stories
As one student described, "during Advanced Data Visualization, we were given chances to work with real clients — using the data provided by clients to produce data visualizations and present to them. Later I found it useful to apply perspectives and techniques I gained from Dr. Bailer's class to my other major courses."

This method inspired Bailer's students to learn that statistics is about telling good stories in real-world context.
The student added that Bailer "cherishes the diversity of and respects each individual's talent, which greatly spurred our creativity and ability in his classes."
His colleagues note that he is known for his scholarly, responsive and collaborative approaches as a teacher.
Bailer joined Miami in 1988. He is a Scripps Research Fellow, a faculty affiliate in the Statistical Consulting Center, an affiliate member in the departments of biology and of sociology and gerontology, and affiliate of the Institute for the Environment and Sustainability.
An internationally known biostatistician, his work has influenced policy decisions and directions at the national level, particularly in the area of risk assessment. 
Bailer has been recognized for excellence in teaching, research and service at Miami with many awards: the Benjamin Harrison Medallion in 2011; the 2009 Distinguished Teaching Award for Excellence in Graduate Instruction and Mentoring; and named a University Distinguished Professor in 2005, among other awards.
He has "the true gift of being able to make statistics understandable, exciting and applicable to students," a nominator said.  
The committee for the Center for Teaching Excellence, a subcommittee of University Senate, selects the Knox awardee from nominations by examining the nominees' teaching portfolios and through interviews with the finalists.