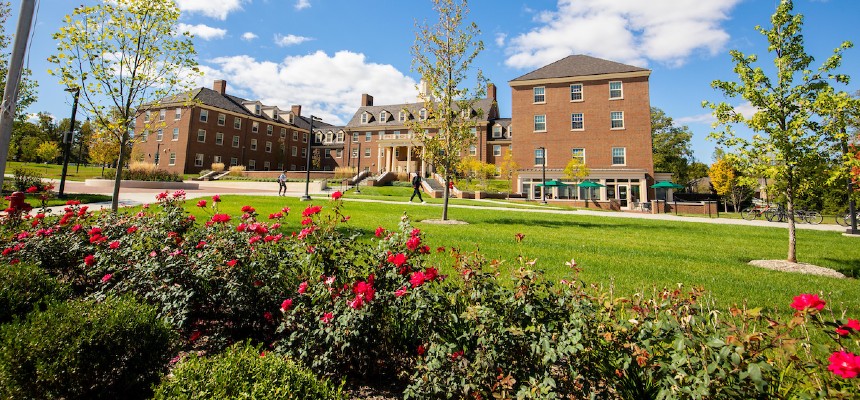 Prodesse Scholars Program
The Prodesse Scholars Program offers energetic and gifted incoming first-year Miami students an intensive and intimate one-year, cohort-based experience that is led by an outstanding faculty member, focused on a cross-cutting and relevant theme or problem.
Highly motivated peers who come from a range of majors and share a passion for the given theme take a first-year course together and participate in at least one significant co-curricular project, activity or event. Students also have the option of residing in a Living Learning Community focused on the program theme in the first year.
In the Prodesse Scholars Program you will:
Build anchoring connections with your peers and a faculty expert within your theme.
Take a first-year course with other scholars in a theme of your choice and complete at least one co-curricular project, activity, or event.
Have the option to reside in a Living Learning Community related to your theme.
Develop a deeper understanding of an interdisciplinary problem, question, or theme, while gaining individual support for your career exploration and development.
Earn a $2,000 annual Prodesse Scholarship, renewable for the four years of your undergraduate education.
Program Requirements
To remain in the Prodesse Scholars Program, Prodesse Scholars are required to complete in their first year of study:
One approved interdisciplinary theme-related course or seminar in the fall semester of your first year;
One approved integrative co-curricular activity or project which relate to one of the program themes in the fall or spring semester of your first year;
Completion of reflection essay on these experiences and submission via the Prodesse Scholars Canvas site.
Program themes are typically aligned with the mission, goals and resources provided by Miami's interdisciplinary centers, institutes and museums, and themes are selected for their capacity to advance liberal education outcomes, skills and knowledge relevant to students of all majors. Prodesse seminars are typically capped at 19 students to encourage lively interaction and engagement and to promote lasting friendships among our fellow Prodesse Scholar students.
To complete their program requirements, Prodesse Scholars may indicate a first, second, and third choice preference from the list of themes below. Efforts will be made to enroll students in one of the student's preferred seminars at the time of registration. Prodesse Scholars then may select one or more of the approved co-curricular activities or projects and complete one or more by the end of the spring semester of their first year. Finally, students are automatically enrolled in the Prodesse Scholars Canvas site and must submit a reflective essay on their program experiences by May 1 of their first year via the Prodesse Scholars Canvas site.
Efforts are made to offer a diversity of seminar topics and co-curricular opportunities so that students may make choices that suit their interests and schedules.
Scholarships and Programming
Prodesse Scholars earn an annual $1,000-$2,000 scholarship (renewable for up to four years) and must complete a first-year seminar or course and an approved co-curricular activity or project, to retain the award.
Through Prodesse Scholars programming and activities, you will recognize the value of learning and working with individuals from multiple disciplines and how this integrated approach to education provides an excellent foundation for all career paths.
Interdisciplinary Themes
As a Prodesse Scholar, you will join high-achieving peers who bring multiple perspectives from multiple majors to one of the themes below. Scholars within each theme take a first-year course together, receive customized career counseling, participate in at least one co-curricular activity, and have the option to reside together in a Living Learning Community.
Fall Seminars
Students are required to complete one of the following during the fall semester of their first year.
Creativity and Innovation Theme
CCA 190 | Arts, Activism and Advocacy
This course explores how the arts can be a conduit for social change. Through an exploration of visual and performing arts at Miami, students will engage in dialogue about how artists make meaning and impact culture. In addition, students will gain a better understanding of the workings of arts advocacy processes on both local and national levels.
Instructor: Elizabeth Mullenix, Dean, College of Creative Arts
ESP 152 | World Creativity and Innovation
This course explores creativity with an international twist. Miami University Entrepreneurship Department is the home of World Creativity & Innovation Week. Students study and connect with creativity experts and students from around the world. This experience includes lots of hands-on work to practice the mindsets, toolsets and skillsets that will improve student's lives and careers. Student's final projects will be shared with WCIW's international audience.
Instructor: Jim Friedman, White Family Associate Clinical Professor & Associate Clinical Professor
ENG 225 | Creative Writing Workshop
This class introduces students to creative nonfiction—the art of writing true stories. How exactly do we write stories about our experiences that complete strangers would want to read? How do we shape ordinary conversations with our siblings or parents into dialogue that can rival the juiciest dialogue found in our favorite novels? How can techniques like anaphora, direct address, and even list making allow us to experiment with writing true stories? We will study the short nonfiction of many writers including Joy Castro, Jehanne Dubrow, Brady Dennis, and Roxane Gay. Students will have weekly opportunities to experiment with the ideas that we discuss in class and to revise essays extensively with feedback from your peers and myself. 
Instructor: Daisy Hernandez, Assistant Professor, Department of English
Design Thinking and Technology Theme
IMS 254 | Design Thinking and Design Principles Applied
Scholars will utilize design thinking processes and principles to solve complex social problems. Solutions within a technologically infused society often require the application of digital design and social science to develop new user experiences. Scholars will design a user experience exploring the role of the user, the interface, and the interaction.
Instructor: Michael Bailey-Van Kuren, Armstrong Associate Professor of Technology; Interim Chair, Department of Emerging Technology, Business & Design
Health and Society Theme
PMD 101 | Critical Topics in Health
This course explores the various career pathways in healthcare and helps students considering a career in a healthcare field develop a comprehensive plan of preparation for admission to medical school or other healthcare profession school. Students are exposed to upperclassmen, current professional school students, and healthcare professionals who share advice for the pathway.
Instructor: Tailyn Walborn, Assistant Director, Mallory-Wilson Center for Pre-Health Education
ATH 190 | Epidemics and Inequity in Global Cultural Contexts
Epidemics are human universals, and yet their causes and solutions are deeply cultural as well as biological. In this course, students will examine global diseases and the inequities they create and reveal using ethnographic and interdisciplinary perspectives. Students will actively engage global health problems through applied learning activities such as digital storytelling, global virtual interactions, and engaging with public health officials and medical providers. 
Instructor: Cameron Hay-Rollins, Professor and Chair, Department of Anthropology & Global Health Studies
Law and Politics Theme
POL 345 | Constitutional Conversations
We the People need Constitutional Conversation. Our class will explore and discover ways of speaking, questioning, listening and writing about some of the most important constitutional topics of our times. America is in the midst of a global coronavirus crisis, with the economy reeling from job loss and the pandemic. Social justice tensions and other divisions have intensified. From Revolution, to Philadelphia Convention, to ratification, to Civil War, to 27 amendments, to the unfinished Constitution of today, it has always been a conversation and experiment in popular sovereignty. Partisan political times can cause us to see the Constitution through narrow political lenses. In reality, the Constitution is not a political partisan; it is neither red nor blue. We will explore what it means to befriend the Constitution in ten topical areas: free speech, arts & science education, voting, religious freedom, equality, public safety, privacy, justice, public health and the environment. 
Instructor: Bruce Petrie, Visiting Assistant Professor, Department of Political Science
Nature and Environment Theme
IES/SOC/FST 127 | Environmental Justice in Film
This course introduces students to a variety of environmental and social justice issues through cinema. The emphasis is on fictional feature films (as opposed to documentaries), and the films will reinforce the idea that justice and environmental issues are inseparable. Students will meet to watch films together and reflect on the messages they carry about environmental and/or social justice issues and how those messages are conveyed to the viewers. The course offers students a chance to interact and discuss environmental and social justice issues while bonding and planning other activities.
Co-Instructors: Jonathan Levy, Associate Professor and Director, Institute of Environment and Sustainability; FACULTY MEMBER, Film Studies
BIO XXX | You and the Natural World
Nature is a fundamental part of every major. The raw materials for everything you own were either grown on or dug from the Earth. Your culture, neighborhood, family history, and even worldview have been influenced by nature. Your ancestors were naturalists. Yet, the skills of a naturalist are declining, even within the biological sciences. Students of any experience level or background are invited to join the Hefner Museum of Natural History team to get muddy, cut things up, smell the roses (and remove the invasive ones) and learn through first-hand experience, the basic principles and theories of nature that make you who you are. This course is a literal walk in the park (among other things). It will be a good overview for the aspiring biologist but equally, it is designed to be useful and exciting for the non-biology student who has often wondered about nature but never had a guide.
Instructor: Steven Sullivan, Director, Hefner Museum of Natural History
Social Justice Theme
ENG 225 | Race and Visual Culture
This course explores how images shape the way we see and experience race as a social concept. How do films, illustrations, social media, art, photographs and other visual media define ideas of race and open an avenue to help us dismantle racism? The seminar format will be a mixture of lecture, discussion, and activities focused on analyzing representations of race and racism throughout history and in the present. We will read a wide range of fictional and critical texts, and students will write frequently about major episodes in the history of race and racial conflict.
Instructor: Anita Mannur, Associate Professor, Department of English
ENG 225 | Race, Law and Literature
In this course, we will develop research and writing skills by working in the field of "Law and Literature," and by examining the intersections between literary texts and legal cases that focus on race and race relations in the United States. The course will be connected to the programming being offered by the Humanities Center's 2021-22 Altman Program on race and racism and will also include a class project that conducts original research on a lynching that occurred in Oxford, Ohio in 1892.
Instructor: Andrew Hebard, Associate Chair and Associate Professor, Department of English
Film, Communication and Media Theme
JRN 120 | Truth, Lies and the News
Americans have always argued about what is right — the right morals, the right policies, the right leaders. But now we're fighting over an even more basic question: What is *true*? In this battle, Ground Zero is the news industry. We've always looked to journalists to build the factual foundations of our decisions as a society. But now a huge fraction of the public distrusts those foundations. How did we get here? What are the implications for the future? How do we tell truthful reportage from propaganda? JRN 120: Truth, Lies and the News invites Prodesse Scholars who care deeply about public affairs and how they are covered to explore those questions in depth. Drawing on history, journalism, and philosophy, members of the course will: 1) debate real-world case studies, past and present; and 2) try their hand at writing their own truthful accounts of events unfolding right on campus. How would YOU resolve the age-old challenges of the journalist's trade — to convey reality accurately, fairly, objectively, and without bias? Are those standards realistic? Are there alternatives?
Instructor: James Tobin, Professor of Journalism, tobinje@MiamiOH.edu 
ATH 190 | Documentary Film and Cultural Worlds
NatGeo, Ancient Aliens, and YouTube are but a few examples of the array of "documentary" media and visual culture that bombard us daily. This course examines the ways in which films and images are instrumental in negotiating communities and identities, including those that are countercultural, conspiratorial, and political. We will explore what constitutes "film" and the ways in which images, sounds, and texts are circulated, commodified, and manipulated. Putting knowledge into practice, students create their own visual ethnographies of their worlds using the methods of public scholarship and visual anthropology.
Instructor: Leighton Peterson, Associate Professor of Anthropology
Activities and Projects
Students will be required to complete at least one of these activities or projects during the fall and/or spring semester of their first year.
Creativity and Innovation Theme
Techstars Startup Weekend Miami (Fall Semester)
Sponsored by Techstars®, the largest accelerator network in the world, Startup Weekend Miami is a 50+ hour weekend event, during which groups of student-founders, developers, managers, marketing experts, engineers and more pitch ideas for new startup companies, form teams around those ideas, and work to develop a working prototype, demo, or presentation by Sunday afternoon.  Students who participate earn credit for ESP 102 and build networks with professionals, mentors, and peers from public and private organizations.
World Creativity and Innovation Week (Spring Semester)
Take on a leadership role and participate in World Creativity & Innovation Week which will be held April 15-21.  Contact the Department of Entrepreneurship for information on how to participate and undertake a leadership role in the WCIW event.
Igoodea Creatives (Fall and Spring Semesters)
Join the Igoodea Creatives which is the student creativity organization that is dedicated to developing the creative skills and mindsets in everyday life. Take on a leadership role and help to design and implement one of their major events such as Creativity City which occurs in April. Creativity City is an event that brings students together to design a city in celebration of World Creativity and Innovation Week. With the event, students live and share their creativity with games, activities and teachings about applied creativity and innovation.
Social Innovation Weekend (Spring Semester)
Participate in Social Innovation Weekend (SIW) which is a 50+ hour weekend event that brings students from departments and programs across campus and professionals from key public and private stakeholder organizations at the national, state, county, and local city-level together to solve significant societal issues. Students who participate earn course credit for ESP 102 and work side-by-side with industry partners from 20+ organizations in the public and private sectors.
Field Trip to Local Museums and Galleries (Fall or Spring Semester)
Visit on your own or join one of the scheduled tours of the Miami Art Museum, Miami's Hiestand Gallery, or the Freedom Center in downtown Cincinnati.  Scheduled tours will be created by the College of Creative Arts.
Design Thinking and Technology Theme
Global Game Jam (Spring Semester)
Participate in the Global Game Jam® (GGJ) which is the world's largest game creation event taking place over a weekend (typically in late January) around the globe, including at Miami. A "game jam" is essentially a hackathon focused on game development. The weekend stirs a global creative buzz in games, while at the same time exploring the process of development, be it programming, iterative design, narrative exploration or artistic expression. It is all condensed into a 48-hour development cycle.
Data Analytics Awareness Microcredential (Fall and Spring Semester)
Chances are you have heard of data analytics, which has revolutionized industries and become something of a buzzword in recent years – but what does the term really mean? What implications does it have for students and their prospective careers? Loosely defined as the analysis of raw data to reach conclusions, the Center for Analytics and Data Science (CADS) aims to equip Miami students with a working knowledge of this emerging field through a new Data Analytics Awareness microcredential.  Learn how data can be questioned, organized and communicated, and see data analytics in action first-hand by virtually visiting one of CADS' corporate sponsors.   Attend all four sessions and complete the requirements for each session to earn the Data Analytics Awareness credential and receive a digital badge.  Session topics are: (1) "Question the Question"; (2) "Code Demystified"; (3) "Art and Science of Storytelling"; and (4) "Analytics in Action."
Data Analytics Storytelling Microcredential (Fall or Spring Semester)
Data analytics storytelling is the effective use of data visualizations and insights generated by data to drive a call to action.  Mastering the art of data storytelling takes practice.   In this workshop, students will be exposed to case studies that will develop the skills of pulling insights out of data, data visualization, and communicating a concise story.    
Coding Bootcamp
Still being developed but this will be an introduction to coding in R or Python.
Film, Communication and Media Theme
Writer's Practicum (Spring Semester)
Join a practicum with Professor Jim Tobin to shape and focus ideas for possible publications in student media outlets.
Marianne D. McComb Conference on Undergraduate Creative Writing (Spring)
Participate actively in this exciting conference which is an intensive weekend of panels, workshops, and seminars with local and distinguished visiting writers.
Health and Society Theme
Destination Wellness (Fall and Spring Semester)
Complete one of the Destination Wellness outdoor adventure trips designed to help students struggling with stress anxiety through intentional challenging activities, self-reflection and group discussion. The program seeks peer leaders who have a passion for the outdoors and an interest in mental health mentorship. Training includes Mental Health First Aid.;
Dates: Destination Wellness trips are offered over various weekends during the fall and spring semesters. For more information contact Jen Siliko, jen.siliko@MiamiOH.edu or (513) 529-7510.
Ohio Medical Education Day (Fall)
Register and attend all events at the Ohio Medical Education Day.  This is the premier event for all Ohio premedical students to gather for a day-long set of activities.  You will learn about the path to medical school from experts, gain insights into building a competitive application, and hear from admission experts throughout the state.  Contact the Mallory-Wilson Center for Healthcare Education for more information. The Center may be able to provide support for registration and transportation.
Center for Disease Control Research Project on COVID-19
Work with Dr. Cameron Hay-Rollins on a special research project relating to COVID-19 and Native America populations.
Global Health Case Competition
Join with other students from different majors to enter the Global Health Case Competition.
Law and Politics Theme
Janus Forum (Fall and Spring Semesters)
Register for free tickets and attend both the fall and spring lectures associated with the Janus Forum. The Janus Forum provides a place for members of the community to come together and discuss opposing views freely and passionately. It is a forum where students can explore the multitude of views that exist, and then arrive at their own opinions. The Janus Forum is a catalyst for developing timely, interesting, and rigorous discussion of public affairs. 
Nature and Environment Theme
Leave No Trace Trainer Certification (Fall Semester)
Complete the two-day Trainer Course to learn Leave No Trace skills and ethics as well as techniques for educating others about these low impact practices. Trainer Courses typically take place over two consecutive days and involve spending more than half of the course outdoors. Graduates of a Trainer Course are prepared to offer Leave No Trace Awareness Workshops and promote environmental stewardship in their community. This course is offered every Fall over a weekend in late October/early November. For more information contact Jen Siliko, jen.siliko@MiamiOH.edu or (513) 529-7510.
Environmental Lecture Series (Fall and Spring Semester)
Attend both events in the annual Drs. Gene and Carol Willeke Frontiers in Environmental Science Distinguished Lecture series which brings prominent figures in the field of environmental science to the Miami campus.
Field Trip with Dr. Levy (Fall or Spring Semester)
Participate in one of the field trips organized by Dr. Jonathan Levy, Director of Miami's Institute for Environment & Sustainability.  Possible fields trips include: Fernald Nature Preserve (formerly the Fernald uranium processing facility for production of nuclear weapons), Miller Water Treatment Plant, Bolton Well Field and Water Treatment Plant, Rumpke, Miami's Geothermal Plant, Mammoth Cave (weekend trip).
Social Justice Theme
John W. Altman Program in the Humanities (Fall and Spring Semester)
Attend at least three of the lectures associated with the 2021-2022 Altman Program related to Race, Racism and Racial Equality.
Western Center for Social Impact Lecture Series (Fall and Spring Semester)
Attend three of the lectures offered at the Western Center for Social Impact during the 2021-2022 academic year.