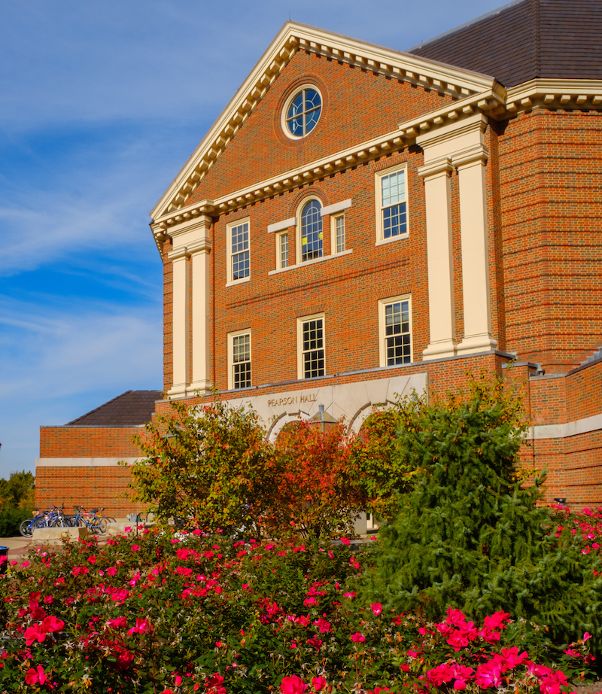 Presidential Fellows Program
Miami University, one of eight original Public Ivies, is regarded for its unparalleled commitment to undergraduate teaching and for providing students with robust, immersive, and transformative learning experiences. In keeping with its centuries-old tradition of academic excellence, Miami University is pleased to offer the Presidential Fellows Program (PFP), an elite scholarship opportunity that provides the brightest and best scholars and leaders of the 21st century with an unprecedented and exceptional college experience.
Application Process
To be considered, apply to Miami University via the Common Application by 11:59 p.m. on Dec. 1, making sure to indicate your interest for Miami's Honors College. PFP finalists will be notified in January. 
Selection Process
Finalists will be reviewed based on their overall admission application, and an invitation-only finalist interview with the scholarship selection committee. 
Benefits for Presidential Fellows
A four-year, renewable scholarship covering tuition, fees, housing, and food.
A one-time $5,000 academic enrichment stipend.
Tailored programming for the Presidential Fellows cohort, including Miami's U-Lead Conference.
Scholarship FAQs
1. What costs will be covered by the Presidential Fellows Scholarship?
Your Presidential Fellows Program scholarship package will cover tuition and fees for eight fall/spring semesters provided that you maintain a 3.50 cumulative grade point average each year. Tuition and fees include all instructional, non-resident surcharge, basic general, career development, and course fees that you are charged.
Your Presidential Fellows Program scholarship package will 
not
 cover winter/summer terms, study abroad fees, university contract confirmation deposits, health insurance, health center fees, pharmacy charges, orientation, pre-enrollment or pre-admission testing fees, books, computers, supplies, or other necessities. It will also not cover other optional expenses such as MUlaa accounts, parking permits, parking fines, library fines, air conditioner rentals, and cell/telephone charges. 
This list is not exhaustive and Miami University reserves the right to determine which charges may/may not be paid by the Presidential Fellows Program scholarship.
Please visit the 
Costs and Financial Aid
 pages
, for more information on costs.
2. Which housing and meal plan does the scholarship cover?
You are allotted a food scholarship, which will cover a Diplomat Standard meal plan. The Diplomat Standard provides 16 buffet meals per week as well as $500 declining balance dollars and five guest buffet meals each semester. This plan also provides a bonus week of buffet meals that can be used at any time during the semester. More information about meal plans can be found on the 
Meal Plans website
.
The meal plan covers only food items or meals for yourself. It does not cover non-food items or food/meals purchased for others. You may make a different meal plan selection; however the difference in cost will be your responsibility to pay.
You will also be given room expenses up to the cost of a traditional double occupancy room in a residence hall for eight semesters. Presidential Fellows are guaranteed a room in the 
Honors Residential College
. Miami University provides refrigerators in each room on campus at no additional cost. You may make a different room selection; however the difference in cost will be your responsibility to pay.
3. If I live off campus, can I still receive the housing and food portion of my scholarship?
Typically, Miami University students are required to live on-campus for their first two years. If you live off campus in your third or fourth year, you will receive a scholarship for housing and food expenses up to allowable costs (diplomat standard meal plan and traditional double occupancy room). For food to be covered by the scholarship, you must purchase a University meal plan, even if living off campus.
4. What is covered under the enrichment fund?
As a Presidential Fellow, you will have access to an enrichment fund of up to $5,000. The fund can be used over the course of your four years at Miami and should enhance your educational experience at Miami. Presidential Fellows are encouraged to chart their own path and embark on exciting new academic challenges. Fellows may elect to use them for endeavors such as:
Independent research study abroad or away
Internships
Public service and/or community engagement initiatives
Other enrichment activities approved by the Miami University Presidential Fellows Program Enrichment Fund Review Committee.
Fellows will have to submit an application to access their enrichment funds. The committee will review each application and determine the eligibility of each request. Unused funds are not refundable.
5. If I receive additional scholarships, how will this impact my Presidential Fellowship Scholarship package?
Students can receive aid up to their cost of attendance. 
If you receive more aid than your cost of attendance your Presidential Fellows Scholarship may be adjusted.
6. Am I eligible to apply my Presidential Fellows Scholarship to a study abroad program?
Your Presidential Fellows Scholarship may be used during a fall or spring semester of study abroad for the Luxembourg, faculty-led, co-sponsored, or exchange programs billed through Miami. Scholarship funds can only be used for billed tuition, fees, housing, and food (exception: specific programs where housing and food are not billed by Miami). Scholarships can only be used once for one semester of study abroad in a program (exception: specific program that only has a year option.)
Please visit the Education Abroad website for more information on study abroad programs.
7. Who can I contact if I have questions regarding the scholarship?