Stefanie Dunning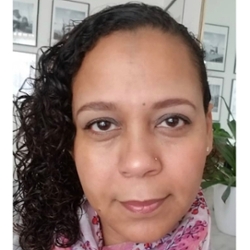 Associate Professor
Affiliate, Black World Studies
Affiliate, Women's, Gender, and Sexuality Studies

378 Bachelor Hall, Oxford Campus
513-529-7354
stefanie.dunning@MiamiOH.edu 
Education
PhD, University of California, Riverside, 2001
MA, University of California, Riverside
BA, Spelman College
Teaching Interests
African American Literature
American Literature
Film and visual culture
Gay and lesbian studies/queer theory
Postcolonial literature and theory
Research Interests
African American literature
Film and visual culture
Gay and lesbian studies/queer theory
Postcolonial literature and theory
Selected Publications
Introducing Multiple Readings of Ralph Ellison's Invisible Man in the Classroom, in Teaching (Con)Texts: Frameworks for Engaging Culture and Craft in American Literatures, McFarland, 2014.
Review of four works on mixed race literature, in Signs, 2014
Review of Island of a Thousand Mirrors, in South Asian Review, December 2012.
Queer in Black and White: Interraciality, Same Sex Desire, and Contemporary African American Culture. Bloomington: Indiana University Press, 2009.
"The Wounded City: Ambiguous Subjectivity and the riotous metropolis in Samuel Delany's Dhalgren," Forthcoming in The Idea of the City (anthology) 2009.
"Ironic Soil: Recuperative Rhythms and Negotiated Nationalism." African American Review. 39: 1-2, 2005. This essay won theAfrican American Review award at the 2006 MLA for Best 20th Century Literature essay of 2005.
"Brown Like Me: An Essay of Shifting Ideology." Mixing It Up. Eds. SanSan Kwan and Kenneth Spears. University of Texas Press, Fall 2004.
"Parallel Perversions: Interracial and Same Sexuality in James Baldwin's Another Country." MELUS 26:2 (Winter 2001). 95-115.
"Vegetarianism without Self-righteousness: The Politics of 'Consciousness' and Cultural Identity." Black Renaissance/Renaissance Noire 2.3 (Winter 1999). 144-152.
Web Publications
"Falling Apart," published under the pen name Zeffie Gaines, forthcoming in Electric Literature.
"Fear and Loathing, USA," published at Daily Kos under the pen name Zeffie Gaines (16K+ Facebook shares)
Work in Progress
The Anatomy of Damage: Vulnerability and the New Black American
This work examines a variety of cultural sites in contemporary African American culture—conspiracy theories, popular film, contemporary blackface performance—in order to trace the continuing effects of oppression in a "post-racial" society.