Juhi Kim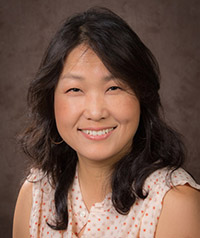 Visiting Assistant Professor 
English and ACE (American Culture and English)

106 Bachelor Hall
Oxford Campus
513 529 3455
kimj20@MiamiOH.edu
EDUCATION
PhD. Foreign, Second and Multilingual Language Education, The Ohio State University, 2014
MA. Linguistics, University of Utah, 2004
MEd. English Education, Sookmyung Women's University, Korea, 2001
BA. Education, Minor in English, Sookmyung Women's University, Korea. 1996
RESEARCH INTERESTS
Second Language Writing

Interactional Sociolinguistics

Interlanguage Pragmatics 

Classroom Interaction

Discourse Analysis/Conversation Analysis

Research Methodology
SELECTED PUBLICATIONS
"Development of Pragmatic Awareness of Nonnative Korean Speakers." International Journal of Language and Linguistics, 3.3 (2016): 1-13.
Book review of Advice in Discourse. Discourse & Society, 26.1 (2015): 137-138.
Book review of Studies of Laughter in Interaction. Discourse Studies, 16.6 (2014): 851-852.
"Dealing with unknown idiomatic expressions in L2 classroom." Journal of English as an International Language, 8.2 (2013): 50-66.
"Emerging identities of adult language learners in their socialization in ESL programs." International Journal of Research Studies in Language Learning, 2.4 (2013): 65-77. 
"English Accents and L2 Learner's Identity." International Journal of English and Education, 1.2 (2012): 127-152.
WORK IN PROGRESS
Juhi Kim is currently working on research on L2 writers' writing experiences and their talk-in-interactions during the tutorial in the university writing center with an interest in their perceptions about 'proofreading' and the 'revision' process. She is continuing research on L2 writers' writing practices and the process of writing for argument and summary.