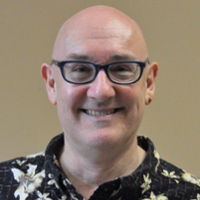 Professor, Creative Writing
320 Bachelor Hall
Oxford Campus
513-529-5523
cheekc@MiamiOH.edu
Education
AHRB Research Studentship (1999-2004) towards a Ph.D. in Writing, Literature and the Poetics of Performance and Collaboration submitted to English Department, Edge Hill, University of Lancaster. Ph.D. awarded 2004.
BA (Hons, first class), Cultural Studies, Norwich School of Art and Design (1995-1998).
Access Humanities, Lowestoft College (1994-95).
Chisenhale Dance Space collective, London (1981-95)
Writers' Forum Workshop collective, London (1975-77).
Diploma in Fine Art and Design, Victoria and Albert Museum, London (1974).
Highgate School, London (1967-1972).
Teaching and Research Interests
discourses around performance
models of creative collaboration
writing and interdisciplinarity
writing and new/emergent media
poetics
Selected Publications and Broadcasts
pickles & jams (BlazeVOX, 2017)

part: short life housing. Toronto, Ontario: The Gig, 2009.
the church, the school, the beer. Oxford, Ohio: Plantarchy, 2007.
the books: Chapter 5 (TNWK, 2004), cris cheek and Kirsten Lavers. Part of series of subscription only writer-artist books.
Three Little Heretics, Critical Path into the Bush, Part 1: Report to the Council(Palestine, Texas: Casus Belli, 2003), cris cheek, William R. Howe and Keith Tuma.
Millennium Collection: things not worth keeping. cris cheek and Kirsten Lavers eds. Cambridge: Object Books, 2000.
crowding. A three and a half hour 'live' internet webcast, commissioned as part oftorkradio from The Junction Multimedia, Cambridge in October 1998.
Songs From Navigation. London: Reality Street, 1998, cris cheek and Sianed Jones. A book/cd object. "Double narrative of origins, the text provides a careful description of the process of production through improvisation, including the generation of texts during recording sessions, with one writing or drawing while the other records, thus producing 'scores' for further performance." —Robert Hampson
(PORES)
stranger. Lowestoft: Sound & Language, 1996. "A startling, compressed exploration of the pathology and politics of travelling and of 'home'; an exercise in international, interpersonal, intrapersonal defamiliarization including the experience of fatigue, disorientation and the same bourgeois magic wherever the airline takes us."  —Peter Manson (Object Permanence, Glasgow 1996).
Music of Madagascar, written and presented for BBC Radio 3, 1994, SONY GOLD AWARD Winner for Specialist Music Programme, 1995. Reworked as Mountain, River, Rail and Reef , for Resonance FM on London's South Bank, June 1998.
a present. London: Bluff Books, 1980. 'An impressive and audacious artist', Jeff Nuttall (The Guardian). 'The sheer range and variety of his forms seems to me to be remarkable', Eric Mottram. "Cheek's A Present presents 20 different texts, most of which may be thought of as poetry. My hesitation has been produced by the paradigmatic shifts; some of the work in the book is not poetry and this is emphasised by the shift from words to graphics in 'Root and Flight'. The only relevance of this academic fact is to highlight Cheek's practice, which is to break the demarcation lines that define a discipline and discard any certainties of Aristotelian category." —Allen Fisher, Necessary Business p.43.
Web Publications
Hellstone.com/Meridian, 1999, websound intervention. This site went online at 05:00hrs (BST) May 1st 1990 unfolding over the day on an hourly basis until 04:00 hrs (BST) May 2nd. It presents selected extracts from a project, initiated as a nod to Mass Observation, which received a wide range of texts and images from the everyday on election Mayday 97.
Electronic Poetry Center, 1996, early online performance
Co-owner, with Trevor Joyce, of British and Irish Poets listserv, 1999-2004
Residencies and Fellowships
Humanities Center, Research Collaborative award with Mack Hagood to produce the podcast Phantom Power
Guest resident, In(ter)ventions: Literary Practice at the Edge, Banff Centre, Alberta, Canada, 2014.
Altman Humanities Fellow, Miami University, Ohio, May 2011-May 2012.
E-writing Resident at Brown University, Providence, Spring 2008.
Poet-in-Residence for Taxi Radio, Cambridge, January-May 2005 a webcast and Restricted Service Licence FM radio initiative working with Coleridge School and the citizens of Abbey neighbourhood Cambridge, England; curator Kirsten Lavers.
Work in Progress
A poet, writer, book artist, publisher, new media practitioner and interdisciplinary performer, cris cheek's writing has been commissioned and shown widely, often in multiple versions using diverse media for production and circulation. His work is increasingly site-responsive and frequently created in full collaboration with other artists.