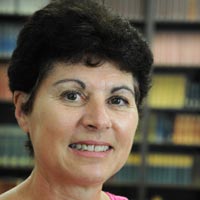 Professor (Emerita)
Education
Ph.D., English, University of New Mexico, 1990
M.A., English, University of New Mexico
Bachelor of University Studies, University of New Mexico
Teaching Interests
First-year and advanced composition
Advanced writing and rhetoric
Theories and practices of teaching composition
Rhetoric of science and the body
Disability memoir and popular representations of disability
Rhetorics of disability
Women's studies
Research Interests
Difference theory cuts across the three areas of my research interests: Composition and Rhetoric (basic writing, open admissions and disabled students, histories of writing programs); Disability Studies (disability memoir and rhetoric, disability pedagogy); and Women's Studies (feminist pedagogies and epistemologies).
Selected Publications
Disability and Mothering: Liminal Spaces of Embodied Knowledge. Eds. Cynthia Lewiecki-Wilson and Jen Cellio. Syracuse UP, 2011.
"Uneasy Subjects: Disability, Feminism, and Abortion." Disability and Mothering. Ed. Lewiecki-Wilson and Cellio.
"Introduction: On Liminality and Cultural Embodiment." With Jen Cellio. Disability and Mothering. Ed. Lewiecki-Wilson and Cellio.
"Ableist, Nevertheless: Disability and Animals Rights in the Work of Peter Singer and Martha Nussbaum." JAC: Rhetoric, Writing, Culture, and Politics. 31. 1-2 (2011): 711-741.
"Comment/Response: Neurodiversity." With Jay Dolmage. College English 70.3 (Jan 2008): 314-18.
"Refiguring Rhetorica: Linking Feminist Rhetoric and Disability Studies." With Jay Dolmage. Rhetorica in Motion: Feminist Rhetorical Methods and Methodologies. Ed. Eileen Schell and Kelly Rawson. Pittsburgh: Pittsburgh UP, 2010. 36-60.
Disability and the Teaching of Writing. With Brenda Brueggemann and Jay Dolmage. New York: Bedford/St. Martin's, 2008.
"Not Just Anywhere, Anywhen: Mapping Change through Studio Work." With John Paul Tassoni. Journal of Basic Writing 24.1 (Spring 2005): 68-92.
Embodied Rhetorics: Disability in Language and Culture. With James C. Wilson. Carbondale: Southern Illinois UP, 2001. 280 pp.
From Community to College: Reading and Writing Across Diverse Contexts. With Jeff Sommers. NY: St. Martin's P, 1996. 516 pp.
Writing Against the Family: Gender in Lawrence and Joyce. Carbondale: Southern Illinois UP, 1994. 301 pp.
"Scripting Writing Across Campuses: Writing Standards and Student Representations." With Ellenmarie Wahlrab. What Is College-Level Writing? Ed. Patrick Sullivan and Howard Tinberg. Urbana, Ill.: NCTE, 2006. 158-77.
"Teaching in the Contact Zone: Multiple Literacies/Deep Portfolio." Professing in the Contact Zone: Bringing Theory and Practice Together. Ed. Janice M. Wolff. Urbana: NCTE, 2002. 215-229.
"Constructing a Third Space: Disability Studies, the Teaching of English, and Institutional Transformation," with James C. Wilson. Disability Studies: Enabling the Humanities. Ed. Brenda Jo Breuggemann, Sharon Snyder, and Rosemarie Garland Thomson. N.Y.: MLA, 2002. 296-307. Reprint 2004.
"Rethinking Rhetoric through Mental Disabilities." Rhetoric Review 22. 2 (2003): 156-67.
"'Doing the Right Thing' Versus Disability Rights: A Response to Ellen Barton's 'Discourses of Disability in the Digest.'" JAC: A Quarterly Journal for the Interdisciplinary Study of Rhetoric, Literacy, Culture, and Politics. 21. 4: 870- 881.
"Rhetoric and the Writer's Profile: Problematizing Directed Self-Placement," with Jeff Sommers and John Tassoni. Assessing Writing 7 (2000): 165-183.
"Professing at the Fault Lines: Composition at Open Admissions Institutions," with Jeff Sommers. College Composition and Communication: Fiftieth Anniversary Issue50 (Feb. 1999): 438-462.
Web Publications
Grants and Awards
Distinguished Teaching Award for Excellence in Graduate Instruction and Mentoring, 2010
Work in Progress/h2>
Dr. Lewiecki-Wilson is at work on a new book project, Discourses of Disability in Civic Debate: Minor Rhetorics and the Available Means of Persuasion, a study of contemporary cases in which public issues of important civic debate are embedded in stories of disability, revealing minority intersections of race, class, gender, and disability, the powerful rhetorical work of normative discourses, and the possible rhetorical moves for renewed public engagement with issues of citizenship.