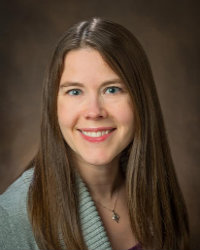 Professor
313 Psychology Building
Oxford, OH 45056
513-529-5430
kielluej@MiamiOH.edu
Curriculum Vitae
Education
Ph.D. in Child Clinical and Developmental Psychology University of Missouri-Columbia: Department of Psychological Sciences 2010
University of Mississippi Medical Center APA Accredited Predoctoral Internship 2009-2010
M. A. in Child Clinical and Developmental Psychology University of Missouri-Columbia: Department of Psychological Sciences 2004
B. A. in Psychology, summa cum laude with distinction Boston University 2001
Teaching Interests
At the undergraduate level, I am interested in teaching courses that cover topics of both clinical issues and normal developmental processes, such as Child Psychopathology and Developmental Disabilities and Lifespan Developmental Psychology. I have also taught seminars on the psychology of parenting and the psychology of Harry Potter. I have taught graduate courses in Emotion and Emotion Regulation, Developmental Psychopathology, and statistics.
Research Interests
My research focuses on understanding the etiology of childhood anxiety disorders within a developmental psychopathology framework. My work has aimed to clarify how early fearful/inhibited temperament predicts risk for anxiety-spectrum problems, with a particular focus on emotion processes (awareness, reactivity, regulation) involved in transactional influences occurring between anxiety-prone children and their parents. Much of this work has focused on early childhood, from toddlerhood to early school-age, which is a fascinating time for the emergence of children's independent behavior and emotion regulation and an important developmental period for the influence of parents. I use multi-method assessments, including observation of temperament, parenting, and emotion processes; surveys; and psychophysiological techniques, such as analyzing both children's and parents' hypothalamic-pituitary-adrenal (HPA) axis reactivity, as well as maternal cardiac and EEG activity, when children encounter novel, uncertain situations. This research has been funded by NIMH and NICHD, as well as a Miami University Committee on Faculty Research award. This basic research will inform the development of prevention efforts that consider anxiety development as occurring through transactional interactions between children and their environments.
Professional Recognition
Miami University Distinguished Teaching Award for Excellence in Graduate Instruction and Mentoring
Miami University Student Recognition of Teaching Excellence Award
Miami University Junior Faculty Distinguished Scholar Award
Associate Editor, Developmental Psychology
Representative Publications
Jones, L. B.*, Risley, S. M.*, & Kiel, E. J. (in press). Maternal respiratory sinus arrhythmia contextualizes the relation between maternal anxiety and overprotective parenting. Journal of Family Psychology.
Kalomiris, A. E.*, Phelps, R. A.*, & Kiel, E. J. (2019). The relation between specific parenting behaviors and toddlers' early anxious behaviors is moderated by toddler cortisol reactivity. Journal of Abnormal Child Psychology, 47, 1367-1377.
Kiel, E. J., Aaron, E.*, Risley, S. M.*, & Luebbe, A. M. (in press). Transactional relations between maternal anxiety and toddler anxiety risk through toddler-solicited comforting behavior. Depression and Anxiety.
Kiel, E. J., Phelps, R. A.*, & Brooker, R. J. (2021). Maternal dynamic respiratory sinus arrhythmia during toddlers' interactions with novelty. Infancy, 26, 388-408.
Kiel, E. J., Price, N. N.*, & Premo, J. E.* (2020). Maternal comforting behavior, toddlers' dysregulated fear, and toddlers' emotion regulatory behaviors. Emotion, 20, 793-803.
Kiel, E. J., Wagers, K. B.*, & Luebbe, A. M. (2019). The Attitudes about Parenting Strategies for Anxiety scale: A measure of parenting attitudes about protective and intrusive behavior. Assessment, 26, 1504-1523.
Price, N. N.*, & Kiel, E. J. (in press). Longitudinal links among mother and child emotion regulation, maternal emotion socialization, and child anxiety. Research on Child and Adolescent Psychopathology.
Wagers, K. B.*, & Kiel, E. J. (2019). The influence of parenting and temperament on empathy development in toddlers. Journal of Family Psychology, 33, 391-400.
*Miami University mentee
Grants
2020 "Biological Systems as Mediators of Bidirectional Influences on Anxiety Risk in the Mother-Child Dyad During Infancy" (NIMH R01 MH113669) Principal Investigators: Rebecca Brooker & Elizabeth Kiel (8/1/2020-5/31/2025)
2019 "Transactional neurobiological influences on parent-child kindergarten adjustment" (NICHD 2R15 HD076158)
Principle Investigator: Elizabeth J. Kiel (1/4/2019 – 12/31/2021)
2017 "Parenting, Physiological Reactivity, and Neural Markers of Anxiety in Kindergartners" (NIMH F31 MH113273-01A1)
Principal Investigator/Fellow: Anne E. Kalomiris (1/1/2018 – 6/30/2019) Role: Sponsor
2016 "A Transactional, Psychobiological Model of Mother-Child Kindergarten Adjustment"
Miami University Type: Senate Committee on Faculty Research internal grant Principal Investigator: Elizabeth J. Kiel (6/1/2017 – 12/30/2018)
2013 "A Biopsychosocial Model of Emotion Processes Determining the Role of Overcontrolling Parenting in the Stability of Inhibited Temperament" (NICHD R15 HD076158
Principle Investigator: Elizabeth J. Kiel (5/1/2013 – 4/30/2016)
Dr. Elizabeth Kiel runs the Behavior, Emotions, and Relationships Lab