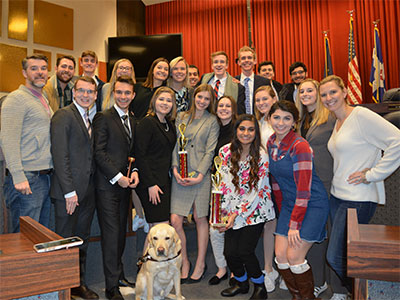 Miami Mock Trial's A and B teams after their wins at the 2020 Indianapolis Regional Tournament. The A team went undefeated and took 1st place; the B team took 4th.
The James Lewis Family Mock Trial Program's strength is its diversity. Membership doesn't require previous high school or intercollegiate mock trial experience. Our students have a broad variety of majors and personal experiences—many of whom have no interest in law school or becoming an attorney.
Our coaching staff is comprised of award-winning former mock trial competitors. Aside from recent alums that are helping out, all the members of the coaching staff are practicing litigators—meaning our guidance is based on real-life experiences not theoretical procedure.
Our program has the country's second-longest streak of appearances at the National Championship tournament.
We are one of the nation's premier mock trial programs for a reason. We work for it. Day in and day out.
In fact, our hard work has netted more than 20 Regional Championships, more consecutive appearances at Nationals than every other program but one, and more All-Americans than any other school east of the Mississippi.
But MMT is more than that: We're a family of individuals who love what we do. The goal is to have fun working together, to make lifelong friends, and to learn the true meaning of hard work. The outcome has been winning.
Our passion for mock trial brought us a National Championships in 2001 and 2018. Every year we work tirelessly to win another. See the May 2018 Miami press release Miami Mock Trial wins National Championship.
MMT by the Numbers
44 All-American competitors
26 appearances at Nationals (since '93)
23 Regional Championships
17 Top-Ten nationwide finishes
2 National Championships (2001, 2018)