Partnerships and Projects
The Havighurst Center's new "5 Questions" series will consist of short interviews with various people who have been associated with the Havighurst Center over the years--former Miami faculty, teaching fellows, and collaborating colleagues from other universities--to talk shop on their work, their assessment of the field, and the role of the Havighurst Center in both.
SPRING 2021



Daniel Scarborough
Postdoctoral fellow at the Center from 2013-15 and now assistant professor of Russian history and religion at Nazarbayev University in Nur-Sultan, Kazakhstan.



Ted Holland
Postdoctoral fellow at the Center from 2013-16 and now Assistant Professor of Geography in the Department of Geosciences at the University of Arkansas.



Rebecca Mitchell
Postdoctoral fellow at the Center from 2011-13 and now Associate Professor of History at Middlebury College.



 Brigid O'Keeffe
Postdoctoral fellow at the Center in 2008-2009 and now Associate Professor of History at Brooklyn College.



Emily Channell-Justice
Former Havighurst Center teaching fellow (2016-19) and now the Director of the new Temerty Contemporary Ukraine Program at the Harvard Ukrainian Research Institute.


Douglas Rogers
Former Havighurst Center Postdoctoral Fellow (2004-6) and Assistant Professor of Anthropology (2006-7) at Miami and now Professor of Anthropology at Yale University.

FALL 2020


December 14, 2020

Jonathan Dreeze
Miami alum and now Assistant Professor of History at Cornell College


November 11, 2020

Vitaly Chernetsky
Former Center faculty associate and now associate professor of Slavic languages and literatures at the University of Kansas.


October 19, 2020

Jacob (Jake) Hensh
Havighurst Center undergraduate fellow, who maintained close ties to the Center as he earned his M.A. in Political Science at Miami University. 


September 14, 2020

Gulnaz Sharafutdinova
Former faculty associate with the Center before she moved to King's College London in 2013. 

 

 

 

 
Ab Imperio is an affiliated journal of the Association for Slavic, East European, and Eurasian Studies (ASEEES) Since 2017, Ab Imperio is published in consortium with the Havighurst Center for Russian and Post-Soviet Studies and the College of Arts and Sciences of Miami University
The Bridge Research Network
The Bridge Research Network
 serves the purpose of supporting international research and improvement of knowledge in the field of European, Russian, Eurasian, and post-Soviet studies.  It is a peer-to-peer network of university researchers in the post-Soviet states, members of which mine data and conduct field research in their respective localities. The Bridge Research offers unique infrastructure for remote empirical research abroad. The platform helps to conduct archival reserach, collect data, arrange polls and interviews, provide regional literature reviews, and support researchers in many other ways.
Creative Horizons is a collaboration between the Havighurst Center, Arizona State University's Melikian Center, and the Institute on Russia at the University of South Florida. Building on separate experiments in virtual programming since Spring 2020, this joint venture will give audiences in Arizona, Florida, Ohio and beyond the opportunity to hear from working artists in the region as they discuss their methods, perspectives and aspirations. The series features videos produced in collaboration by the featured artists and videographer Ari Gajraj, followed by online discussions featuring the artist and moderated by regional specialists from ASU, USF or Miami University.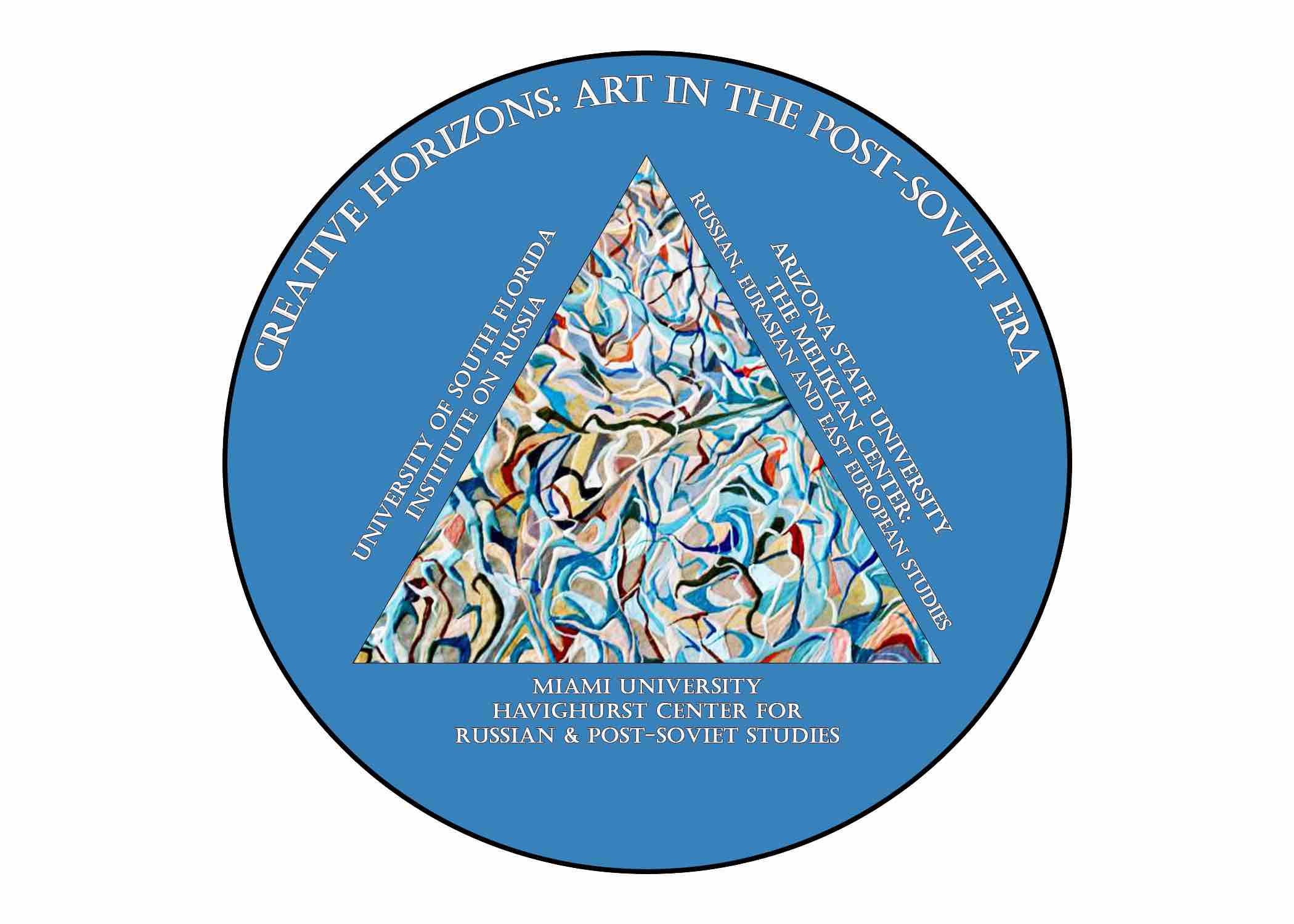 April 11
Q&A session with Ukrainian artists, moderated by Alisa Lozhkina
12 PM MST/PDT | 3 PM EDT

Ukrainian artists are practicing their craft under the very dangerous conditions of Russia's war on Ukraine.  Join us as we ask them about their art and what makes them continue their creative pursuits even when their lives are at risk.

Alisha Lozhkina, Ukrainian art historian, critic, and curator, moderates this Q&A session with contemporary Ukrainian artists and helps us to learn their stories and what they have to tell us today through their creative work.

A recording of the event is available here.
March 14  
Ukrainian Writer Who Escaped the Bombs: Kateryna Babkina Tells Her Story
Kateryna Babkina, Ukrainian writer and previously featured artist on Creative Horizons, will tell her story of fleeing from Kyiv to the Polish border with her mother and 1-year old daughter as Russia began to bomb Ukraine.

A recording of the event is available here.
Previously featured artists:
Kateryna Babkina
Kateryna Babkina is a poet, novelist, and playwright. She is the author of four poetry collections, a novel, a novel in short stories and two collections of stories, as well as popular children's books.
View her video created for the series and follow-up Q&A.


Ermina Takenova
Ermina Takenova is an animator, director and illustrator who hails from Almaty, Kazakhstan. She received her MA in animation from the Royal College of Art in London in 2016. She works as a motion designer at Miri Growth, a marketing and advertising firm. 
View her video created for the series and follow-up Q&A.
 
Szabolcs KissPál
Szabolcs KissPál is a Hungarian artist based in Budapest. His work engages with the social and political circumstances in which he lives and the rôle of the artist in society, particularly in the post-communist world.
View his video created for the series and follow-up Q&A.


Vladimir Tsesler 
Vladimir Tsesler is a well-known Belarussian artist who is in self-exile from his home country due to political persecution.
View his video created for the series and follow-up Q&A.


Victoria Lomasko
The first featured artist was muralist and graphic reporter Victoria Lomasko, whose 2017 book Other Russias attracted widespread reviews and attention, including coverage in the New Yorker,  the LA Review of Books, and The Calvert Journal. Other Russias also won the 2018 Pushkin House Prize for the best book in translation.   In 2019, Vika visited the Melikian Center and the Havighurst Center, where she created the mural Atlases for Miami's King library. 
View her video created for the series and follow-up Q&A.
The Lithuania Program was founded in 2018, formalizing several scholarly and educational activities that had been taking place for the previous ten years under the leadership of Dr. Neringa Klumbytė, the Director of the Lithuania Program at the Havighurst Center, and Dr. Stephen Norris, the Director of the Havighurst Center, as well as the Havighurst Faculty Associates.
As part of the Lithuania Program, the Havighurst Center sponsors an annual lecture on Lithuania. The Center also sponsors Miami University's Lithuania Club, made up of students with Lithuanian heritage and students interested in Lithuania, which has been active since 2008. Additionally, students have spent summers studying in Vilnius and have also participated in internships in Lithuania, with assistance from the Havighurst Center through the awarding of travel grants.  
Lithuania-related activities in the past have included the Vilnius Democracy Forum, hosted at the Presidential Palace in Vilnius (2015);  collaboration with Vilnius University, the VU Institute of International Relations and Political Science, and the Lithuanian Institute of History (2015); and a joint conference between Miami University and Lithuanian institutions (2016). 

For more information, contact Dr. Klumbytė, or the Center's Director, Dr. Stephen Norris.     
Brief History of Lithuania

Lithuania was reestablished as an independent democratic republic in 1990. Once the largest state in the medieval Europe, it was under the Russian Empire control from 1795 to WWI, independent from 1918 to 1940, and again occupied by the Soviet Union until 1990. Lithuania was the first Soviet Republic to secede from the Soviet Union. It is sometimes credited with contributing to the collapse of the Soviet Union in 1991. Lithuania joined the European Union and NATO in 2004.  Currently the country of 3 million is committed to protecting its own statehood and democracy and extending support to Ukraine as the conflict in the region is unfolding.
Arts and Culture in Lithuania

Art
Lithuanian National Museum of Art  https://www.lndm.lt/en/
Folk Art
Lithuanian folk art is a beautiful aspect of Lithuanian culture that connects the Lithuania of today with past generations. Some Lithuanian folk art has its roots in pagan belief systems, others stem from practical usage, and others are decorative elements made with materials found locally.
Straw gardens, known as

 

sodai

 

or

 

šiaudinukai

 

in Lithuanian, are decorative hanging elements made of geometric shapes
Lithuanian decorated eggs are known as

 

margučiai
Black ceramics are a tradition that dates back to the times of ancient civilizations and is produced in the same way today
The distaff was used in Lithuania to spin yarn prior to the introduction of the spinning wheel
Papercutting, called

 

karpiniai, has been practiced in Lithuania since the 16th century.
Lithuanian Folk Art Institute  https://ltfai.org/lithuanian-folk-art/

Contemporary Art
MO Modern Art Museum https://mo.lt/en/
A personal initiative of Lithuanian philanthropists Danguolė and Viktoras Butkus, MO functioned as an art museum without walls for close to ten years. The collection of 5000 modern and contemporary pieces contains major Lithuanian artworks from the 1960s to this day
Culture
The Lithuanian Culture Institute https://english.lithuanianculture.lt/
Established by the Ministry of Culture of the Republic of Lithuania, the Institute purposefully presents Lithuanian culture and professional art abroad and enhances the opportunities on the international scene for cultural professionals and artists, as well as for specialists and organizations working in these fields.
As part of the Lithuania Program, the Annual Lithuania Lecture brings a speaker with expertise in the region to Miami University's Oxford campus.
This year's speaker is also serves as the speaker for the Havighurst Center's Annual Lecture.
Lithuania Club
The Miami University Lithuania Club is a student club that focuses on the celebration of the Lithuanian culture, language, and people.
Study Abroad Opportunities

Miami University Study Abroad:

Postauthoritarian Borderlands: State and Society in the Baltics
The workshop focuses on (post)authoritarian state and society in three Russia/Europe borderland states, Lithuania, Latvia and Estonia. Through the lens of these three Baltic states students learn about global processes, including state violence and genocide, authoritarianism and democratic transitions, politics of history and memory, contemporary  geopolitics, and more. Students will meet with political and business leaders, scholars and artists, local communities and students. 
Students can apply for travel funding through the Havighurst Center.
News about Lithuania and the Baltic states (in English)


The Baltic Times
The Baltic Times is an independent monthly newspaper that covers latest political, economic, business, and cultural events in Estonia, Latvia and Lithuania.

Lithuania Radio and Television
LRT is a public service broadcaster offering high-quality, meaningful content on television, radio and news portals

The Lithuania Tribune
The Lithuania Tribune is a privately owned, non-profit on-line portal, which has been covering Lithuanian politics, economics, international relations, defence and security in English since 2009.
Havighurst Center for Russian and Post-Soviet Studies
322 Harrison Hall
349 E. High St.
Oxford, OH 45056