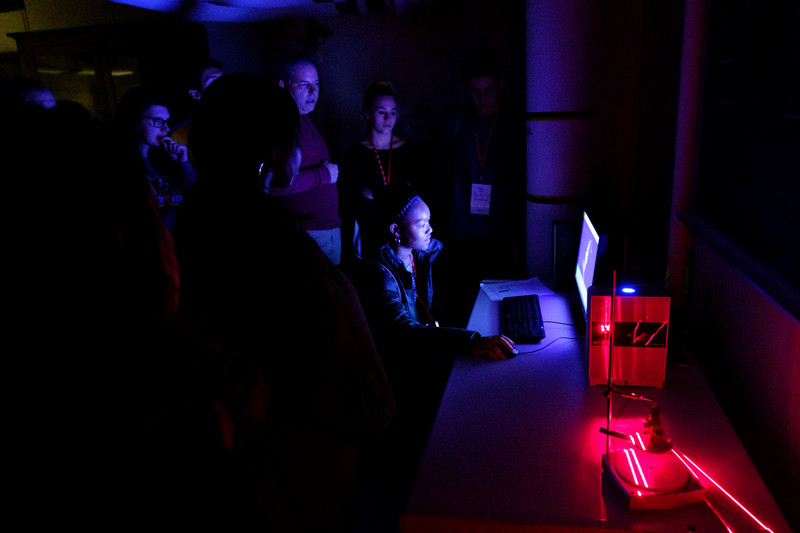 Research
Undergraduate Summer Scholars Program
Miami's Office of Research for Undergraduates facilitates the Undergraduate Summer Scholars Program (USS). This competitive program funds student research over the summer term in any area of study anywhere in the world with grants of up to $3,200. Anthropology students routinely receive this prestigious award.
Past USS Recipients
Billy Browning and Noah Scruggs recieved funding to conduct research with Dr. Kelsey Ellis at her field site in Tiputini Ecuador. Billy will be studying medicinal plant use in both humans and non-human primates, while Noah will be focusing on the roles individuals play during intergroup encounters in wild woolly monkeys.
Kathryn Sullivan recieved funding to conduct ethnographic research with tabletop role playing groups to examine identity performance within these complex, collaborative storytelling experiences. Her project is supervised by Dr. James Bielo.
Nico Jaworski recieved funding to study vocal communication and group decision making in lowland woolly monkeys with Dr. Ellis in Ecuador.
Abbie Martin: "Environmental Justice at Enright Ridge Urban Eco-Villiage"
Erin Lindberg: "Ghost Tourism in Mansfield: An Ethnography of Communication"
Claire Vaughn: "Latinx Protestants and Catholics in Hamilton, OH: Performing Ethno-religious Identities"
Faith Walker: "Tell Me a Story: Engaging Communities Through Narrative Archaeological Interpretation"
Aritea King: "Advancing Scientific Literacy In an Age of Mistrust: An Ethnography of Publicly Engaged Scientists"
Dante Rossi: "Coming Out: A Prideful Ethnography of Homosexuality in the Baltic States"
Salem Arvin: "Archaeobotany at Tel Akko"
Samantha Foppe: "Zooarchaeology at the Tel Akko Archaeological Field School"
Emily Ratvasky: "Methods of Illustration and Documentation for Ceramic Artifacts"
Elizabeth Toney: "American Fans of Japanese Rock"
Madeline Shultz: "Performing 'Aegyo': Language, Gender, and Power Among Young Adults in Korea"
Danielle Heil: "Narratives and Performance of Wellness in a Drum and Bugle Corps"
Megan Ashbrook: "Archaeological Ceramic Analysis at Tel Akko, Israel"
Sarah Kammer: "Archaeological Excavation and Conservation at Tel Akko, Israel"
Rachel Brand: "Alaskan Cultural Heritage Knowledge and Protection"
Rachel Poyfair: "The Aesthetics of Ideology"
Lauren Elyousef Salem: "Emerging from the Ashes of Civil War: Syrian Refugees in Jordan"
Caitlin McElligott: "Teaching Diverse Classrooms"
Daniel McClurkin: "Belfast Baha'i: An Ethnography of Religious Conversion and Conflict"
Sarah Loomis: "Survey of Online Exhibition of 3D Models in Anthropology and Archaeology"
Jordan Martin: "Individual Differences in the Affiliative, Play, and Activity Behaviors of Captive Bonobos"
Seth Boda: " Investigating the Influence of Buddhism to Sustain Cultural Values and Traditions in Preschool Children in Memuro, Japan"
Diarra Diop: "Youth Culture, Poverty, and Opportunity in Contemporary Uganda"
Victoria DellaDonna: "Emerging Adults Usage and Perception of the Emergency Room at McCullough Hyde Hospital"
Mary Kate Findley: "Hair Plucking and Grooming Behavior in Captive Bonobos"
Emily Crane: "Studying the Impact of 'Rosemila Project,' a Development Organization in Haiti"
Molly Greger: "Gaelic Language Revitilization Through Music"
National Conference Participation
The Department of Anthropology at Miami is proud to be one of the few undergraduate anthropology programs that routinely sends students to present at national conferences. Pictured here are students presenting at the American Association of Biological Anthropologists and at the Society for Applied Anthropology.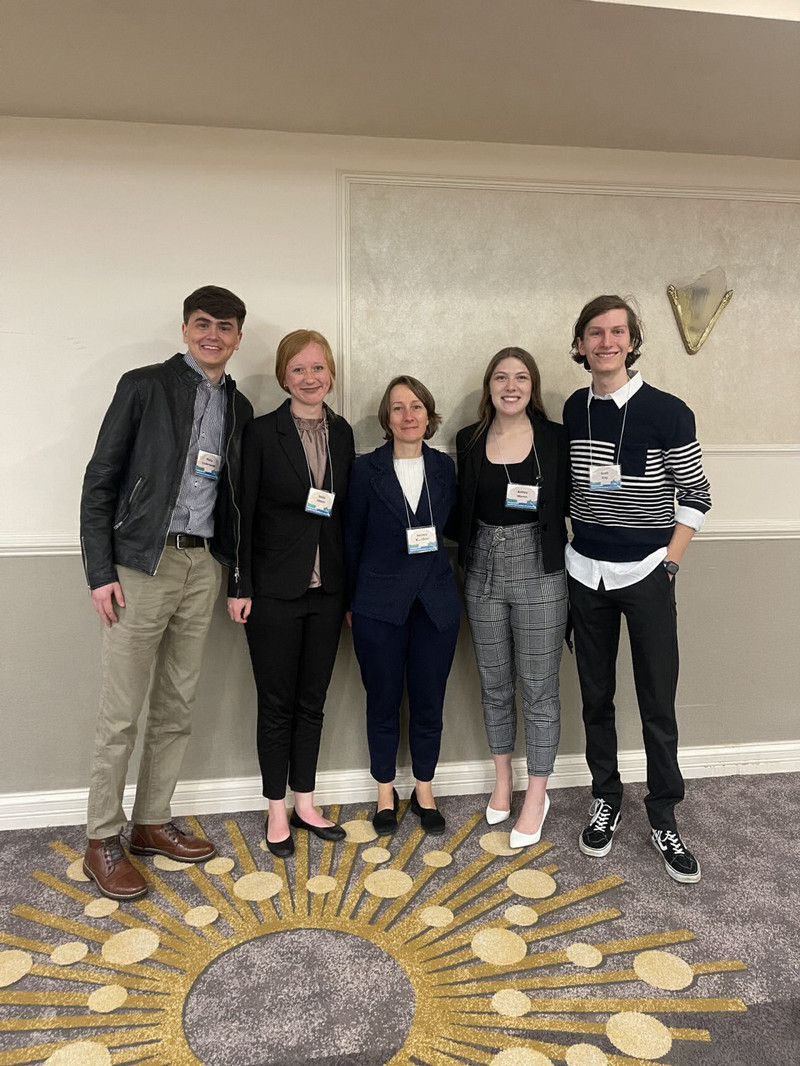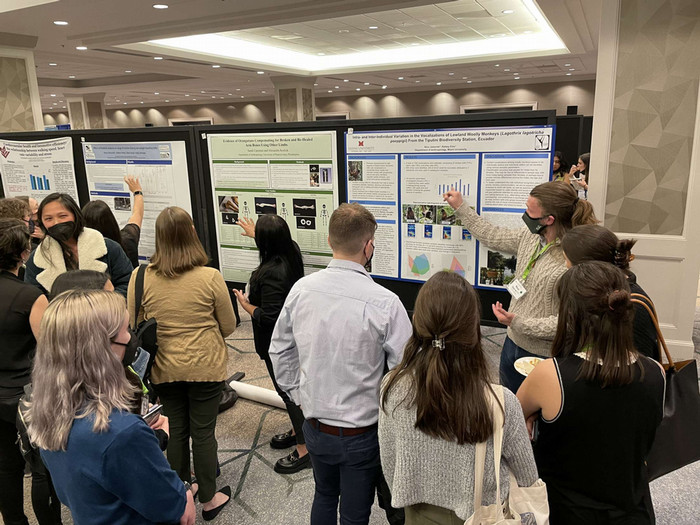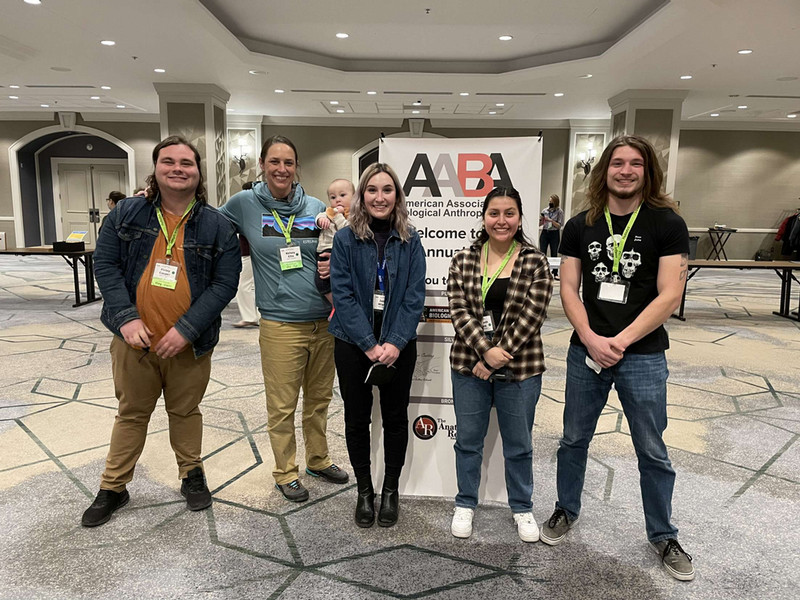 Undergraduate Research Forum
The Undergraduate Research Forum is an opportunity for students to share their research with their peers and faculty across the university. Anthropology students regularly present their research on a wide range of topics. Here, Kayleigh Reimueller ('23) presents her study into the video game Super Smash Bros at the 2023 Undergraduate Research Forum. 
For more information regarding the event, visit the URF website.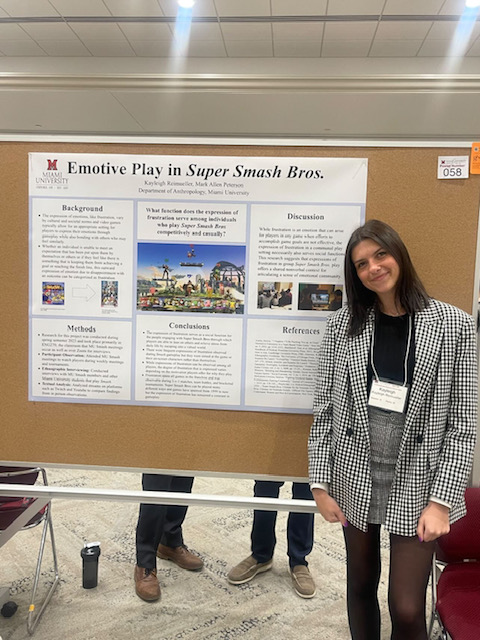 Past URF Participants
Lindsay Douglass Tightening the Safety Net: Mental Health Services for Hispanic Patients in Free Clinics, advised by Dr. Paul Flaspohler (Dept. of Psychology) and Dr. Ackon (Dept. of Psychology)
Elisabeth Frank Non-maternal Adult- and Subadult-Infant Interactions in Wild Woolly Monkeys, advised by

Dr. Kelsey Ellis

Ashlee Greathouse Depicting Inequities in Oral Health: Barriers to Dental Care Among Marginalized Groups in the US, advised by Dr. Joseph Carlin (Dept. of Microbiology) and Dr. Paul Flaspohler (Dept. of Psychology)
Laila Haidar Teresa Ries & "The Witch": An Erased Icon of Early Feminist Art, advised by Dr. Annie Dell'Aria (Dept. of Art)
Nico Jaworski Vocal Communication and Group Decision Making in Lowland Woolly Monkeys, advised by

Dr. Kelsey Ellis

Ashley Morris Legacies of Conflict: Influences on Public Opinion in Germany and Lithuania on the War in Ukraine, advised by

Dr. Neringa Klumbyte

Brett Novits Metapragmatics of Competitive FPS Games, advised by

Dr. Mark Peterson

Kayleigh Reimueller Emotive Play in Super Smash Brothers, advised by

Dr. Mark Peterson
     *Anthropology faculty are denoted by an underline
Salem Arvin Reconstruction of Early Colonial Hybrid Ceramics from 3D Models, advised by

Dr. Jeb Card

Rachel Barnett Tuberculosis Hot Spots in South Africa: Challenges Faced by Townships and Healthcare Facilities, advised by

Dr. Cameron Hay-Rollins

and Dr. Paul Flaspohler (Dept. of Psychology)
Madison Braun and Alexis Treeger The Representation of Spanish in Contemporary English-Language Fiction, advised by Dr. Marisol del Teso Craviotto (Dept. of Spanish and Portugese)
Blake Burrell Seeking Sustainable Urban Renewal: An Anthropological Study of Neighborhood Change, advised by

Dr. James Bielo

and Enhancement of Opiate Self Administration by the Loss of Environmental Enrichment, advised by the Dept. of Psychology
Sophie Crist Redlining and Increased Infant Mortality Rates, advised by

Dr. Cameron Hay-Rollins

and The Effects of Historical Redlining on Present African American Infant Mortality Rate, advised by

Dr. Cameron Hay-Rollins

Grace Hamilton The Invisibility and Isolation of Fathers: Defining "Presence" in Infant Mortality Through Digital Storytelling, advised by

Dr. Cameron Hay-Rollins

, Dr. Ann Elizabeth Armstrong (Dept. of Theatre), and Dr. Paul Flaspohler (Dept. of Psychology)
Erika Jeffers Requirements for Recovery: Provider's Perspectives on Opiod Use, advised by

Dr. Cameron Hay-Rollins

and Dr. Brian Tyler (Dept. of Social and Behavioral Sciences)
Ieva Juska Variability in Molluscan Assemblages in Lucayan Archaeology: An Indicator of Environmental Change on the Island of San Salvador, the Bahamas, advised by

Dr. Mary Jane Berman

and Dr. Carrie Tyler (Dept. of Geology and Environmental Earth Science)
Brendan Newman Physical Activity and Cancer, advised by

Dr. Cameron Hay-Rollins

and Dr. Paul Flaspohler (Dept. of Psychology)
Brendan Newman and Brian Russo Transfer Student Study, advised by

Dr. Cameron Hay-Rollins

Sydney O'Wesney Purity, Place, and Progress: Bollywood Portrayals of Female Socio-Spatial Autonomy, advised by Dr. Marcia England (Dept. of Geography)
Quentin Stickley Investigating Non-Normative Gender in Ancient Egypt: Toward a Queer Archaeology, advised by Dr. Denise McCoskey (Dept. of Classics)
Faith Walker Methods in Remedial Cleaning and Storage for Primate Osteological Collections
Lydia Yellow Hawk Ella C. Deloria: Héčhel Lená Oyáte Kin Nípi Kte Lakota Orthography, Intertextuality, and Indigenous Articulations, advised by

Dr. Leighton Peterson
     *Anthropology faculty are denoted by an underline
Rachel Brand Alaska Native Heritage and Education, advised by

Dr. John Schaefer

Emma Brzezinski and Nicole Schapker Replication and Extension: Handedness in Termite Fishing among Bombe Chimpanzees, advised by

Dr. Linda Marchant

Danielle Heil "A Hole on the Field": Performance, Wellness, and Pain in a Competitive Drum and Bugle Corps, advised by

Dr. Leighton Peterson

Amber Henderson A Global Health Perspective on the Effectiveness of a Local Food Pantry's Supply Chain and its Impact on the Community: GHS 401 Immersion Experience, advised by

Dr. Cameron Hay-Rollins

and Dr. Paul Flaspohler (Dept. of Psychology)
Katie Hinh Labor for Beauty: Migrant Identity in Midwestern Nail Salons, advised by

Dr. James Bielo

Sarah Kammer Why Delphi? Religious Authority at the Site of the Oracle of Apollo, advised by Dr. James Hanges (Dept. of Comparative Religion) and Zooarchaeological Methods: Fish Teeth Identification Project, advised by

Dr. Jeb Card

and Dr. Andor Kiss (Dept. of Biology)
John Karikas Literature Misses Reality: The Exclusion of Men in Efforts to Understand Infant Mortality, advised by

Dr. Cameron Hay-Rollins

Courtney Madi ACE-ing the Miami "Community": An Exploration through the Chinese International Student Population at Miami University, advised by

Dr. Tani Sebro

Miranda Oates The Use and Abuse of Human Remains: Ethical, Legal, and Political Issues in Regard to Collection and Analysis, advised by

Dr. Jeb Card

Katherine Orr A Global Health Immersion: How Socioeconomic Status Impacts Early CHildhood Education in Cape Town, South Africa, advised by

Dr. Cameron Hay-Rollins

and Dr. Paul Flaspohlher (Dept. of Psychology)
Sophia Pauken Refugee Integration in Southwestern Ohio, advisedby

Dr. Tani Sebro

Andrew Racadio Global Health on a Local Level: Food as Medicine in Pediatric Primary Care, advised by

Dr. Cameron Hay-Rollins

and Dr. Paul Flaspohler (Dept. of Psychology)
Emily Ratvasky Archaeological Education and Gamification, advised by

Dr. Jeb Card

Nicole Rosiello Spanish-Only Restaurant Workers' Attitudes Accessing Healthcare, advised by Dr. Lisa Weems (Dept. of Educational Leadership)
Nicole Schapker The Comparative Method in Anthropology: Using Phylogenetic Analyses to Interpret the Effects of Visual Acuity, Ecology, and Sociality on Primate Brain Size, advised by

Dr. Clara Scarry

Madeline Schultz Performing "Aegyo": Language, Gender, and Power among Young Adults in Korea, advised by

Dr. James Bielo

Rachel Serafin Comparison of Current Remediation Projects Intended to Decrease Environmental Lead Exposure in Kabwe, Zambia, advised by

Dr. Cameron Hay-Rollins

and Dr. Paul Flaspohler (Dept. of Psychology) and Community Perceived Health Consequences of Lead Contamination in Kabwe, Zambia, advised by

Dr. Cameron Hay-Rollins

Mitchell Singstock Transcription Analysis of Chronic Psoriatic Arthritis, advised by

Dr. Cameron Hay-Rollins

and Mindfulness Program for the Knolls of Oxford, advised by Dr. Suzanne Klatt (Dept. of Family Science and Social Work)
Ellie Timmons Academic Responses to Pseudoscience and Power: A Case Study from Nazi Germany, advised by

Dr. Jeb Card

Claire Vaughn Mapping Space and Place in Religious Tourism, advised by

Dr. James Bielo
     *Anthropology faculty are denoted by an underline
Department of Anthropology
120 Upham Hall
100 Bishop Circle
Oxford, OH 45056