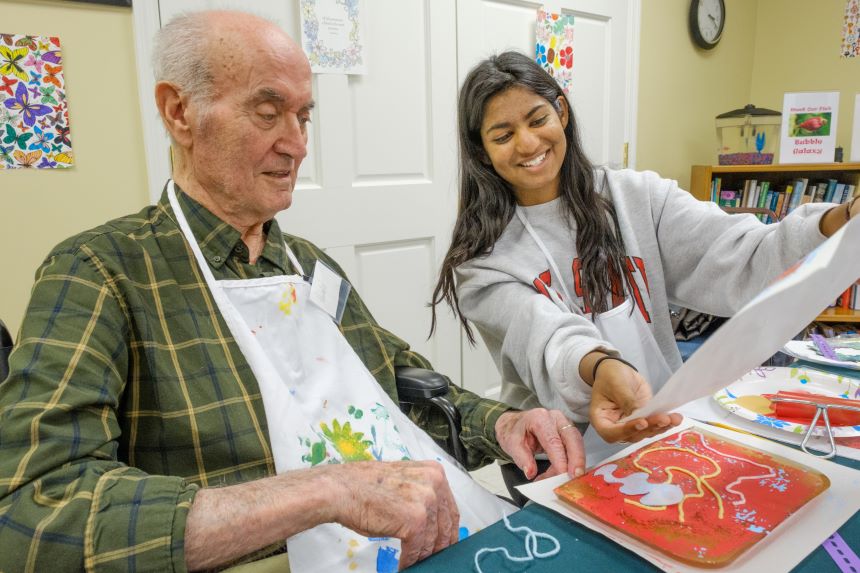 Gerontology
As a social science, Gerontology focuses on the social construction, meanings, and implications of the aging experience. It integrates knowledge from diverse fields including anthropology, demography, economics, family studies, epistemology and public health, human development, political science, psychology, social work, public policy, and sociology.
Age and aging are powerful forces that shape the human experience from birth to death. The percentage of the U.S. population age 65 and over is projected to grow from nearly 13% in the year 2000 to almost 20% in 2030. Improvements in health and increases in life expectancy have changed the way we think about and experience old age and our aging society.
As the population of seniors grows, they will face a health care workforce that is too small and unprepared to meet their needs. We need bold initiatives to broaden the responsibilities of workers at various levels of training; better prepared informal caregivers to tend to the needs of aging family members and friends; and new models of health care delivery and payment.
The bottom line is that all of us, regardless of career choice, will be serving older clients/customers and their families. Globally, continued increases in the number and proportion of older adults and a dramatic rise in life expectancy are having an impact on all of the world's social institutions.
Miami University has several academic options for those interested in joining the growing ranks of gerontologists who serve the rapidly increasing older population, learning more about aging, or becoming an aging specialist in your career in another field.
Major in Gerontology - 38 Credit Hours
The gerontology major has a strong liberal arts focus that includes an applied perspective. With this degree, you can successfully apply for admission to graduate school or enter aging-related work fields.
To maximize these opportunities, the faculty encourages you to get as involved as you can in all facets of the curriculum: academics, internship(s), and research.
It is Miami's responsibility to provide you with opportunities and your responsibility to take advantage of these opportunities.
A comprehensive undergraduate gerontology education places you at a competitive advantage in the job market, graduate school admissions, and career success and satisfaction.
Upon graduating from Miami University with a degree in gerontology, you will be able to evaluate:
policy, programs and action in the field of aging.
the quality of information and engage in the process of discovery.
theoretical perspectives in the study of aging.
the role of social institutions (e.g., family, politics and government, work and economics, social and health policy).
the impact of social location (e.g., race, class, gender, age) over the life course.
how aging and the life course are socially constructed and contextual across time, place and culture (e.g., cross-culturally, internationally).
individual processes in the aging experience.
the unique knowledge, skills and competencies of a gerontologist.
We encourage students who are interested in adding a gerontology major to their existing major (e.g., accounting, business, family studies/social work, nursing, speech pathology/audiology) to include a relevant, aging-related course from their first major to accumulate the required 38 credit hours for the gerontology major.
Minor in Gerontology - 19 Credit Hours
Rapid and significant growth of the older population is a global phenomenon; virtually every nation in the world has become, or is in the process of becoming, an aging society. The aging of society has an impact on every aspect of our lives and on all of our social institutions.
A minor in gerontology requires 19 hours of coursework and includes a capstone course that provides you the opportunity to apply what you have learned in the classroom in an organization or agency that works on behalf of older adults.
Thematic Sequences in Gerontology
Aging in Diverse Contexts
A significant paradigm shift has occurred within gerontology. The accumulation of research findings suggests that age alone predicts very little about the human experience. Instead, the impact of age and aging is mediated by a range of social and cultural factors. Social characteristics such as gender, race and ethnicity, and societal factors such as economic development and cultural traditions combine to produce a diverse range of experience and patterns of aging.
This thematic sequence begins with an overview of the social, cultural, and personal experiences of aging. The second course provides students with grounding in sociocultural analyses of the contexts of aging, and the third, an in-depth exploration of the sources of variation in the aging experience.
Students completing this sequence will understand the ways in which meanings and experiences of aging are shaped by social and physical location, and the ways in which diversity among the older population is produced.
Health and Aging
This thematic sequence explores health and aging.
The Tier 1 course provides you with an overview of the processes of aging, especially in the United States.
In Tier 2, you select one of three courses, each of which examines health and aging from a different position along a continuum that ranges from the micro- to the macro/meso- level contexts.
The Tier 3 course offers you the opportunity to integrate academic and applied aspects of health and aging, either through exploration of moral issues in health care, secondary data analysis, or field experience in a health care setting.
For More Information
Have more questions or ready to declare?
Department of Sociology and Gerontology
375 Upham Hall
100 Bishop Circle
Oxford, OH 45056