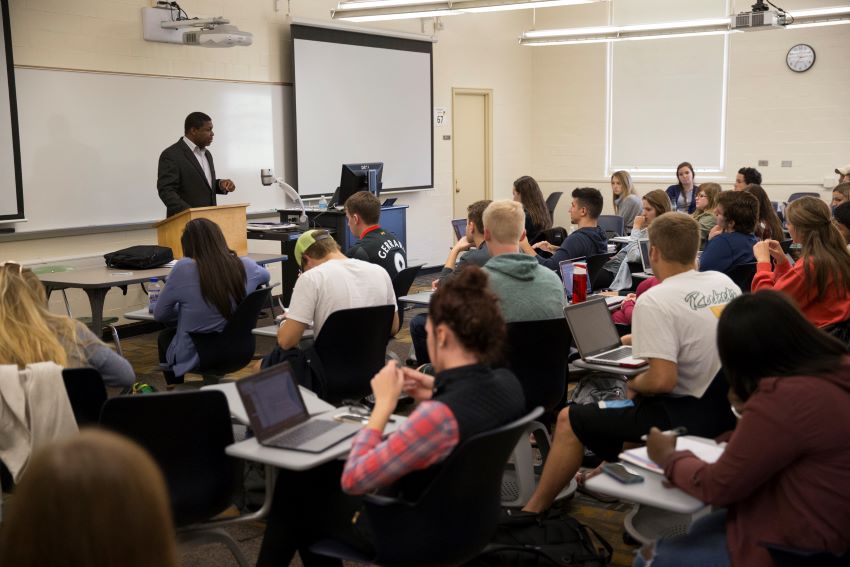 Sociology
Sociology connects the individual to society. It explores how individuals are shaped by the societal environment in which they live. Sociology links biography with history linking the individual (micro) to larger social spheres: community (meso); nation (macro); and the international (global).
According to UCLA's Cooperative Institutional Research Program (CIRP) Freshman Survey in 2016, interest in pursuing a general education has increased in tandem with decreased unemployment. In 2016, 75.4% of incoming freshman in public universities pinpointed general education and an appreciation of ideas as "very important" reasons for attending college.
But sociology has even more to offer than a general education. "Sociology is a liberal art with an emphasis on scientific method" (Spalter-Roth et al. 2010 p.315).
Sociology enables students to ask the big questions which also integrate moral purpose and ethics with personal and social responsibility:
What does it mean to be a  global citizen in the everyday?
How have national events, such as the civil rights movement, shaped us as individuals?
In turn, how can we as individuals change society by shaping national and global events?
In this way, students are encouraged to develop the sociological imagination which enables them to ask the actively-contested questions of our day. This powerful perspective equips students to analyze social phenomena no matter where they are or what they are doing. It is this scientific method, which enables students to systematically investigate society that make sociology distinct from the humanities and arts.
What Sociology Does
Sociology combines idealism and moral purpose with exciting career paths and opportunities. "For the sociology major interested in community and social service, the problem is not who will hire you or where you can work but how to choose among the many types of agencies that exist (Lambert 2009, p.107)."

According to the 2016 CIRP survey 83.4% of incoming freshman in public universities want to attend college to be financially well-off; 76.9% were motivated by a desire to help people who are in difficulty or need. Sociology enables students to combine both needs. 

Sociology majors do not need a graduate degree to get interesting and useful jobs. According to American Sociological Association (ASA)'s "What Can I Do with a Bachelor's Degree in Sociology" longitudinal study, which started in 2005, 68% of sociology majors intend to work after graduation either in a full-or part-time capacity. In a tight labor market, sociology majors have an edge because service positions, for which sociology majors are well-trained, are projected to increase.
According to the Bureau of Labor Statistics in the US Department of Labor the projected demand (2016-2026) for social science research assistants (median salary $43,190), social workers (median salary $60,230), and social and community managers (median salary $64,680 with less than five years of experience) will increase.
A 2017 Harvard study by Dr. Deming revealed that jobs which required nontechnical skills and critical thinking skills had the largest growth in employment and pay in the last three decades. 

Sociology graduates have the choice of a variety of careers, which include government, social work, nonprofit organizations, research, government, and corporations.
The US Government seeks employees who have a background in the social sciences. It is a key source of employment for sociology majors and offers job security and competitive pay.
Our majors are employed as counselors in nonprofits where they directly tackle social problems by working with domestic violence survivors and low-income families who need assistance.
Careers in social research enable majors to explore questions of value to society and to social well being. A study of graduating sociology majors, launched by the ASA in 2012, found that 60% had chosen sociology for research preparation.
Sociology majors also find employment in human resources management in the corporate sector and in other mid- to large-size organizations. 

The 2012 ASA study also found that 54% of sociology graduating majors chose sociology for graduate school preparation. Sociology provides a good basis for future graduate endeavors. With a solid foundation in quantitative and qualitative research methods and skills, sociology majors are well-suited to entry-level positions before going on to graduate school in medicine, law, public policy, public health, and sociology.
Sociology provides a high level of job satisfaction. The ASA study revealed that almost 80% of majors graduating from baccalaureate-only departments, like Miami, reported strong overall satisfaction in 2005.
A study carried out by the ASA in 2015 found that the largest number of sociology majors were employed in social services or as counselors in nonprofit organizations. These students reported a high level of satisfaction with their careers. 65% of all those students who worked in jobs where they could utilize their sociology skills reported a high level of job satisfaction.
From the very outset, our curriculum emphasizes the application of concepts and creates opportunities for experiential learning. In this way, it bridges the divide between educational skills and employer needs and between abstract concepts of the discipline and concrete projects of the workplace.
Competencies
Outlined below is a list of our curriculum competencies and how they match with specific employer expectations based on survey findings carried out by Hart Associates for the Association of American Colleges and Universities (AAC&U) in 2009 and 2013.
Creative Thinking
88% in 2009 and 93% in 2013 of employers expect employees to resolve increasing complex challenges.
80.9% of incoming freshmen consider critical thinking as "essential" or "very important" (2016 CIRP survey).
As students progress through the sociology major, they are taught to engage in increasingly complex problems with higher performance standards. We teach students to pinpoint ethical issues in research, construct evidence-based arguments, evaluate the appropriateness of different research methodologies and develop casual hypotheses.
Innovation and Creativity
95% in 2009 and 92% in 2013 of employers prefer to hire employees who bring creativity and innovation to the workplace.
The ability to innovate requires students to have ability to be confident about their ideas. Starting in freshman year, we encourage students to have confidence in their own abilities to solve problems through carefully-designed exercises and presentations. This process culminates in the senior year capstone course when they develop their capacity to innovate by exploring a specific social problem and its solution.
Breadth and Depth
91% of all employers in 2009 expect employees to utilize broader skill sets.
55% of employers in 2013 expect employees to balance breadth with depth: to balance a well-rounded education with skills in a specific discipline. Another 29% in 2013 focus on breadth alone.
Our curriculum provides the balance between the breadth required by employers as well as the knowledge of specific sociological skills. By enabling students to ask the big questions, relevant to social and global wellbeing, sociology provides depth.
Global and Intercultural Perspectives
96% of all employers in 2013 rate intercultural skills as important.
71% of all employers in 2013 considered global knowledge as important.
The 2016 CIRP Survey revealed the 59.4% of freshman in public universities emphasize improved understanding of other countries and cultures as a reason for going to college and 80% consider the ability to see the world from another perspective as essential or very important.
The required introductory course, "Sociology in a Global Context," enables students not only to understand different cultural perspectives but to also begin to apply the sociological imagination to different global and intercultural contexts. Each successive course builds on this foundation deepening students' knowledge of how to apply sociological imagination to different countries.
Experiential learning
80% of employers in 2009 and 86% in 2013 want employees who know how to apply classroom concepts to real world scenarios.
It is not enough to understand sociological theory. Deep learning occurs when students are able to apply knowledge. Our service learning courses are specifically designed to enable students to apply what they have learned in the classroom to the real world through meaningful interactions with diverse communities. We also combine the theoretical concepts of the discipline with concrete task-specific work in programs and projects.
What's more, our sociology faculty work with students to provide service-learning opportunities and internships especially in senior year. Recommendations from project managers and faculty supervisors provide exactly the kind of qualitative assessment that future employers consider invaluable. Such opportunities can lead to full-time jobs with the organizations upon graduation with students often receiving offers during their senior year.
Teamwork skills
90% of employers expect employees to coordinate across departments (Hart 2009)
87.8% of incoming freshmen in public universities rate the ability to work with diverse groups of people as "essential" or "very important" (CIRP 2016 Survey).
We prepare students both for graduate school and the job market. The specific learning outcomes of our sociology curriculum meet the employer needs:
Applying theoretical perspectives to issues in society.
Applying appropriative strategies to address a research question.
Evaluating the effectiveness of government, organizational, and other policies aimed at addressing sociological issues.
Synthesizing and critiquing sociological research.
Sociology prepares students for these employer needs through a well-structured curriculum.
Sociology provides a purposive pathway to broad integrative learning which not only enables critical thinking skills but also makes them attractive to future employers.  
Across the Great Divide: perspectives of CEOs and College Presidents on America's Higher Education and Skills Gap. 2011. Institute for a Competitive Workforce, US Chamber of Commerce, Peter D. Hart associates.
Bureau of Labor Statistics in the US Department of Labor, Employment Projections https://data.bls.gov/projections/occupationPRoj on ASA website (accessed Dec. 1, 2017)
Hart Research Associates (2013) It Takes More than a Major: Employer Priorities for College Learning and Student Success. Association of American Colleges and Universities (AAC&U).
Lambert, S.E., 2009. Great Jobs for Sociology Majors. 3rd Edition McGraw Hill: New York.
"Preparing for a Job Hunt with a BA in Sociology" ASA Footnotes March/April 2016
Sociology: A 21st Century Major (brochure ordered from ASA)
Spalter-Roth, R., Senter, M.S., Stone, P., & Wood, M. (2010). ASA's Bachelor's and beyond Survey: Findings and Their Implications for Students and Departments. Teaching Sociology, 38(4), 314-329.
The Liberal Education & America's Promise (LEAP) Vision for Learning: Outcomes, Practices, Impact, and Employers Views. 2017 Association of American Colleges and Universities (AAC&U)
UCLA's Cooperative Institutional Research Program (CIRP) 2017. The American Freshman: National Norms Fall 2016.
"21st Careers with an Undergraduate Degree in Sociology" 2nd edition ASA 2014.
The Sociology Major at Miami University is rooted in the liberal arts, and exposes students to the study of society, structures, social processes, and human interaction. It also includes a focus on important social institutions, including organizations, families, healthcare, the economy, and the law.
All students must take the following required courses:
SOC 153: Sociology in a Global Context
STA 261: Statistics
SOC 262: Research Methods
SOC 372: Social Stratification
SOC 482: Sociological Theory
SOC 459: Sociology Capstone OR
SOC 470: Social and Political Activism
Students may fulfill the remaining requirements from the full list of sociology courses available in the General Bulletin, but at least 9 of these elective hours must be at the 300 level or above.
Criminology
This track focuses on the sociology of crime, adult offenders, including an orientation to the social scientific study of crime, a critical examination of institutions in the criminal justice system, and a consideration of recent trends in the study of crime.
Required Courses
SOC 352 Criminology OR CJS 271 Criminal Behavior
SOC 409 Systems of Justice
SOC 440C Internship in Criminology
Criminology Electives
SOC 201 Social Problems OR SOC 202 Social Deviance
SOC 323 Social Justice and Change
SOC 410 Topics in Criminology
SOC 412 Sociology of Law
SOC 413 Juvenile Delinquency
Additional electives can be found under the Sociology major in the Undergraduate General Bulletin from your year of admittance to Miami University.
Areas of Focus
Sociology as a discipline lends itself to a wide variety of topics. Students in the sociology major who have specific intellectual and career interests can narrow down their electives roadmap by focusing on courses that are more in line with their interests and career goals. While the elective credit requirements can be met by taking additional SOC or SJS courses (list available from the CDA), the topics listed below can help students concentrate their studies to their future goals.
Markets and Management
For students interested in human resource management, marketing, market research, management, or graduate school in business (MBA). The Markets and Management concentration provides coursework in social relations in the workplace, the dynamics of bureaucracies and other organizations, and the structures and processes that govern economies and market institutions. Electives include, but are not limited to:
SOC 225: Work and Occupational Justice
SOC 305: Sociology of Globalization
SOC 417: Economy and Society
SOC 454: Formal Organizations and Bureaucracy
Remaining hours to fulfill the major requirements can be completed with classes about Social Problems, Self and Society, Applied Sociological Research Methods, Sociology Field Experience (Internship).
Health, Medicine, and Society
For students interested in public health, health care administration, health and healthcare fields (especially when paired with a pre-med major). As recent changes in the MCAT make clear, medical schools and medial professions are increasingly interested in candidates who understand the social determinants of health and the social contexts in which health and health outcomes are produced. The Health, Medicine, and Society concentration provides coursework that covers these vital topics. Electives include, but are not limited to:
SOC 221: Sexualities
SOC 257: Population
SOC 272: Introduction to Disability Studies
SOC 357: Medical Sociology
Remaining hours to fulfill the major requirements can be completed with classes about Women and (Dis)ability, Aging and the Life Course, Sociology of Mental Disorders, (Dis)ability Allies, Formal Organizations and Bureaucracies, Sociology Field Experience (internship).
Identities and Inequalities
For students interested in advocacy, community and non-profit work, law. The identities and inequalities focuses on the major dimensions of stratification in the United States, and the social factors that shape individual experiences and outcomes. Electives include, but are not limited to:
SOC 203: Sociology of Gender Roles
SOC 221: Sexualities
SOC 258: Self and Society
SOC 348: Race and Ethnic Relations
Remaining hours to fulfill the major requirements can be completed with courses in Social Problems, African Americans in Sport, Sociology of Globalization, Aging and the Life Course, Social Justice and Change, Sociology of Law, Sociology Field Experience (internship).
Social Problems and Social Services
For students interested in law, social policy, and social work. The social problems and social services concentration offers coursework on the legal and social contexts of social groups and institutions, including the family and aging. Electives include, but are not limited to:
SOC 201: Social Problems
SOC 318: Sociology of Aging and the Life Course
SOC 363: Sociology of Families
SOC 451: Family Violence
SOC 260A: Internship: Applied Sociology
Remaining hours to fulfill the major requirements can be completed with courses in Self and Society, Intro. to Disability Studies, Sociology of Law, Formal Organizations and Bureaucracies, Gender and Aging.
Traditional Academic Minor
Our traditional general sociology academic minor provides an introduction to the core concepts, theories, and methods of sociology.
Pre-Professional Minors
Our pre-professional minors help prepare students for a variety of fields, including management, law, medicine, and research. They all provide a foundation in the social contexts and social dynamics of their respective fields, and are a useful and marketable supplement to pre-professional majors. They include:
Medical Sociology
Business and Society
Law and Society
Criminology
The criminology minor focuses on the social-scientific study of crime and the criminal justice system, including juvenile and adult criminal behavior, policing, the criminal and civil courts, and corrections. This minor is suitable for student in any major. 
Thematic Sequences in Sociology
SOC3: Sociological Perspectives on Inequality
The Sociological Perspectives on Inequality thematic sequence uses a sociological perspective to approach the issues of social, political, and economic inequality in contemporary society, paying particular attention to inequality as it is determined by class, race, and gender.
This thematic sequence begins with an examination of theories of social stratification, then follows a sequence of courses that allows you to develop an in-depth understanding of the major dimensions of social inequality.
SOC4: Sociological Perspectives on Criminality and Deviance
In the Sociological Perspectives on Criminality and Deviance thematic sequence students will use the social dynamics of history and a sociological perspective to understand and critique conformity, crime, deviance, and the justice system in contemporary society, paying particular attention to the social construction of legality, normality, and crime as influenced by various cultural contexts.
The sequence begins with an examination of the basic theories and components of deviance/conformity, then follows a sequence of courses that allows them to examine and develop an understanding of the criminology field and concludes with an advanced course.
SOC5: Gender and Family Studies
The Gender and Family Studies thematic sequence exposes students to the major sociological contributions to gender and family issues and gives them experience in connecting the substantive content in the courses.
Objectives include:
Demonstrating how various sociological theories differentially contribute to our understanding of gender, sexuality, and families.
Linking the core concepts sociologists employ across three levels of courses.
Highlighting how definitional issues and current research in gender, sexuality, and family intersect.
Deriving personal insights for reflecting and acting regarding one's position in the social structure as to gender, sexuality, and family.
Note: This thematic sequence is not open to majors in the Department of Sociology and Gerontology. Majors in the Departments of Women's, Gender, and Sexuality Studies and Family Studies and Social Work must take a minimum of 9 hours outside the department of major.
SOC6: Medical Sociology
The Medical Sociology thematic sequence focuses on social factors in health and illness and the structure and function of health care systems globally.
Students completing this sequence will be able to:
Articulate between differences between the sociological model and medical model of health and illness.
Explain how how health is stratified by social factors such as gender, age, race-ethnicity, and social class.
Describe the U.S. health care system and contrast it with that of other nations.
Identify key ethical issues in health care.
Critically evaluate the stratification and socialization of health care professionals.
Analyze the function and structure of various health care settings. 
For More Information
Have more questions or ready to declare?
Department of Sociology and Gerontology
375 Upham Hall
100 Bishop Circle
Oxford, OH 45056