Miami University's Advanced Inquiry Program (AIP) is a ground-breaking online master's degree that combines web-based Miami graduate courses with face-to-face experiential learning and field study at premier zoological, botanical, and wildlife conservation institutions nationwide.
Program Overview and Locations
The AIP expands the frontiers of community-engaged learning to address the critical conservation issues of our time. Going beyond the limits of classroom-confined education, AIP students lead collaborative inquiry and action at local, regional, and national scales, supported by an extraordinary network of world-class institutions united by a shared mission to improve local communities and ecosystems. AIP students gain unprecedented professional learning opportunities and support at their local AIP site, while working with peers and faculty nationally. The AIP enables students to pursue a wide range of personal and professional interests, on topics such as community-based conservation, participatory education, urban ecology, environmental justice, sustainable business, animal care and welfare, schoolyard ecology, community health, art and conservation, and nonprofit leadership.
Project Dragonfly is supported by world-renowned institutions that act as facilitators for in-person learning experiences and guidance throughout your degree program.
Below are our AIP sites.
Master's Degree Options and Delivery
Applicants elect to enroll in either a Master of Arts in Teaching (MAT) degree in the Biological Sciences (for teachers with an existing license; does NOT lead to licensure) or a Master of Arts (MA) degree in Biology (see Program Details). MA and MAT candidates go through the Advanced Inquiry Program together.
Both the MA in Biology and MAT in Biological Sciences degree paths are open to a broad range of individuals 
recent college graduates

graduates who haven't been to school in years

professionals working in non-profit, education, business, and government settings

anyone who holds a Bachelor's degree, regardless of major, and has interest in improving human and ecological communities.
Specifically with teachers in mind, the MAT degree provides real-world experiences that advance district, state, and national educational standards through research-based practices for student achievement in core content areas.
In both Master's degrees, all courses are delivered online by a Miami University instructor. Two-thirds of AIP courses also include up to five days (or equivalent) per course of in-person, experiential learning and field study on the grounds of an AIP zoo, aquarium, or botanical garden and in the surrounding communities.
AIP master's candidates also have the unique option to integrate once-in-a-lifetime international field study into their coursework by choosing from Earth Expeditions courses in Africa, Asia, Australia, and the Americas (7 credits from Earth Expeditions courses can count toward the AIP master's degree).
Featured Video
 Note: Some courses, for example the Earth Expeditions courses, can be taken for stand-alone graduate credit outside the degree program.
Enrollment is open to applicants who hold a bachelor's degree regardless of academic major or profession, who have consistent online access, and who are able to travel to one of the premier institutions in the AIP learning network, currently located in Chicago, Cincinnati, Cleveland, Denver, Detroit, Jacksonville, New York City, San Diego, Seattle, and St. Louis. All coursework occurs online, while experiential learning and field study takes place at AIP site locations.
The AIP master's can be completed part-time while working. Miami offers significantly reduced tuition for this program.
Applications are accepted from early September through February 28 of each year for enrollment beginning late spring. The GRE is not required. Click below to review the requirements and begin your application.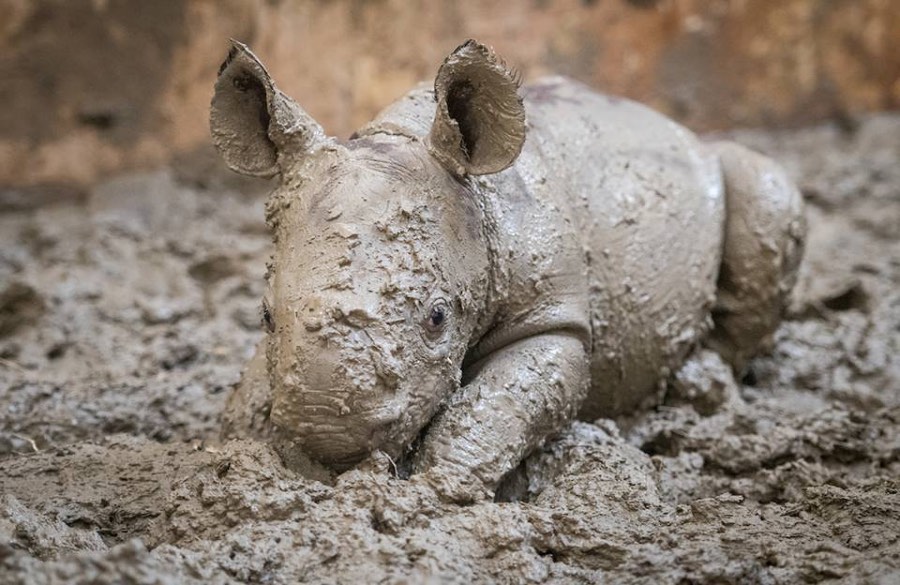 Photograph of a baby rhinoceros taken at an AIP site.
Is This for Me?
Here are some of our most Frequently Asked Questions.
"Believe it or not, I have been 'pay-as-I-go.' "
– Jennifer H., GFP student from Longwood, Fla.
"Check to see if your employer offers tuition reimbursement. I was lucky in that my employer offered $3,500 per year for graduate school. That was more than enough to cover each year of the AIP program."
– Amy T., AIP graduate from Goshen, Ohio
"I was able to pay as I went. I charged the tuition, which I found reasonable, and then worked hard to pay it off before the next semester. The cost is drastically reduced. I did not have a single loan. Also, I was able to write it off on my taxes."
– Perky S., GFP graduate from Dover, Idaho
"With reduced fees as part of Miami University's support for this program, each master's course is offered at a fraction of actual costs. But we know students sometimes need additional help! Check out our Helping Fund Your Degree."
– Project Dragonfly
"I started the AIP master's eight months pregnant and also had a 3- and a 2-year-old and was a full-time teacher. When you find something you love and are passionate about, you make it work. I graduated this past December and loved everything the AIP master's taught me. … It is a worthwhile program and gears toward your individual passions!"
– Adrienne C., AIP graduate from Cleveland, Ohio
(replying to Adrienne C.) "I just graduated from the GFP master's and think you hit on the most important aspect of the work load. If you're enrolling in a program like this, the chances are you're incredibly passionate about what you're studying. While the workload can become heavy at times on top of other responsibilities, that passion definitely keeps driving you. That and the support of a great community filled with other people who share your passion."
– Mike R., GFP graduate from Fair Lawn, N.J.
"I found that the course work provided an escape from the day-to-day demands of my job as a teacher. I looked forward to losing myself in my courses. They were almost like therapy. I looked at the summer Earth Expeditions courses as not only academic growth but personal growth, as well. I learned so much about myself and gained confidence that I never would have found had it not been for this program. It is amazing how much the program becomes a part of your life. … I could not picture my life without Project Dragonfly."
– Leah C., GFP graduate from Batesville, Ind.
(replying to Leah C.) "Great post, Leah – I, too, found it an escape into another professional life to talk science with peers not high school students. Nice to hear the perspectives of other formal and informal educators – I think we respect each other's jobs more as well."
– Kimberly L., GFP graduate from Jackson, Ohio
"There are many grad programs out there (physical and online) but how many can CHANGE your life? This one will. There is not a week (or sometimes day) that goes by where I don't reference (verbally or in the quiet of my mind) the wonderful experiences I've had and friendships I've made because of this program. Time management is key to survival, but that is with any program you will undertake. Mine was 9-11:30 pm most nights + some weekend time after all other things were done (job, grading, kids, family, exercise, etc). It is not meant to be easy. Life is work."
– Kimberly L., GFP graduate from Jackson, Ohio
"I held down two part-time jobs and one full-time job while I was an AIP student. The biggest factors in my success were the support of the folks in my cohort and the support of our advisor. Outside of that group, however, the entire Dragonfly community was also very supportive, and I made great connections with people I've never even met in real life. That cheerleading will push you through the tough stuff for sure! The other key piece, which a lot of folks have already mentioned, is time management. It's a big part of surviving trying to balance the program and life. I typically tried to devote my Saturdays and any downtime to working on things, even if my downtime was just a few minutes here and there. It can be challenging at times, but when you finish and get that diploma it will be one of your proudest life events! This program was truly life-changing for me, and I'm so glad I chose AIP!"
– Victoria B., AIP graduate from Alliance, Ohio
"In the words of Nike: 'Just do it.'"
– Suzanne H., AIP student from San Diego, Calif.
"I was a GFP student. Not going to say it was not a real challenge. I am going to say that EVERYONE is supportive. Anything important is possible if you break it down into small chunks…and that's what this program does…. And it's really about the circle of classmates that are facing the same challenges you are facing. The opportunities outweigh the challenges. DO IT!!"
– Kati M., GFP graduate from Bellbrook, Ohio
"Let's just say, if I can work 4 part-time jobs and graduate on time, you can, too! As long as you commit the right amount of time for each class, it is doable! The support system is fantastic and know that you aren't in this alone!"
– Megan F., GFP graduate from Cincinnati, Ohio
"Time management is sooo important and perhaps the biggest challenge! Not watching TV helps!! It helps me to set aside a little time every day for coursework, even if just 45 minutes. I've been known to use a few work vacation days to dedicate to big projects/papers. Sometimes using vacation time is the only way I can get a big chunk of time (while my daughter is with child care) to focus on school projects without the distractions of being a mom."
– Jamie D., GFP graduate from Schnecksville, Penn.
"I am 6 months pregnant, in my first year teaching, mother of one 7-year-old, and have a very needy husband….but I am so happy to be starting my 3rd semester with the AIP program! The workload is very doable and the classes you choose are very flexible. It is a very realistic program for busy people!! And the experiential learning on-grounds is amazing!!"
– Amanda C., AIP student from Oceanside, Calif.
"My son was 6 when I started this program, and I actually found ways to involve him, his classmates and his friends in some of my projects. It took away some of that mommy guilt. The 10-day expeditions in the summer proved to be a challenge since my husband owns a restaurant and works 7 days a week, but my family and friends were so supportive and pitched in to help! It was an awesome experience and worth every sacrifice and late night cup of coffee!"
– Amy T., GFP graduate from Port Huron, Mich.
"I did an EE course with an 18-month-old and pregnant with my second. The course work was a lot of work, but it felt like good, solid work that would help my teaching. So, I didn't mind doing it at night. The 10-day Belize trip itself was amazing, and I still refer back to it in my classroom (4+ years later!). I would highly recommend this program. The teachers are amazing, and the fellow students are equally amazing. It's a lot of work but so so so rewarding!"
– Danielle B., Earth Expedition student from Yarmouth, Maine
"I can't believe the first 2 semesters have gone by so fast! So it doesn't feel like it's gonna take long."
– Sarah S., AIP student from Peoria, Ariz.
"2.5 years, teaching middle school and two pregnancies!"
– Eric D., AIP graduate from Canfield, Ohio
"I completed my degree in two-and-a-half years while I continued teaching elementary school full time."
– Kendell M., AIP graduate from Mentor, Ohio
"I will be taking 4 years to complete. Taking 2 online classes and working full time is pretty work intensive. I wanted to get the most out of it. It is all about the journey for me."
– Lisa H., GFP student from Cincinnati, Ohio
"I'm a busy mom with two small kids and completed my degree in 2 and a half years."
– Sarah C., AIP graduate from Bothell, Wash.
"Took me 3.5 years because I had a summer baby. It made a couple of semesters a little more doable (teaching full time)."
– Angela Y., GFP graduate from Lakewood, Ohio
"2.5 years for me, it was too fast"
– Joseph O., AIP graduate from Doylestown, Penn.
"It took me 2.5 yrs, and during this time I worked 3 jobs simultaneously, single-handedly planned both my wedding and honeymoon and still had a good time!!"
– Ashley P., GFP graduate from Hillsboro, Ore.
"I finished my degree in 2.5 years. Yes, as others have said, it was intense, but it was also amazing and so worth it. I was working full time, and during the final year I actually moved overseas for the first time to start teaching internationally."
– Joey F., GFP graduate from Vienna, Va.
"It took me 3.5 years, beginning to end, but only because I had to postpone my second Earth Expeditions course. I was due to have our first child the same month I was scheduled to go to Namibia (August 2010). I figured that it probably wasn't a good idea… I completed all other semesters on time, even with the baby and working full time. It was challenging but doable. And I miss it terribly."
– Mandy R., GFP graduate from Trafford, Penn.
"Completed in 2.5 years while working full time – it was NOT easy, but I did it!"
– Heather L., AIP graduate from North Ridgeville, Ohio
"This degree is meant for working people. I worked a full-time job and (last semester only) worked part time as well. I finished in 2.5 years and miss all the learning."
– Traci S., GFP graduate from Lake Worth, Fla.
"I started the program three months after finding out I was expecting our first baby. I had her during winter break of my first year. It was challenging at times but I was able to complete the degree in 2.5 years. Looking back, it was my fastest 2.5 years of school."
– Courtney G., AIP graduate from Amelia, Ohio
"Worked full time and part time (2 jobs) and completed like above…2.5 yrs. flies by!"
– Natalie L., AIP graduate from Hoffman Estates, Ill.
"I think I am one of the old ladies in the crowd. I started in the program at 54. I had just started my first year as an elementary school principal. I won't tell you it wasn't extremely challenging to juggle a full-time career and this adventure in learning, but I wouldn't change a moment of it. I met amazing people I still connect with, I traveled to places few people have the privilege to see, and I learned more than I ever have in my life. If you are worried, don't be. Project Dragonfly is there for you!!!"
– Priscilla S., GFP graduate from Dover, Idaho
"I finished my undergrad in 1986 and was 49 when I started the GFP. I never felt like I did not fit in, and in my experience all of the instructors and other students have been extremely helpful. The program is all about helping others succeed. But honestly I did feel overwhelmed when I was taking two classes while working full time, so I just decided to stretch things out a bit and take an extra year to complete the program. This was a good decision for me, and I am very happy with the program."
– Pam M., GFP student from Blanco, Texas
"What can I say that everyone else hasn't? Good things come to those who wait. I waited 15 years before I went back and applied to be a part of the AIP, and I'm so glad I did. I can't say enough about the support I received from my classmates and instructors."
– Kendell M., AIP graduate from Mentor, Ohio
"Yes, you will! Be prepared to meet some awesome people, both students and instructors!"
– Sam B., GFP student from Berwyn, Ill.
"If it makes you feel any better, I received my Master's degree in the GFP in December of 2014. I received my undergraduate degree in 1991. Some of you might be able to relate to the fact that the Internet did not exist when I attended college the first time. HAHA! However, I completed the GFP in 2 and 1/2 years, while working full-time and loved every minute of it. The learning atmosphere is very supportive. Believe me, if I can do it, so can you!"
– Leah C., GFP graduate from Batesville, Ind.
"The simple answer is DEFINITELY. This program especially is so warm and welcoming and supportive. Anyone of any background or age will be accommodated and guided through every hurdle."
– Sarah C., AIP graduate from Bothell, Wash.
"I am pretty sure I was the youngest in my AIP Cohort and had graduated with my B.S. just 14 days before my first class at the Cincinnati Zoo. We had a variety of ages in our cohort and every single one of us 'fit in.' It doesn't matter when the last time you were in school… this program is for everyone!"
– Mary R., AIP graduate from Fairborn, Ohio
"Yes. And this will sound boring and insignificant, but the learning platform used in this program is 'long-time-since-in-school' friendly and clearly has the end user in mind. I've seen some horrible online platforms that my friends and relatives have to use for their grad programs. Also, you will be so fascinated and engaged with the content and topics that the work is hardly 'work.' You are not just paying to go through the motions for a degree. You grow and develop and leave with enlightenment and integrity. You will fit in. If you are reading this… this program is for you."
– Tessa T., AIP graduate from Richfield, Ohio
Contact Project Dragonfly
111 Upham Hall
Oxford, Ohio
Est. 1994