Miami senior explores depictions of women in contemporary literature to highlight societal issues
English major Caroline Funk's original short story collection was influenced by gender-based literary analysis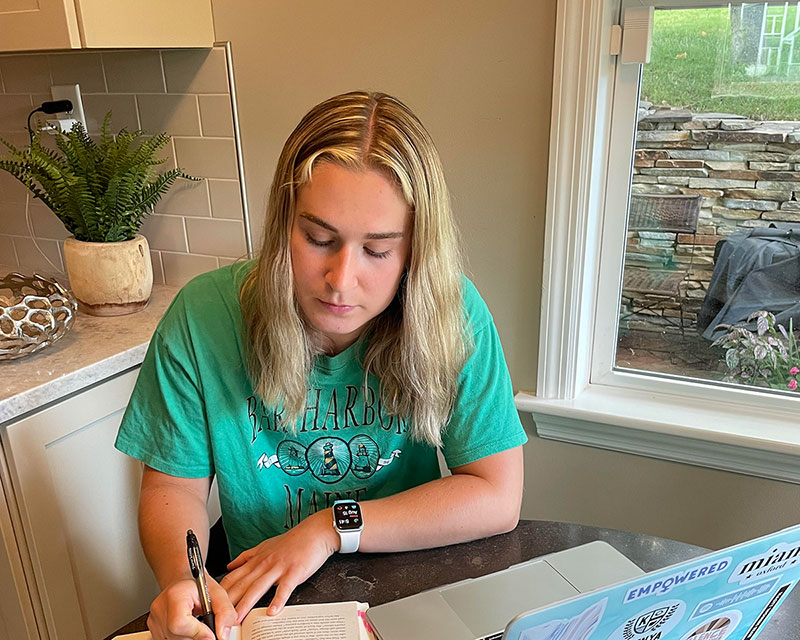 Caroline working on her USS project at home during the summer of 2022
Miami senior explores depictions of women in contemporary literature to highlight societal issues
Caroline working on her USS project at home during the summer of 2022
Caroline Funk was taking classes in feminist theory and Victorian literature with Professor of English Mary Jean Corbett when she first heard about Miami's Undergraduate Summer Scholars (USS) Program. Funk was looking for research opportunities and was intrigued by the nine-week summer program. 
"I liked that you could have the freedom to create whatever project you were interested in doing. It wasn't really limited to a class assignment or something a professor told you to do. It could be centered around your own interests," said Funk. 
I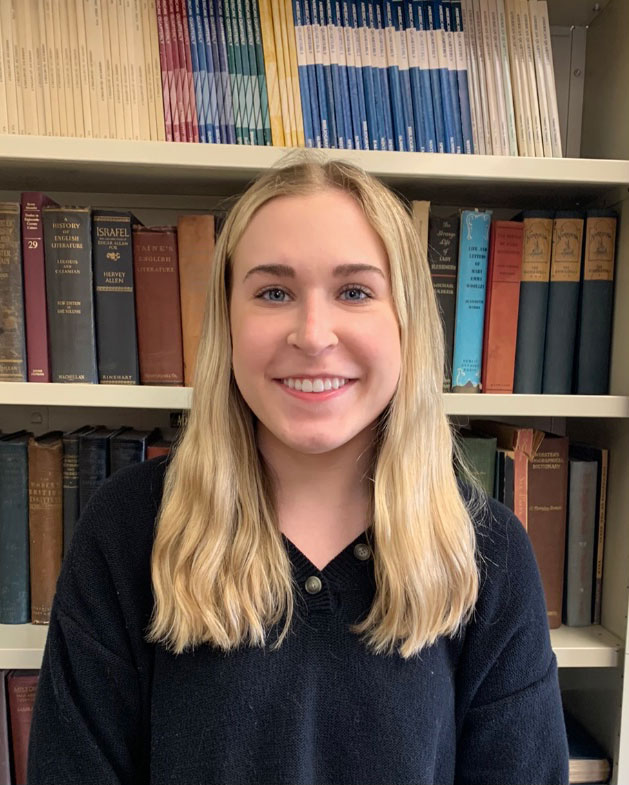 n the same class, she discovered an interest in literature and gender. She also noticed that in the 19th and 20th-century works she was reading, like Jane Eyre by Charlotte Bronte, The Bell Jar by Sylvia Plath, and The Yellow Wallpaper by Charlotte Perkins Gilman, the stereotype of the "mad woman" largely reflected misogynistic assumptions that women are weak and emotional by nature. It demonstrated how cultural beliefs and social prejudices get examined in the literature of its time.
Inspired by this, Funk wanted to analyze how female authors were depicting women in contemporary novels. After being accepted into the 2022 USS Program, Funk decided that was where she wanted to focus her research. 
This past summer, Funk completed a literary analysis of contemporary novels written by women authors about women characters with mental illness or struggles. Her final paper focused specifically on two novels: My Year of Rest and Relaxation by Ottessa Moshfegh and NW by Zadie Smith. With the help of her faculty advisor and associate professor of Creative Writing Margaret Luongo, Funk is now using the results of her research to write her own collection of short stories. 
"I had a list of readings pretty much that I would read, take notes on, and then determine what I wanted to argue from there," said Funk. "And this semester I'm kind of taking those same ideas but in my own creative work." 
Through her project, Funk has been able to discover the power of literature and its ability to facilitate important conversations about gender, sexism, and social progress. She hopes her own collection of stories will bring more of these conversations forward, as well as help rewrite the patriarchal gender stereotypes from the past.
"I really realized how literature is capable of asking questions about societal issues," said Funk. "And my research specifically was questioning gender norms. So it's kind of this space where you can examine issues in society and maybe challenge them." 
As she prepares to attend graduate school to study English and become an English professor, Funk is thankful for what this research project and the USS program have taught her. 
"I think I just learned the value of research, independent thinking, and asking questions around themes, and how to read a book with a particular question or theme in mind," Funk said. "Getting those experiences now while I'm still at the undergraduate level I think really helped me prepare for the research I want to do in the future."