Environmental justice, a geology club, and Covid-19 inspires a Geology major to conduct research on mined talc
Goldwater and Astronaut Scholar Hannah Wudke '24 investigates impurities associated with talc products and potential pathways of exposure to toxic materials.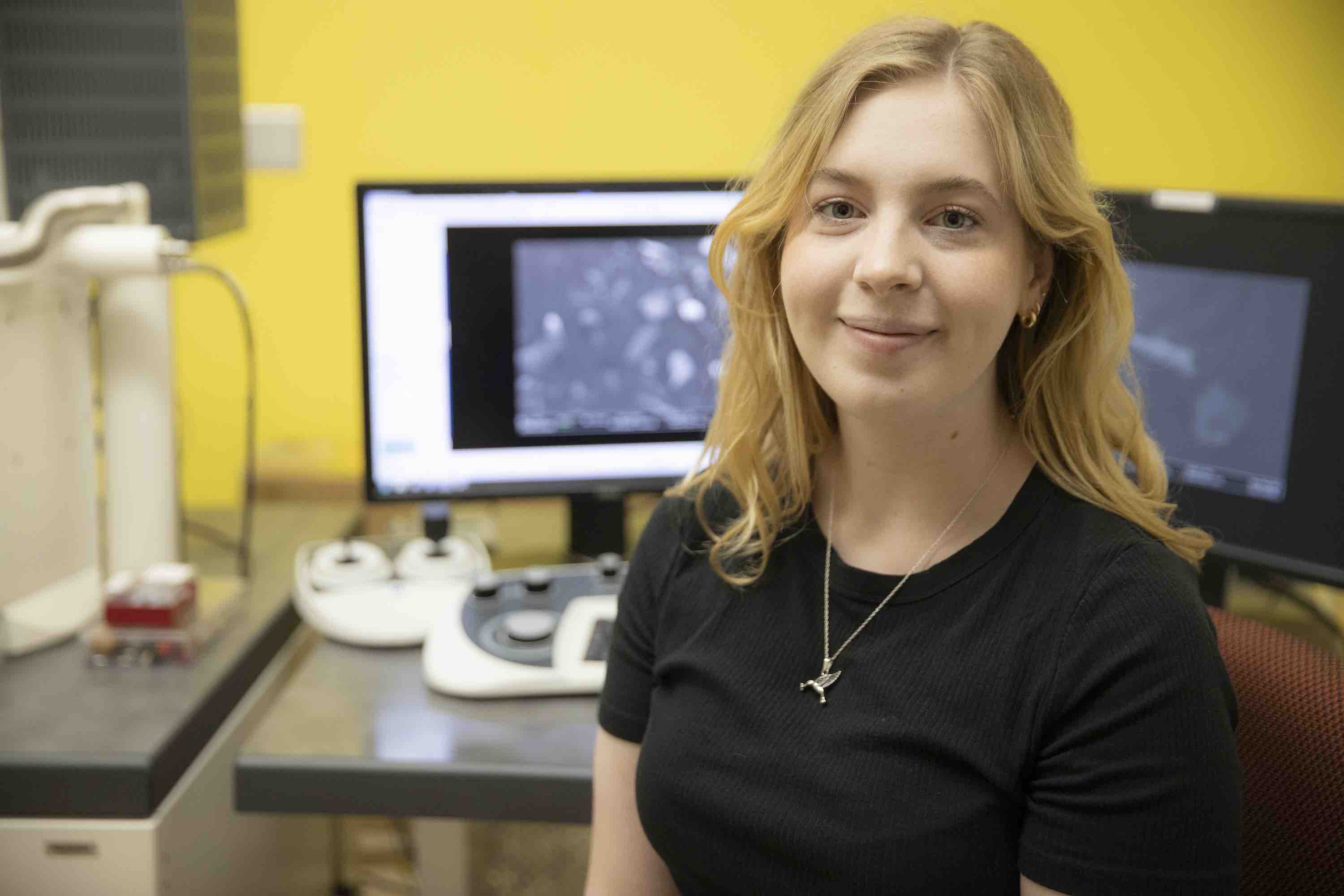 Hannah Wudke, Goldwater Scholar, working on research at the CAMI Lab
Environmental justice, a geology club, and Covid-19 inspires a Geology major to conduct research on mined talc
Hannah Wudke, Goldwater Scholar, working on research at the CAMI Lab
Hannah Wudke, a Geology major, Environmental Science co-major, and Social Justice and Inequalities minor, has always had a passion for the environmental sciences, which she developed during an AP environmental science class in high school. 
During her first year at Miami, she took an online introductory geology class and joined the Miami University Geological Society, both of which introduced her to a small yet supportive group of students and faculty in the Department of Geology and Environmental Earth Science. 
"When we were isolated during the COVID-19 pandemic during my first year, I was watching several environmental justice documentaries and getting more exposure to being outdoors through the MU Geological Society," Wudke said. "I really fell in love with it all very quickly – the geology department is such a welcoming environment, and I made a lot of friends through my classes and participation in the geology club as well." 
Wudke connected with her faculty advisor, associate professor of Geology Mark Krekeler during her online geology class, which exposed her to new opportunities for research. By the end of her first year, her research journey was focused on topics related to environmental justice. 
In Krekeler's lab, Wudke began looking at historical samples of bottles of talc-based baby powder. This involved transmission electron microscopy, scanning electron microscopy, and bulk chemical analysis to observe contaminants otherwise too small for the naked eye. 
"Because of the complex nature of talc deposits, other minerals are able to appear in those deposits, which has led to impurities such as asbestos and heavy metals potentially being present in consumer talc products," Wudke said. 
Her first research findings led her to Portland, Oregon for a Geological Society of America conference during the fall of 2021. Then, during spring break of her sophomore year, she was selected to participate in field geology research with advisors Krekeler and associate professor of Geology Claire McLeod in Nevada through the AUGITE program, which was made possible via a National Science Foundation grant. 
Wudke was recently named a 2023-2024 Goldwater Scholar as well as a 2023 Astronaut Scholar. All throughout these experiences, she has continued to pursue mineralogy and geochemistry research with guidance from graduate students. This has helped her develop her passion about the importance of health impacts relating to contaminants in geologic materials, and she plans to pursue this research for her career. 
"When you use a talc product such as baby powder, tiny particles are suspended in the air," Wudke said. "If asbestos contaminants are present at the respirable scale, baby powder use can be a potential pathway of exposure." 
Wudke's research is ongoing. Since presenting her findings on historical talc products,  she has been examining talc from the Yellowstone Mine in Montana, which is associated with a different type of talc deposit. 
"This summer, I've also begun examining street sediment associated with a petrochemical manufacturing plant at a field site in Puerto Rico," she said.