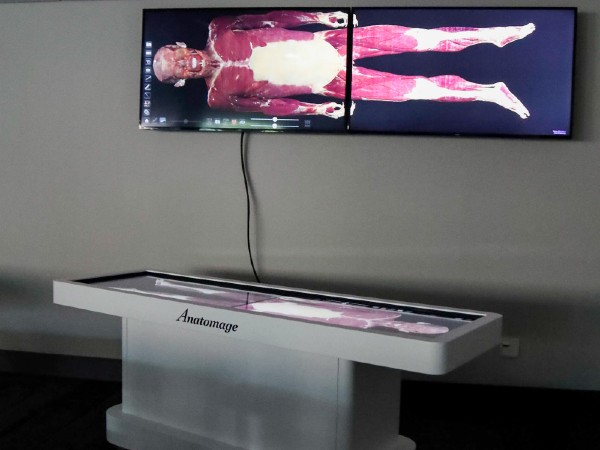 Athletic Training Program Overview
The Master of Athletic Training (MAT) program requires 52 credit hours of coursework. Courses must be taken in the 2-year sequence outlined. The program begins in the summer term with an asynchronous, online course: KNH 591 - Injury Recognition and Patient Care.
Didactic courses are delivered in a hybrid format (in-person and online) over a seven-week "sprint" term.  For the other seven-week portion of the semester, students will report to their assigned clinical experience.
Students will complete at least four clinical experiences while enrolled in the MAT program.  There will be a clinical experience assigned each semester: KNH 601, 602, 603, and 604. 
Admission Prerequisites
Baccalaureate degree from an accredited institution
GPA of 2.75 or greater
Pass and receive credit for the following prerequisite courses:

Human Anatomy
Human Physiology
Biology
Chemistry
Physics
Psychology
Application Process
Rolling admissions with the completion of the ATCAS Application by May 1.
All applications will be reviewed by the program faculty. Applications after this deadline will be reviewed and considered, however, acceptance into the MAT program will be dictated by the space and enrollment in the current cohort.
Program Costs
Enrolled students will incur the following costs:
Tuition: $629 per credit hour -  All students with graduate status classification pay the same tuition rate for all 52 credit hours required of the graduate program. Please review the information for Refunds for Withdraws.
Immunizations: Variable if needed - Miami University (Oxford campus) requires several vaccines and strongly encourages others. Incoming students must submit documentation as evidence of these immunizations to the Miami University Student Health Services by Aug. 1 of the entry year. Immunization requirement information.
Background Check: $60 - Students are required to complete an Ohio and FBI Background Check. Processing can be completed through the Miami University Police Department. Background checks must be completed by September 30th of the entry year.
Cardiac Care Certification: $30 for two-year certification - Students will complete the Basic Life Support course through the American Heart Association. The course will be completed during MAT orientation week (i.e., the first week of the fall semester).
Books/Resources: $417 - Students utilize The Athletic Training Collection (with two add-on supplements) published by Human Kinetics, Inc. This e-book collection is utilized for the duration of the program and must be purchased by the first week of the fall semester of the entry year.
Professional Membership: $87 annual - Students are required to be "Student" members of the National Athletic Trainers' Association (NATA), the Great Lakes Athletic Trainers' Association (GLATA), and the Ohio Athletic Trainers' Association (OATA). Membership dues to NATA, GLATA, and OATA are bundled together. Membership must be secured by Jan. 1 of the entry year.
ATrack Subscription: $45 annual or $90 lifetime - The program utilizes the ATrack cloud-based management system for documentation and record retention. Subscription must be secured by Aug. 31 of the entry year. Students are required to have an individual subscription linked to the MAT program.
Clothing: Variable - Students will be required to supply and follow attire policies based on applicable clinical rotation sites. The final decision on what constitutes appropriate attire defaults to the clinical site. Appropriate attire often includes a polo shirt, slacks, socks, closed-toed shoes, and outdoor gear as needed. Some clinical rotation sites may require more formal clothing such as a button-down shirt/necktie, blouse, suit, pants suit (e.g, rotation at a physician clinic). Some supplemental attire and gear may be supplied by the program.
Travel: Variable - Students will often be placed at clinical rotation sites away from the main campus. Students are responsible for securing their own method of transportation to these clinical sites. Costs to consider include public transportation fares, fuel, parking fees, passes, and maintenance. Additionally, students are permitted to fulfill a clinical experience requirement at a distant location. Travel, housing, food, and other specific needs of the clinical experience are the responsibility of the student.
Master's Degree Graduation Fee: $35 - Students are required to formally apply for graduation with the MU Graduate School. Please visit the MU Graduate School for a listing of important dates and deadlines. Deadlines are often the semester prior to the graduation semester.
Board of Certification (BOC) Examination: $450 - To become a certified athletic trainer, a student must graduate with a master's degree from an accredited professional athletic training education program and pass a comprehensive test administered by the Board of Certification, Inc.
Note: the BOC cost above represents the application fee ($75) and the exam fee ($375) for one take. Re-takes (if needed) will require an additional exam fee.
 A total of 52 credit hours completed at the graduate level are required.
Year 1

| Summer | Fall  | Spring |
| --- | --- | --- |
| KNH 591 Injury Recognition and Patient Care (3) | KNH 601 Athletic Training Clinical Practicum I (1) | KNH 602 Athletic Training Clinical Practicum II (2) |
| | KNH 607 Foundational Skills in Athletic Training (3) | KNH 627 Examination and Diagnosis II - Upper Extremity (3) |
| | KNH 609 Emergency Patient Care in Athletic Training (3) | KNH 636 Therapeutic Interventions I - Modalities (3) |
| | KNH 625 Clinical Anatomy and Kinesiology (3) | KNH 656 Clinical Pathology in Athletic Training (3) |
| | KNH 626 Examination and Diagnosis I - Lower Extremity (3) | KNH 691 Evidence-based Athletic Training I (2) |
Year 2
Fall 
Spring
KNH 603 Athletic Training Clinical Practicum III (2)
KNH 604 Athletic Training Clinical Practicum IV (3)
KNH 628 Examination and Diagnosis III - General Medical (3)
KNH 638 Therapeutic Interventions III - Pharmacology and Psychosocial (3)
KNH 637 Therapeutic Interventions II - Rehabilitative Exercise (3)
KNH 658 Health Care Administration and Informatics in Athletic Training (3)
KNH 692 Evidence-based Athletic Training II (2)
KNH 695 Graduate Seminar in Athletic Training II (1)
KNH 693 

KNH 693 Graduate Seminar in Athletic Training I (1)

KNH 697 Graduate Capstone in Athletic Training (2)
Student Learning Outcomes
Students will construct a confident educational foundation of the knowledge necessary in performing the duties of an Athletic Trainer.
Students will employ evidence-based practice in athletic training.
Students will demonstrate competence in the practical skill necessary for performing the duties of an Athletic Trainer.
Students will integrate educational foundation and practical skill in clinical practice.
Students will model the appropriate behavioral and social attitudes necessary in an athletic training practice environment.
Students will develop the competence needed for the care of culturally diverse patients.
Athletic Training
Eric Brooks
202E Phillips Hall
Oxford, OH 45056