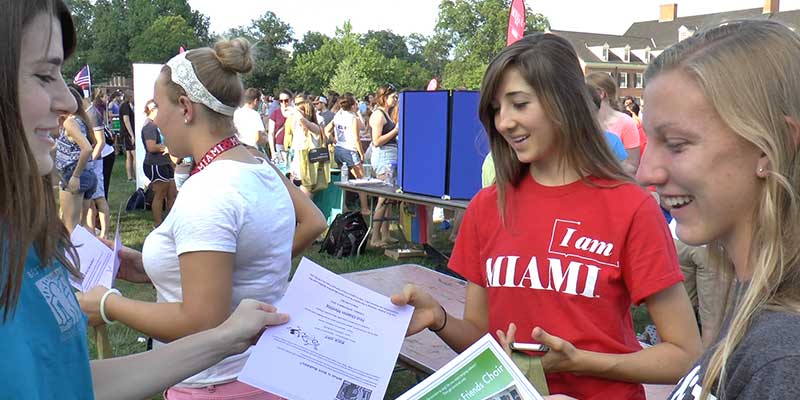 EHS Student Organizations
Enjoy camaraderie and friendship with classmates who share your interests and goals.
Get Involved in Campus Life
Following are student organzations in which you may be interested. If you don't see an organization listed, you can explore all your campus options on the HUB.
EHS
Faculty Advisor: Lea Minniti, lea.minniti@MiamiOH.edu 
The Miami University EHS Ambassadors members serve as representatives of the Miami University student body in conjunction with the College of Education, Health, and Society. The mission is to assist in recruiting high caliber students to Miami University, assist current students with student-led education initiatives and support, and help facilitate transformation in relation to EHS departmental missions and goals.
For more information, visit EHSA on the HUB.
Teaching, Curriculum, and Educational Inquiry (formerly Teacher Education)
MU Council of Teachers of Mathematics (MUCTM)
Faculty Advisor: Dr. Suzanne R. Harper, harpersr@miamioh.edu 
MUCTM is an organization which exists solely for the purpose of bettering mathematics education. The members meet four times each semester and discuss the current trends and future of mathematics education. Typically at each meeting, there is a classroom teacher or educator who gives a presentation on an aspect of teaching mathematics. Membership in MUCTM includes student membership to OCTM (Ohio Council of Teachers of Mathematics) and student e-membership to NCTM (National Council of Teachers of Mathematics).
For more information visit MUCTM on the HUB.
MU- National Science Teachers Association (MU-NSTA)
Faculty Advisor: Dr. Ann Haley MacKenzie, mackenah@miamioh.edu 
MU-NSTA is an organization that provides professional development opportunities for those students interested in becoming science teachers at all levels or those interested in being science educators. Members are dedicated education students and teachers who focus on current trends in science education and meet to discuss issues, share innovative lesson and teaching ideas, research findings as well as to engage in service projects devoted to science education issues. Monthly meetings are held to encourage dialogue with other members and to build collegiality.
For more information, visit NSTA on the HUB.
National Council of Teachers of English – Student Affiliate of Miami (NCTE-SAM)
Faculty Advisor: Kathy Batchelor, batcheke@miamioh.edu 
NCTE-SAM (The National Council of Teacher of English – Student Affiliate of Miami) was founded in 1995. Students studying to be an English/language arts teacher in any program in EHS are eligible for membership in NCTE-SAM. The group holds regular meetings to learn about teaching of English/language arts.
For more information, visit NCTE-SAM on the HUB.
Miami Council for the Social Studies
Faculty Advisor:  Dr. Thomas Misco, miscotj@miamioh.edu 
The purpose of the council is to provide a forum for pre-service social studies educators to discuss and learn more about issues related to this subject. Guest speakers and designated topics of discussion pertaining to social studies comprise the meeting's agenda.
Miami University Foreign Language Association (MUFLA)
Advisor: Dr. Martha Castaneda, castanme@miamioh.edu 
MUFLA is an organization that seeks to promote foreign language education, to make networking opportunities available to students interested in the teaching of foreign languages, and to establish professional ties. MUFLA holds monthly meetings that provide: expertise relating to the teaching of foreign languages by guest speakers, opportunities to discuss issues and trends in foreign language education, and the sharing of opportunities available of further professional development of members.
Miami Student Education Association (MSEA)
Faculty Advisor: Kim Wachenheim, wachenk@miamioh.edu/ 
MSEA is a pre-professional organization of undergraduate and graduate students preparing for careers in education. As a member, students are also a part of the larger Ohio Educational Association. MSEA members are a part of the National Education Association. Monthly meeting are held to encourage dialogue with other professionals and to discuss current issues in education. Students from all licensure areas are welcome to membership.
Faculty Advisor: Jane Lance, lanceja@miamioh.edu 
Kappa Delta Pi, the International Honor Society in Education, is dedicated to excellence in education. The university chapter is a dynamic community of developing educators pledged to worthy ideas to improve education and teaching. Students from all licensure areas are welcome to join. Membership is obtained and maintained through participation in events and activities furthering the vision of quality education for all.
For more information, visit Kappa Delta Pi on the HUB.
Educational Psychology
4 Paws for Ability at Miami (4 Paws Miami)
Faculty Advisor: Renee Gottliebson, gottlirc@miamioh.edu 
Assist in the fostering of service dogs, educate the public on service dogs and disabilities, and help service dog training organizations with their mission to improve the lives of people with disabilities.
For more information, visit Paws for a Cause on the HUB.
Best Buddies
Faculty Advisor: Ashley Johnson, cartelae@miamioh.edu 
Best Buddies is a non-profit organization dedicated to establishing a global volunteer movement that creates opportunities for college students to have one-to-one friendships with people who have intellectual and developmental disabilities.
For more information, visit Best Buddies on the HUB.
Comparative Education Club (CEC)
Faculty Advisor: Dr. Aimin Wang, wanga@miamioh.edu 
Goals of the club are to increase cultural awareness and diversity within the Miami University community. Members are provided with opportunities to further their educational knowledge and experiences through activities such as seminars, guest speakers, group discussions and attending conferences.
For more information, visit Comparative Education Club on the HUB.
Student Council for Exceptional Children (SCEC)
Faculty Advisor: Sarah Watt, wattsj@miamioh.edu 
The SCEC is part of the Council for Exceptional Children's student division. SCEC provides professional development and leadership opportunities for pre-service special educators and provides services to individuals with exceptional learning needs in the community. Monthly meetings provide opportunities for interaction with fellow students and leaders in special education from the faculty and surrounding communities. Service projects will help involve students with individuals and groups in the surrounding area.
For more information, visit Student Council for Exceptional Children on the HUB.
Kinesiology, Nutrition, and Health
Exercise is Medicine On Campus
Faculty Advisors: Dr. Paul Reidy, reidypt@miamioh.edu, and Cassie Wilson
Registered with the American College of Sports Medicine (ACSM), Exercise is Medicine® on Campus (EIM-OC) calls upon universities and colleges to promote physical activity as a vital sign of health. EIM-OC encourages faculty, staff, and students to work together toward improving the health and well-being of the campus community by:
Making movement a part of the daily campus culture.
Assessing physical activity at every student health visit.
Providing students with the tools necessary to strengthen healthy physical activity habits that can last a lifetime.
Connecting university health care providers with university health fitness specialists to provide a referral system for exercise prescription.
For more informaiton, visit Exercise is Medicine on the HUB.
Miami University Student Athletic Trainers' Association (MUSATA)
Staff Advisor: Jennifer Beardslee, beardsjm@miamioh.edu 
MUSATA is a student-run organization created to maintain an environment which will sustain professional development, fellowship, skill development, and promotion of the Athletic Training Profession. Educational in-services are usually held once to twice a month. To become a member, one must attend all monthly meetings and be current with their dues. Dues are used for speaker gifts, educational models and programs, partial cost of attending professional meetings, and other activities related to our athletic training program.
For more information, visit the Student Athletic Trainers' Association on the HUB.
Miami University Student Academy of Nutrition and Dietetics (SAND)
Faculty Advisor: Nancy Parkinson, parkinns@miamioh.edu 
The purpose of this organization is to foster the professional, educational goals and interests in the fields of nutrition, food service management, and dietetics. The organization will pursue these objectives in affiliation with the Ohio and Academy of Nutrition and Dietetics. This affiliation provides assistance in preparing programs and furthers our purpose. All students enrolled at Miami University, who have an interest in food and nutrition can join and become active members.
For more information, visit Student Academy of Nutrition and Dietetics on the HUB.
Phi Epsilon Kappa
Faculty Advisor: Dr. Emily Davie, davieee@miamioh.edu 
Phi Epsilon Kappa is a national professional fraternity serving students in sport, recreation exercise science, kinesiology, health promotion, sport medicine, and athletic training. The Miami Alpha Iota chapter is housed in the KNH Department and open to any student of any major who is interested in sport, health, and/or exercise or fitness related careers or graduate programs. Some of the events and activities planned and sponsored by Phi E K are a guest speaker's series with KNH alums and others working in KNH-related careers; a workshop on applying to Graduate School; a Health Fair; trips to academic and professional conferences/meetings; and a partnership with fund-raising events supporting youth sport programs at Oxford Parks and Recreation.
If you would like more information regarding Phi Epsilon Kappa, please contact them via The Hub.
Pre-Physical and Occupational Therapy Club
Faculty Advisor: Dr. Bill Berg, bergwp@miamioh.edu 
This organization (PPOT) has been organized for and by students for over 15 years. It provides students of all majors with information about career opportunities and schools in Physical and Occupational Therapy. Monthly meetings include invited speakers from local OT and PT programs and field trips to visit OT and PT schools and clinics.
For more information, visit the Pre-Physical and Occupational Therapy Club on the HUB.
Anatomy and Physiology Club
Faculty Advisor: Dr. Dean Smith, smithdl2@miamioh.edu 
This organization aims to develop and facilitate member interest in regards to Anatomy and Physiology through education, exploration, socialization, and philanthropic projects. Members will further develop their interest in anatomy through educational activities relating to such topics, exploration of career paths utilizing knowledge of such sciences, and socializing with other clubs with the goal of developing outside interests, networking, and co-hosting volunteering and fundraising events. Philanthropic projects will entail fundraising and volunteering with the goal of supporting charitable and worthwhile causes representing physical ailments and disorders. Membership is not exclusive to science majors, but rather anyone who is interested in these topics.
For more information, visit the Anatomy and Physiology Club on the HUB.
Eta Sigma Gamma
The mission of Eta Sigma Gamma is promotion of the discipline by elevating the standards, ideals, competence and ethics of professionally prepared individuals in Health Education.
The goals of the honorary include:
Supporting the planning, implementation and evaluation of health education programs and resources.
Stimulating and disseminating scientific research.
Motivating and providing health education services.
Recognizing academic achievement.
Supporting health education advocacy initiatives.
Promoting professional standards and ethics.
Promoting networking activities among health educators and related professionals
For more informaation, visit
Eta Sigma Gamma on the HUB
.
Family Science and Social Work
Camp Kesem
Camp Kesem is a national non-profit, student-run summer camp that serves children ages 6-18 whose parent or guardian current has been impacted by cancer. The chapter of Camp Kesem at Miami University gathers eager college students who are interested in giving back to these children who have gone through rough times at such young ages. This summer camp exists to serve a portion of the cancer community that often goes unnoticed. It allows the young campers to gain emotional support and build self-esteem from peers who are undergoing similar hardships. The purpose of this camp is to build a supportive network of friendships within Camp Kesem at Miami and the surrounding communities for families coping with cancer.
For more information, email miamioh@kesem.org.
Faculty Advisors: Dr. Angela Curl, curla@miamioh.edu and Dr. Amy Roberts, rober128@miamioh.edu 
Phi Alpha National Honor Society for Social Work fosters high standards of education for social workers and invites into membership those who have excellence in scholarship and achievement in social work. The Miami Tau Phi Chapter is open to graduate and undergraduate students. Undergraduate students are eligible for membership after achieving the national requirements which include: declared Social Work as a Major, achieved Sophomore status, completed a minimum of three (3) required social work courses, and earned an overall GPA of 3.5 or higher. Social Work graduate students are eligible if they have completed 13 (Advanced Standing students) or 20 (Traditional Program students) credits in the MSW program, and have earned a GPA of 3.91 or higher.
For more informaiton, visit Phi Alpha on the HUB.
Project Kids Network
Faculty Advisors: Dr. Elise Radina, radiname@miamioh.edu 
Project Kids Network is a not-for-profit, charitable organization that provides meaningful experiences with both global and local volunteer opportunities to help children and individuals in need around the world. The chapter seeks to offer volunteer opportunities in Oxford and abroad to many Miami University students and to actively engage other university organizations, individuals and businesses in this work.
For more information, visit Project Kids Network on the HUB.
Social Work Organization - Miami University Hamilton
Faculty advisor: Greg Stewart
The Social Work Organization - MUH hopes to help enrich the lives of those in our community. The Regional Social Work Organization is affiliated with the National Association of Social Workers, Ohio Chapter. (4000 practicing social workers, faculty and students at the doctoral, master's and bachelor's level). Visit Social Work Organization -MUH on the HUB.
Sport Leadership and Management
Faculty Advisor: Lana Kay Rosenberg, rosenblk@miamioh.edu 
A part of the Miami University art scene since 1933, Dance Theatre, is an eclectic dance company producing work in many dance genres. In a major concert held each semester on campus, usually in Hall Auditorium, the company showcases boldly innovative and diverse choreography, utilizing the talents of guest artists, faculty, and student company members. Dance Theatre has had a strong outreach program in underserved elementary schools in Butler County in the past.
For more information, visit:
Sport Leadership and Management Club
Faculty Advisor: Sam Morris, morrissp@miamioh.edu 
The student-led organization that represents the students enrolled in the Sports Leadership and Management Major and Minors in the SLAM Department. It focuses on activities and projects designed to enhance Sport Leadership skills for its members.
For more information, visit SLAM Club on the HUB.