Farmer School of Business
Divisional Recognition Ceremony
Sunday, May 19, 2019, 2:00 p.m.
Millett Hall
All Farmer graduates and their families and friends are encouraged to attend this year's Divisional Recognition Ceremony.
This ceremony is quite special because it is here that graduates will receive a diploma cover, and as they cross the stage, be individually recognized as their name is read, congratulated personally by a dean, and professionally photographed in two locations. 
Graduates participating in this ceremony must be in academic attire. This can be purchased through the Miami University Bookstore.
Graduates should arrive at Millett no later than 1:15 p.m.  The procession will start promptly at 2:00 p.m. Upon arrival, graduates should go to pick up their name card in their major's designated area (see below) and line up for the procession. Students who have a double major should report to the area of their primary major.
Immediately following the ceremony, graduates are encouraged to return to the concourse area where they gathered prior to the start of the ceremony where they and their family and guests may greet faculty members.
Please see the information below, including maps that show where students will be seated inside the arena and where name cards should be picked up.
All university parking lots will be open to the public during commencement weekend. Parking is free and available on the west side of Millett Hall for this event. Handicapped parking will be available on campus with your state-issued placard only. Accommodations for those who are deaf or hearing impaired will be provided in the form of American Sign Language interpreters. If you have questions regarding disability services, please contact the Office of Disability Resources at 513-529-1541 (V/TTY).
No tickets are required for the ceremony, there is open seating for family and guests. Doors will open at 12:30pm and the ceremony is expected to last no longer than 2 hours.
If you have any questions, please contact Megan Langhals at Megan.Langhals@MiamiOH.edu or 513-529-6114.
For Those Not Able to Attend
A live stream of the ceremony will not be available. However, we will post short clips of the ceremony as well as unedited tapes of the student and keynote speakers within a week of the Ceremony. Photos of each graduate will be made available by our photographer within a few weeks of the ceremony.
Security Measures in Place
All bags will be checked upon entering the stadium or arena for Miami University's spring commencement. Plan to leave all nonessential items in locked vehicles and arrive early.
As a general rule, any items that obstruct the view of other guests, can be used as projectiles, interfere with the comfort of other guests, or are deemed inappropriate/hazardous by stadium security are prohibited.
Guests are subject to visual inspection of person, parcels, bags and clothing capable of concealing prohibited items. Guests may refuse inspections, but management reserves the right to refuse entry.
Changes in national, regional and campus security levels may affect security procedures.
The following items are not permitted in the stadium or arena for the ceremonies:
Alcohol
Animals (except assistive animals for guests with disabilities)
Backpacks, bags larger than 11 x 14 x 4, Bota Bags or wine skins, flasks
Computers/laptops/iPads/tablets
Confetti, streamers, glitter
Containers (common examples include but are not limited to hard-sided coolers, soft-pack coolers, ice chests, picnic baskets, cans, glass bottles, flasks, thermoses)
Food (persons with small children or medical infirmities exempt)
Illegal Drugs
Laser pointers
Markers (permanent) and/or paint/dry erase boards
Noise-making devices (common examples include but are not limited to whistles, air horns, bull horns, blow horns, musical instruments, kazoos, bugles, cow bells, thunder sticks, sirens and boom boxes)
Sticks or poles
Umbrellas (In case of mild rain, guests are encouraged to bring light rain ponchos, which will be available for purchase at the university bookstore.)
Weapons (common examples include but are not limited to aerosol cans, mace, pepper spray, firearms, including CCW permit holders, fireworks, pocket knives, knives, spiked bracelets, brass knuckles, martial arts weapons, stun guns, squirt guns, super soakers and chains)
Departmental Seating
Name Card Distribution
Graduates should arrive at Millett no later than 1:15pm to collect their name card and begin to line up for the processional. Name cards will be distributed on the front lawn of Millett, look for the tent that corresponds with your primary major. (Question about your primary major? Email Megan Langhals: megan.langhals@miamioh.edu) Masters students, report to the tent of your major. You will be given further instructions regarding where to line up the day of the ceremony.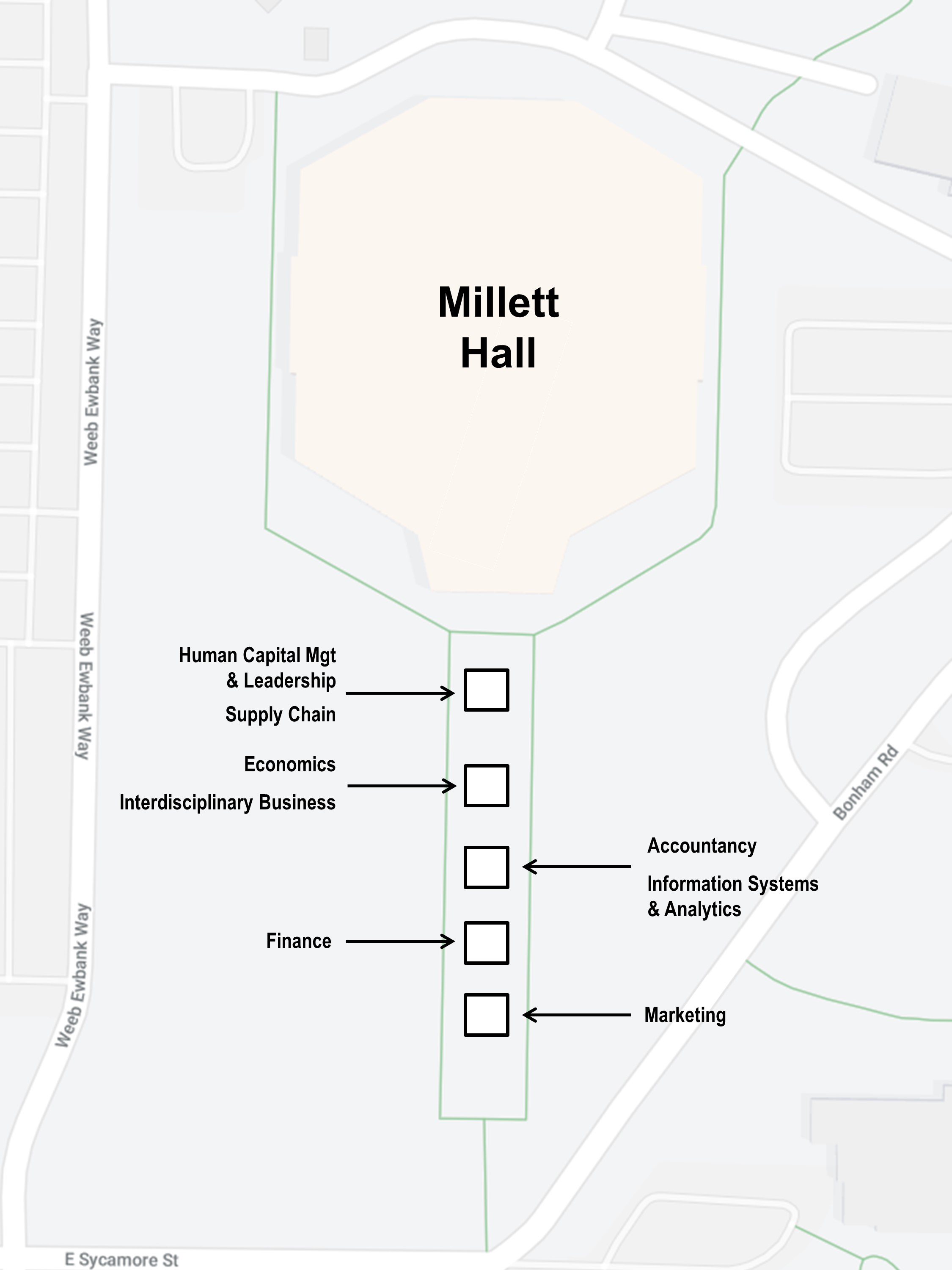 Name Card Distribution - Rain Plan
In the event of rain, name cards will be distributed in the concourses of Millett - look for the red flag of your major..
Management & Leadership and Supply Chain Operations majors : Northwest Concourse

Economics and Interdisciplinary Business Management majors : Southwest Concourse

Finance : South Concourse

Marketing : South Concourse

Accountancy and Information Systems & Analytics majors : East Concourse