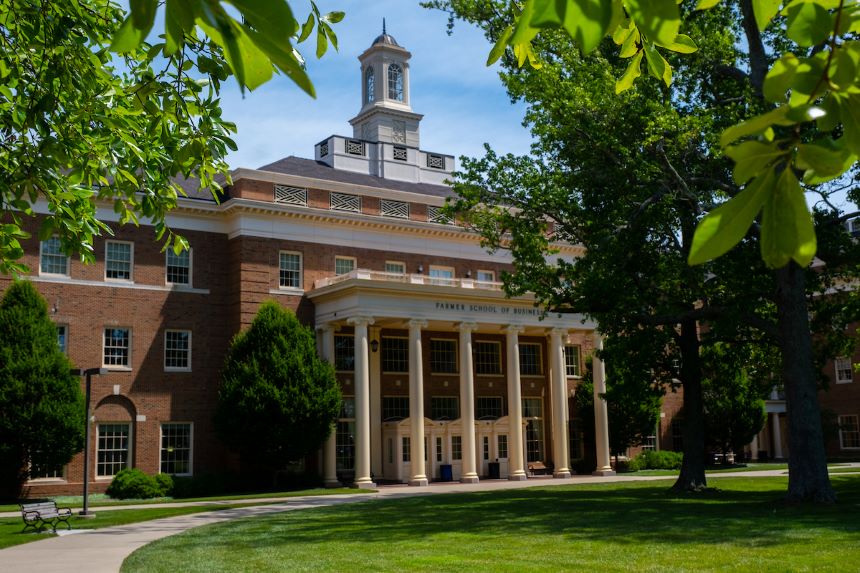 Information Technology
FSB has two computer labs for instructional use in rooms 2037 and 2050.  Students have access to all of the same software as the labs with access to our Virtual Desktop using Virtual PC via any web browser.
The FSB offers 33 technology-compatible classrooms.
FSB IT is dedicated to providing the highest level of service possible to the students, faculty, and staff of the Farmer School of Business. In doing so, we have developed some guidelines for technology resources to help answer some of the questions regarding our policies. Please reference the policy pages as well as the Student Help or Faculty & Staff Help areas of our site to find answers to some of your technology questions.
Backups
FSB servers are backed up nightly
Files on your office desktops/laptops are not backed up and cannot be easily restored. It's always best to save your files in I drive in the server. Not saving your files to your I drive can lead to unrecovered files.
A deleted file can be restored for up to 30 days after deletion. (If the file is on the I drive only)
Accounts
Login accounts to your laptops/desktops are created by Miami University central IT Services automated processes when the Personnel Department authorizes their creation. To check to see if an account has been created, please check Directory Services.
Password
MUnet passwords are maintained by Miami University central IT and can only be reset by Miami University help desk. You need to visit the help desk in person with a photoID to have your password reset.
Security
Numerous steps are taken to ensure the security of data on our network, but any system should be considered vulnerable and able to be compromised. Our servers are physically secured in FSB 2036 and no student has been assigned a key that will allow entry.
FSB Mobile Devices
All FSB issued desktops, laptops, tablets, or other devices leaving Miami University campus are subject to the University's Property Pass policy. A Property Pass form must be filled out and signed by faculty/Staff upon receiving the device.
Home computers/laptops
FSB-IT staff will try to answer questions about your home computer system (not purchased by FSB). FSB IT staff are not trained to answer authoritatively. FSB-IT is unable to work on home systems.
Classrooms
Classroom technology is supported by our staff within FSB IT. We maintain the computers and offer basic help with all technology within the teacher's station. Every effort is made to provide a quick solution to any issues that may arise. Items such as projector bulbs or major equipment failures will be handled by central IT's classroom services group after it is first investigated by FSB IT.
Tech Info and Links
To use the Remote Desktop Web Client then goto: https://virtualpc.fsb.miamioh.edu/rdweb/webclient/
A login screen should appear. Login with your miami id. Note: If it won't take your login credentials then enter userid as: it\xxxx (xxxx being your userid; not your email address). Please be sure you're using the correct slash which is normally above the enter key.
Click on FSB Desktop

Authentic using DUO

Be sure to save any work to a network drive BEFORE you log out of the session
1. Create your FSB Oracle account. <- link to:
https://sqlweb.fsb.miamioh.edu/
2. Databases available for classes:
    1. Northwinds  (Relationship diagram <-  Link to:
https://docs.yugabyte.com/preview/sample-data/northwind/
       A. Tables
northwinds.customers
northwinds.categories
northwinds.products
northwinds.employees
northwinds.products
northwinds.orders
northwinds.orderdetails
northwinds.shippers
northwinds.suppliers
3. wwimporters (Relationship diagram <- link to:
https://dataedo.com/samples/html/WideWorldImporters/doc/WideWorldImporters_5/modules.html
        A. Tables
wwimporters.customers
wwimporters.customercatagories
wwimporters.customertransactions
wwimporters.invoices
wwimporters.invoicelines
wwimporters.orders
wwimporters.orderlines
wwimporters.purchase.orders
wwimporters.purchaseorderlines
wwimporters.cities
wwimporters.buyinggroups
wwimporters.coldroomtemperatures
wwimporters.colors
wwimporters.countries
wwimporters.deliverymethods
wwimporters.packagetypes
wwimporters.paymentmethods
wwimporters.people
wwimporters.specialdeals
wwimporters.stateprovinces
wwimporters.stockgroups
wwimporters.stockitemholdings
wwimporters.stockitems
wwimporters.stockitemsstockgroups
wwimporters.stockitemtransactions
wwimporters.suppliercategories
wwimporters.suppliers
wwimporters.suppliertransactions
wwimporters.transactiontypes
wwimporters.vehicletemperatures
4. Dunnhumby Databases (descriptions <- Link to:
https://www.dunnhumby.com/source-files/
)
5. Dunnhumby  (Relationship diagram <-Link to Dunnhumby (see attached)
    A. Tables
dunnhumby.transactions (over 5 millions rows)
dunnhumby.store
dunnhumby.product
dunnhumby.causal
5. Dunnhumby Breakfast at the Frat (Relationship diagram <- Link to Bfrat (see attached)
    A. Tables
bfrat.storelookup
bfrat.productslookup
6. Baseball (relationship diagram <- Link to https://
tinyurl.com/2rwaukzd
    A. Tables
baseball.batting
baseball.fielding
baseball.pitching
baseball.teams
baseball.allstartfull
baseball.appearance
baseball.awardsmanagers
baseball.awardsplayers
baseball.awardssharemanagers
baseball.awardsshareplayers
baseball.battingpost
baseball.collegeplaying
baseball.fieldingOF
baseball.feldingOFSplit
baseball.fieldingpost
baseball.halloffame
baseball.homegames
baseball.managers
baseball.managershalf
baseball.parks
baseball.people
baseball.pitchingpost
baseball.salaries
baseball.schools
baseball.seriespost
baseball.teamsfranchises
baseball.teamshalf
7. MLSSoccer
A. Tables
mlssoccer.allgoalkeepers
mlssoccer.allplayers
mlssoccer.alltables
mlssoccer.allevents
mlssoccer.matches
Farmer School of Business
800 East High Street
Suite 2053
Oxford, OH 45056