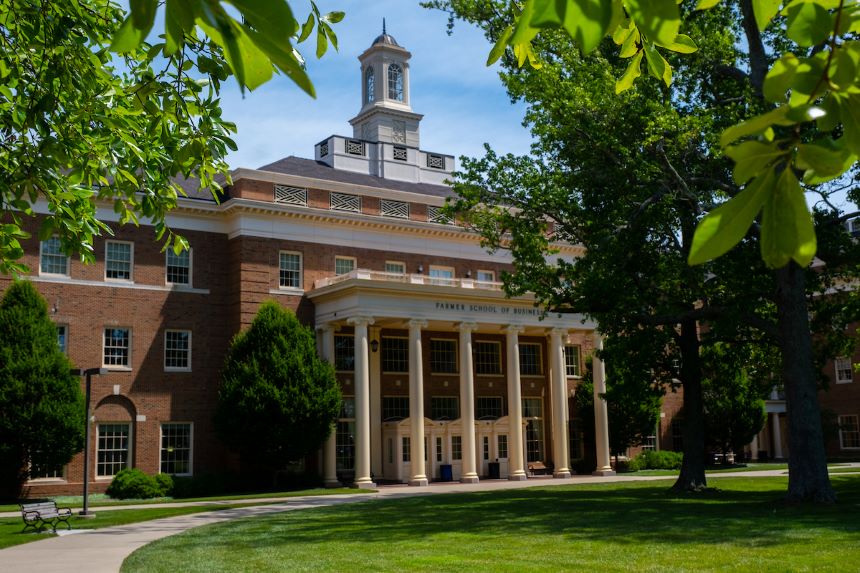 Facilities
The plasma screens within the Farmer School were installed to provide information specifically pertinent to our students. Top priority for content posting is given to information from the School itself and from organizations within the School, targeted to our students, including:
Events and Speakers
Internship and Job Opportunities
Faculty News
Deadlines and Schedule Changes
New Course Offerings
Club and Organization Postings
Second priority is given to University-generated information important to our students and faculty, such as:
New Policies
University-Sponsored Events
General Information
When space is available, we will consider content that, while not originating from the Farmer School, may be of interest to our students.
About The Plasma Screens
The content on the screens changes every 15 seconds, therefore, content should be short and concise (suggested word maximum is 30). Content remains posted for one week, unless there is a compelling reason for an extended run. We are quality and content conscious and will only display information that is appropriate and professionally presented.
To Request Content Posting
Submit your request via email to Jay Murdock, and allow at least one full week between your email and your requested start date. In your email, include a short explanation of:
Who you are (student group, faculty, external organization…), and the best way to contact you
What the content is promoting
Why/how your information is important to Farmer School students and/or faculty
Desired start date
In the email, attach the graphic you would like to have uploaded. Content must be 1920 x 1080px to fit and display properly. (Note: These are the exact dimensions of a PowerPoint slide in Widescreen format) Content should be submitted in .jpg or .png format. In addition, please check your spelling, grammar and overall accuracy.
QR Codes
We can now generate QR codes for links. If you wish to have a QR code that viewers can scan to get to a registration form/survey/etc., include the link with your image request. PLEASE NOTE: Graphics for slides to include a QR code must be 1220 x 1080px (slightly wider than square)
Farmer School of Business (FSB) Auditoriums and Commons Space Fee Schedule (effective 8/25/14)
If you are an outside organization or a Miami Academic/Administrative Department looking to reserve FSB 1000 or FSB 0025 for a conference, please contact Andrew Sander for pricing information.
Technical support is $50 for both MU Academic/Administrative Departments and MU Student Organizations. Information, vendor, and catering tables are $10 per table for MU Academic/Administrative Departments.
Technical support is available 8:00am to 6:00pm Monday – Thursday and 8:00am to 4:00pm Friday. A minimum of two-week's advance notice is required if technical support is needed at your event.
If available, FSB can provide six tables. If more than six tables are needed, the department/organization using the space will need to contact Physical Facilities for additional tables via Service Request.
Auditoriums and Commons Space Scheduling Priority List
First Priority
FSB Academic Departments
FSB Administrative Departments
FSB Student Business Organizations
Second Priority
MU Academic Departments
MU Administrative Departments
MU Student Organizations
Third Priority
25live
Room requests should be submitted through 25live and will be handled on a first come, first serve basis according to the priority rules established above.
Reservation time via 25live must include the time you will spend setting up the room, testing equipment, and taking it down. Please do not stay past your time as there may be other events scheduled after your event.
For questions related to 25live please email the room scheduling office
Reserving the East or West Commons
To reserve the East or West Commons please contact Andrew Sander.
Room/Space Capacity
The room capacity for FSB 1000 and FSB 0025 is 493 and 153, respectively. The maximum capacity for the East or West Commons is 100.
Building Hours
The official building hours for all of the Farmer School are listed below. Requests for outside of building hours will not be approved.
Academic Year
Monday - Thursday: 6 a.m. - 11 p.m.
Friday: 6 a.m. - 6:00 p.m.
Saturday: 11 a.m. - 5 p.m.
Sunday: 11 a.m. - 11 p.m. 
Winter and Summer Terms
Monday - Thursday: 6 a.m. - 8 p.m.
Friday: 6 a.m. - 6 p.m.
Saturday: 11 a.m. - 5 p.m.
Sunday: 11 a.m. - 8 p.m.
Catering
Each Department/Organization is responsible for its own catering arrangements and services. Please indicate in your 25live request if you plan to have catering at your event. Once you have submitted your catering requests, Miami Catering will contact the External Relations Office to verify event approval.
Building Policies 
Food and drinks are not permitted in the classrooms or auditoriums.
Departments/Organizations that host events with catering are responsible for cleaning up the reserved area.
Additional fees may apply for extra cleaning required as a result of the event.
Tape, tacks, nails, screws, etc. may not be used to affix items to any surface in the Farmer School.
Any damaged or misplaced items will be charged to the department or student organization hosting the event.
Furniture, if moved, should be returned to how it was originally arranged.
Any department or organization that shows disregard for Farmer School facilities or equipment may be denied further use of FSB 1000, FSB 0025 and the East/West Commons.
Farmer School of Business
800 East High Street
Suite 2053
Oxford, OH 45056