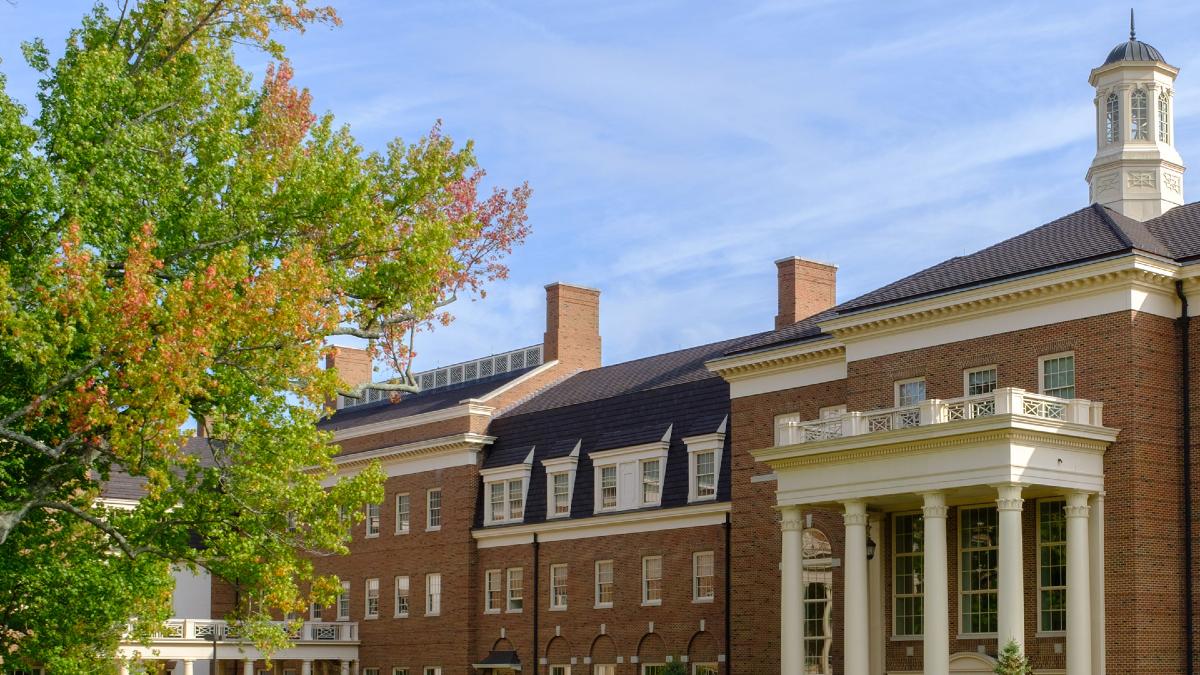 Our Master of Accountancy Program is more than just accounting. We prepare you for leadership roles in a broad range of careers. In addition to pursuing careers in traditional public accounting service lines such as audit and tax, our graduates have gone on to pursue careers in business risk services, fraud investigation, business valuation, forensic accounting, investment banking, and systems and process assurance.
Not Just A Number
We pride ourselves on student interaction and involvement in the classroom experience. Through our small, highly-selective program, you will develop a lifetime network in accounting-related fields.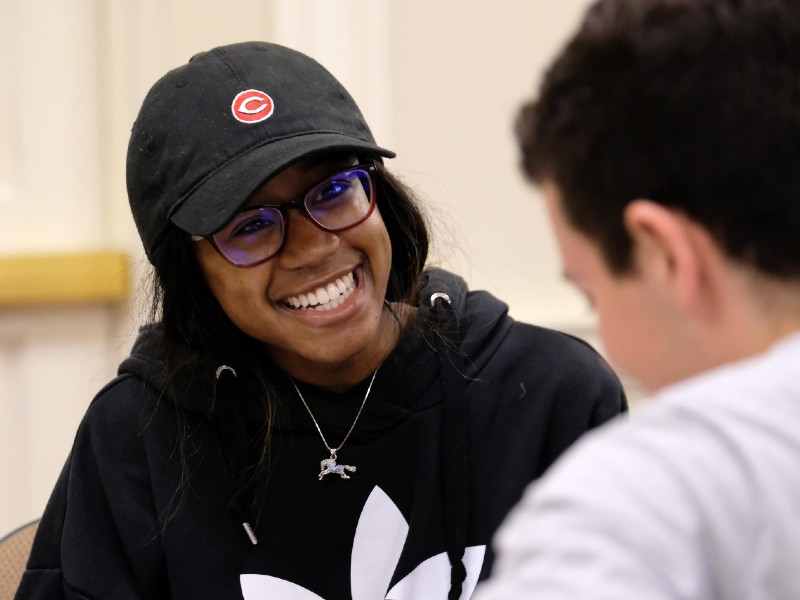 We limit enrollment to 50-55 outstanding applicants, which allows us to focus on the close-knit community of scholars and professors developed through our program and build upon that competitive advantage in the saturated market of MAcc programs.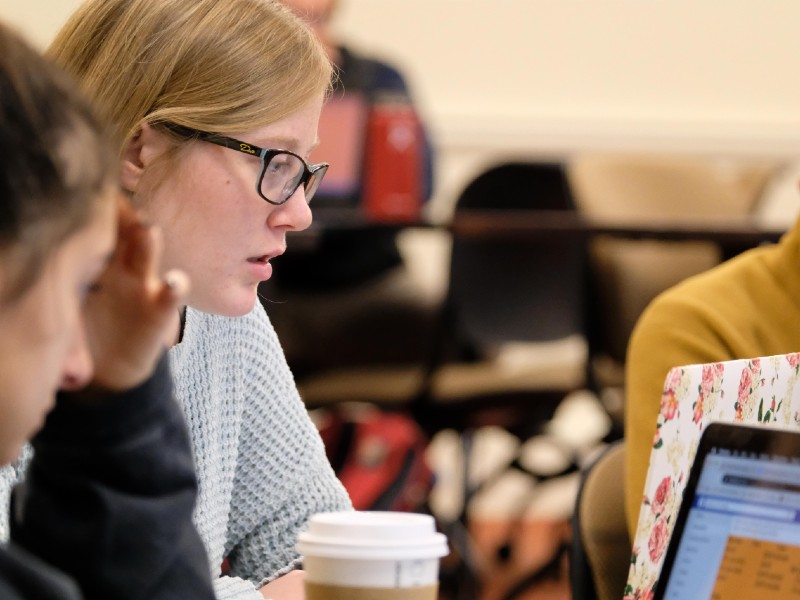 The Master of Accountancy program is populated with both traditional graduate students (i.e. 5th-year students who previously completed a Bachelor's degree) and 3+1 Combined Bachelor/Masters students.
Miami MAcc graduates have a noticeably superior business sense, a deeper understanding of business relevance, and quickly gain staff and client trust.

Crowe Horwath Recruiter

If you're looking to equip yourself with the tools to succeed in any business environment, keep an open mind and work hard in this program. I would choose this program a thousand times over if I had to do it again.

MAcc Alumni

I never would have imagined I would get the opportunity to have engaged conversations with top executives on issues facing the global society. This was an amazing opportunity.

MAcc Alumni
Structure of Program
Students complete the program in two semesters, carrying a 15-credit-hour load each semester. This schedule allows students to pursue additional opportunities in both the winter and summer terms, such as study abroad (we offer a wonderful study abroad experience through the University of Seoul in South Korea), travel, or preparing for and taking the CPA exam. Our program is designed for full-time students, and all students enter the program in the fall semester. We do not have a part-time program, nor do we offer courses on evenings or weekends.
The MAcc program builds on knowledge equivalent to the requirements for a Miami University baccalaureate degree in business with a major in accountancy. Some or all of the prerequisite courses may be waived at time of admission for those who have completed equivalent courses in their undergraduate education and who can demonstrate proficiency.
Applicants must have earned a minimum grade of C in each prerequisite course and a 3.0 grade point average or higher (on a 4.0 scale) for all of the following prerequisite accountancy courses.
All of the following courses:
In order to demonstrate a solid foundation in business, we also require:
Do applicants need recommendations? Three letters of recommendation are required for all applicants. At least two of these letters must be from professors of upper-level accountancy courses. The third may be either an academic or a professional reference. Download the recommendation form, or request online letters of recommendation.  Please be sure to contact your intended references prior to requesting online letters. Some people prefer to complete paper recommendations, and some may be unwilling or unable to complete a recommendation for you.
When are admission decisions made? Complete applications will be reviewed as they are received. A limited number of outstanding applicants will be offered admission on a "rolling" basis. All other admission decisions will be made after February 1, when the applicant pool is identified. Recipients of financial awards will be notified separately.
If I e-mail you my profile (GMAT, GPA, TOEFL, etc.) can you evaluate my chances of admission? Like many top graduate business programs in the U.S., we will review all parts of your application before making a decision.  Unfortunately, we are not able to evaluate your profile before a complete application is submitted.
Do you require an entrance examination? Graduates of the Farmer School of Business do not need to complete an entrance examination; however, we do recommend submitting a strong GMAT score. All other applicants must complete either the Graduate Management Admissions Test (GMAT) or the new Graduate Record Examination (GRE) General Test (launched August 2011) to be considered for admission to our program.
When should students take the GMAT or GRE? We recommend you take the GMAT or GRE the summer before your senior year, as that is likely when you will have the most time to prepare for it. Current MAcc students report that they did not feel disadvantaged in taking it at that time. Alternatively, you may take it during the December semester break of your senior year. You should register for it several weeks in advance to ensure you can take the exam at a time that is convenient for you and will also allow time for your scores to arrive at our office. Keep in mind that to be considered for our fellowship or graduate assistantships, your complete application must be received by January 1. Our GMAT program code is Q6W-8F-22.
Can a student apply to the program before taking the GMAT or GRE? If a GMAT or GRE score is required, your application will not be reviewed until we receive the test score, but yes, students may apply before taking the exam. We encourage students to apply early as it will assist us in our planning.
Can students take graduate courses in their undergraduate program and use them toward the MAcc? No. Graduate courses are restricted to students enrolled in the MAcc program.
Do you accept students with non-accounting undergraduate degrees? Our program is designed for students with the equivalent of Miami University's undergraduate degree in accountancy. Students who hold undergraduate degrees in another business discipline may become eligible for our program by completing a few prerequisite courses. View a list of prerequisite accountancy coursework for our program. Prerequisite courses must be completed PRIOR TO enrolling in the graduate program; they cannot be taken concurrently.
Opportunties
We offer select MAcc students the opportunity to teach the discussion sections of our introductory-level accounting classes, and the response from both our MAcc instructors and the undergraduates enrolled in those courses continues to be overwhelmingly positive. Through this exciting opportunity, you will build self-confidence, perfect your presentation and public speaking skills, and brush up on introductory accounting topics (handy for when you begin your career).
Deciding to pursue a graduate degree is an investment in your future. We offer a number of financial awards to qualified students to help defray the cost of your graduate program.
Placements
Our graduates are heavily recruited with national placement. We are a target recruiting school for the Big Four public accounting firms as well as other national, regional, and local public accounting and consulting firms, corporations, and financial industries.
Professional Interaction
A key component of our program is interaction with international accounting executives. Recent participants in our MAcc projects include Dan Crumb, CFO of the Kansas City Chiefs, T.J. LaMendola, CFO of the Columbus Blue Jackets, and Tayfun Tuzun, CFO of Fifth Third Bancorp.
Career Progress
The Miami MAcc program's emphasis is on a long-term career in an accounting-related field. Our courses in risk management, fraud, ERP systems, corporate finance, and tax planning combine to prepare you for a career, not just an entry-level position.
Farmer School of Business - Accountancy
800 East High Street
Suite 3088A
Oxford, OH 45056