Pitch competitions take entrepreneurship experiential learning to next level
Two classes culminate in competitions to pitch business ideas before industry judges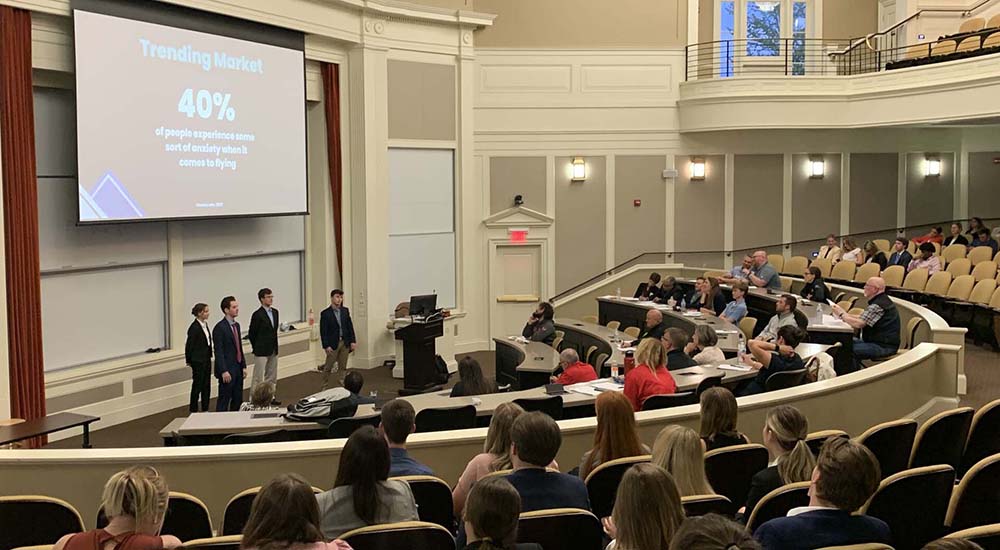 Pitch competitions take entrepreneurship experiential learning to next level
The Farmer School of Business puts a strong emphasis on experiential learning, or as Tim R. Holcomb, chair of the Department of Entrepreneurship, describes it, "a belief in the transformative power of learning by doing inside and outside the classroom." A prime example of that instructional method can be found in a pair of John W. Altman Institute for Entrepreneurship classes that revolve around the concept of conceiving and creating a business idea over the course of a semester.
Those classes, ESP 201 - Introduction to Entrepreneurship and Business Models and ESP 401/ESP 501. Entrepreneurship: New Ventures, shepherd the students through the processes and steps involved in starting from nothing to build something.
Charlotte Thaler was a marketing major when she started ESP 201 in February. She still is, but now she's taking on an additional academic path. "ESP 201 was what truly ignited my passion for entrepreneurship, and even inspired me to take on entrepreneurship as a co-major," she said. "Learning how to navigate making real business decisions, brainstorming ideas for a company, and pivoting to create a market opportunity for our company in such a supportive environment allowed me to truly understand what it takes to make a business work in the real world."
The classes culminated in the Business Road Test Competition (ESP 201) and the Venture Pitch Competition (ESP 401/ESP 501), a pair of competitions in front of judges from the entrepreneurial and venture capital ecosystems, both locally and nationally.
"The end-of-semester pitch competition was the best way to end the semester. Not only did it challenge us to think through every aspect and truly believe in our business, but the competition piece added a drive to keep getting better," Levi Grimm said.
"The pitch competition was definitely intimidating, especially if you make it to the final, presenting in front of all the groups and judges," Maxwell Manley said. "However, the competition helped our group to become more confident in presenting in front of large crowds, as well as learning how to respond to questions and criticism on the fly."
In the Business Road Test Competition, first place went to Guarded, an athleisure clothing line based on a patentable pocket redesign, with team members Thaler, Manley, Sam Schoen, and Christian Cantu.
Second place went to FreedoMind, a program of mindfulness therapy for veterans experiencing PTSD, created by Mason Seitz, Sophia Wine, Andre Zimmerman, and Nathan Zobrist, while Bonobo, a company creating care packages for college students, won third place for Grimm, Audrey Allen, Amanda Simeone, and Delaney Wilson.
In the Venture Pitch Competition, the competitors were split between current ESP 401 students and students who were part of the RedHawk Launch Accelerator Program, vying for more than $40,000 in cash and in-kinds prizes.
Among the launch accelerator competitors, Mason Williams and Blake Faulkner's Bloxsmith, a Web 3.0 marketplace for game developers took first, while Emil Barr's Step Up Social digital marketing agency took second. Third place went to Andre Farinazo Jr.'s Virra, a tech platform specializing in the creator economy to help artists connect and monetize connections with fans and music curators.
"I actually liked having the competitors separated. I think that it's more fair for the people in ESP 401, because a lot of the businesses in the accelerator, they already have revenue. They already have traction. They already have real users," Faulkner said.
Among the ESP 401 students, first place went to Will Murray, Emily Nebraska, Maria Siebenaller, and Matt Huber for Zuiced, an on-demand, fully customizable, one-time use battery charger to help consumers capture memories when needed most.
Genie, on-demand independent care services for elderly who are facing the early onset of dementia, brought second place for Angela Weckle, Sofia Totten, Duncan Fox, Emma Muhlenkamp, and Allie Blackburn.
Third place went to Sara Meek, Caroline Weiner, Bradley Nafziger, and Rob Landis for Tree House Solutions, a circular supply chain platform that turns food waste into a sustainable, organic all-purpose household cleaner.
"I have had the entrepreneurial itch since fifth grade and this was the first time I have been able to take a class that so accurately touches on every aspect of a startup," Landis said. "It also means a lot when your professor has gone through all the trials and errors he is preaching to you."
"I learned so much from being a student in the class, but I also learned so much from watching other teams and hearing their pitches," Siebenaller said. "I think my biggest takeaway is that the people involved are just as important as ideas."
"Having the opportunity to pitch a start-up idea to investors at the ESP 401 Pitch Competition has helped me build confidence in myself as a business professional and in the idea we created. It has been incredible to see our business come to life throughout the capstone with the help of friends, faculty, and investors," Murray said. "We are excited to see what the future holds and greatly appreciate the Entrepreneurship program for giving us the space to play, build, and create."