FSB instructor works with students of color to develop entrepreneurship skills
For the students, it was a chance to learn more about entrepreneurship. For Brenda Homan, it was a chance to expand the diversity of the entrepreneurship community.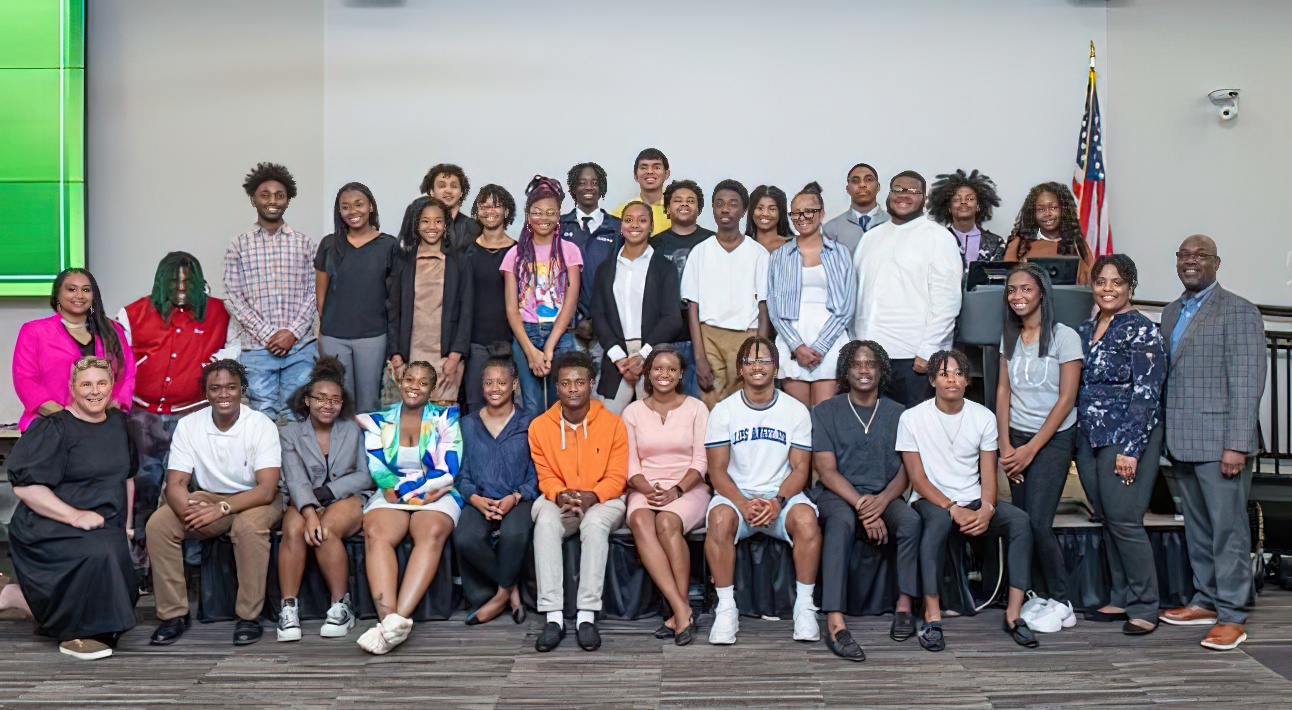 Photo by Shellee Fisher Photography
FSB instructor works with students of color to develop entrepreneurship skills
Photo by Shellee Fisher Photography
While many people took to the roads and skies for vacation as June began, Farmer School of Business entrepreneurship instructor Brenda Homan instead spent a week helping students of color learn more about entrepreneurship.
Homan took part in The Abercrumbie Group's Young Entrepreneurs of Color Pitch Competition, a week-long paid internship where 27 students from Cincinnati and Northern Kentucky high schools worked in teams with corporate partners, including Kao USA, St. Elizabeth Healthcare, Ohio National Financial Services, Toyota Motor North America, and First Financial Bank.
"In 2019, venture capital firms invested $136.5 billion in new startups, but only one percent of that money went to black entrepreneurs, and only four percent went to Latinx entrepreneurs," Claudia Abercrumbie, President & Chief Executive Officer at The Abercrumbie Group, said. "We need to start talking to black and brown students before they get to college, to help them become interested in entrepreneurship."
"I worked with Claudia and Mike Halloran from Xavier to coordinate and execute the program. Mike and I split the teaching areas and also assisted with mentoring and coaching students throughout the week," Homan explained. "Each team had a corporate problem to solve. In solving the problem, they created a scalable business."
"Mike and I taught them business models, problem identification, and ideation. They then pitched their ideas to the judges at the end of the week," Homan said.
In addition to Homan's work, John W. Altman Institute for Entrepreneurship entrepreneur-in-residence Rod Robinson spoke to the students, as did a founder of Altman Institute partner Flywheel Social Enterprise Hub. "Having the students see someone like them as a founder spurred them to think about what they could do themselves," Homan said.
"We're trying to help these students understand that they too can be innovators, show them what the process looks like, and then teach them to actually understand the problem, come up with a business idea, figure out some of the mechanics, 'How do you market it? What's your profit and loss look like?' Abercrumbie said. "I don't think anyone expected there to be significant ideas that would come out of just one week of doing that. But, one of the folks from St. Elizabeth Hospital who was at the pitch competition said, 'We need to get them in front of our executive team, because this really is something we could look at using.'"
Homan said part of her reason for joining the project was due to some class preparation she had done in the spring for one of Brett Smith's classes. "I reviewed the course material for the Rule of Life for Redemptive Entrepreneurs. One of the six attributes for an entrepreneurial leader was "Community: Instead of individualism and isolation, we practice real presence with others who are not part of our daily work. We pursue diversity across class and ethnicity in our friendships and mentoring relationships." This made me pause and ask myself how I am intentionally living this attribute of Community in my professional life," "When the opportunity arose to be part of the YEOC program, it was great timing," Homan recalled. "My eyes and ears were open to learn more and expand the diversity of my community outside of my daily work. Serving as an instructor and mentor to these students was invigorating and a privilege."
"I find that being a minority in the room makes you more empathic and understanding than being the majority. I believe empathy is an essential leadership and entrepreneurial muscle that needs to be exercised continuously," she said.
"If entrepreneurship is something they want to explore further, we want to help them understand the resources that are available in this area," Abercrumbie said. "If they are not leaning toward owning their own business, we still want them to understand that they can be creators and innovators, and bring that into whatever line of work they decide to do."