Beyond Ready: FSB trio earns roles at Boston Consulting Group
Three Farmer School seniors are heading to Boston Consulting Group for their first job after graduation.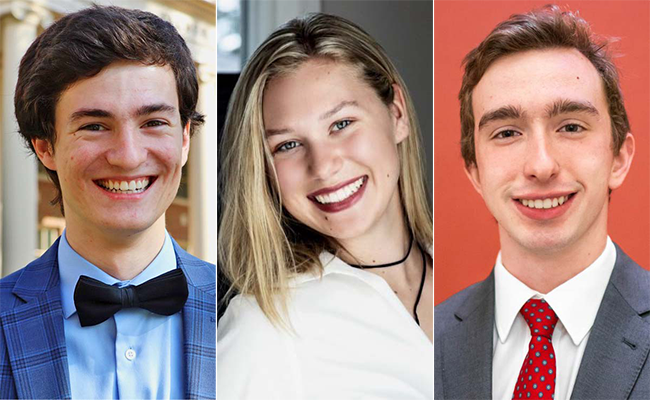 Beyond Ready: FSB trio earns roles at Boston Consulting Group
When Natalie Dorman was looking for her first consulting job, she set her sights on Boston Consulting Group. "As recruitment started up, I knew that BCG was my target company since I loved their culture - I thought that everyone who I talked to within the company genuinely loved their jobs, all had interesting hobbies outside of work, and wanted to see me succeed."
Ben Skapura also found himself drawn toward a consulting role at BCG. "The people, the type of work BCG does, and the overall culture of the company. Through networking prior to interviewing, I really saw myself in the company to a point it felt like home. Everyone I talked to was so welcoming and had incredible backgrounds which made me really want to learn from them." 
For Aidan McGaughy, the path toward a career at BCG started with Jan Taylor's Marketing 291 class. "In the class, we had a client project with Abercrombie & Fitch, focusing on their Hollister brand. I knew nothing about the fashion industry or Abercrombie & Fitch on the first day of class. By the end of the semester, I could talk for hours about their industry, business strategy, and marketing," he said. "After dozens of coffee chats and a ton of research, I narrowed my search to three consulting firms, BCG topping the list."
Boston Consulting Group is considered one of the Big 3 in consulting, alongside Bain & Co. and McKinsey & Co. It's estimated that only about one percent of applicants are hired at the three firms each year. And next spring, Skapura, McGaughy, and Dorman will be among that one percent.
Skapura spent this summer on a corporate entrepreneurship project as an intern at BCG. "Within this project, I had the opportunity to have incredible ownership over my work and have a tangible impact on the value we were delivering to our client," he said. "Additionally, throughout the internship, it was evident how active a role both the managing director/senior partners leading my case and office leadership took in embodying the culture of the firm to ensure junior staff had as positive an experience as possible."
Dorman was also interning at BCG over the summer. "I worked on a public sector re-education strategy focused on the automotive industry," she said. "To have such a real impact that both created new jobs and helped fight the climate crisis made me realize that my education and hard work paid off, and I could finally start giving back."
In the end, BCG chose the three of them to join the firm in 2023.
"I was blown away when they called me to extend an offer. I was on a rooftop with a ton of my brothers in Delta Sigma Pi when BCG called. I ran downstairs and took the call, immediately called my dad, then told all the brothers on the roof," McGaughy said. "It was an unreal feeling to get an offer to work at such a prestigious consulting firm, and it was an emotional moment as I saw all my hard work pay off.
"Getting an offer to BCG was something that I had been working toward since the end of my freshman year -- It was a very surreal experience. I had an incredible summer and am grateful for the opportunity to come back!" Skapura said.
"One of the partners who interviewed me called to congratulate me and I tried to hide my cool - but probably failed - and screamed with excitement to my roommates right after he hung up," Dorman said. "I cried for about 30 minutes afterwards out of joy since it had been something I had been working towards for three years with internships, classes, activities, interview preparation, etc."
Now, the trio prepares to make the jump into the "real world" for real.
"I'm looking forward to meeting more ridiculously smart and impressive people I get to call my coworkers and to work on more projects that have a big impact on society," Dorman said.
"Beyond contributing to the tremendous impact BCG has on the business world, I am also looking forward to making a substantial social impact. BCG has the resources and people to help improve society in ways their employees feel passionate about," McGaughy said.
"I'm looking forward to exploring new industries and functions, refining my core business skill set, and hopefully helping more Miami students get into strategy consulting," Skapura said. "Being a generalist at a strategy consulting firm is one of the best ways to further the skills developed at Miami as well as to explore areas not possible during undergraduate education."